Covid-19 has killed at least 749,973 people since it emerged in China last December, according to a tally from official sources compiled by AFP.
At least 20,666,110 cases have been registered in 196 countries and territories. Of these, at least 12,586,400 are now considered recovered.
The tallies, using data collected by AFP from national authorities and information from the World Health Organization (WHO), probably reflect only a fraction of the actual number of infections.
Many countries are testing only symptomatic or the most serious cases.
Yesterday, 6,721 new deaths and 270,391 new cases were recorded worldwide. Based on latest reports, the countries with the most new deaths were the United States with 1,429 new deaths, followed by Brazil on 1,175 and India 942.
The United States is the worst-hit country with 166,027 deaths from 5,197,377 cases. At least 1,753,760 people have been declared recovered.
After the US, the hardest-hit countries are Brazil with 104,201 deaths from 3,164,785 cases; Mexico with 54,666 deaths from 498,380 cases; India with 47,033 deaths from 2,396,637 cases and the United Kingdom with 46,706 deaths from 313,798 cases.
The country with the highest number of deaths compared to its population is Belgium with 85 fatalities per 100,000 inhabitants, followed by the United Kingdom with 69, Peru 66, Spain 61 and Italy 58.
China - excluding Hong Kong and Macau - has to date declared 84,756 cases, including 4,634 deaths, and 79,398 recoveries.
Latin America and the Caribbean overall has 228,561 deaths from 5,821,886 cases; Europe 214,604 deaths from 3,433,581 infections and the United States and Canada 175,069 deaths from 5,317,994 cases.
Asia has 75,896 deaths from 3,709,662 cases; the Middle East 31,180 deaths from 1,283,130 cases; Africa 24,269 deaths from 1,075,466 cases and Oceania 394 deaths from 24,391 cases.
---
---
Greece reports first coronavirus case in island camp
Greece has reported its first Covid-19 infection in one of its overcrowded asylum seeker camps.
A 35-year-old man from Yemen living at the camp of Vial on the island of Chios tested positive late on Wednesday, a migration ministry official told AFP.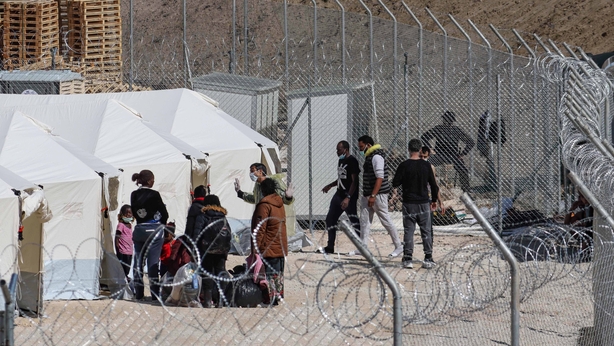 "The man has been quarantined at the local hospital. Another 30 people are undergoing tests," the official said.
There are over 3,800 people living inside the Vial camp, over three times its nominal capacity.
Several non-fatal coronavirus cases have surfaced in Greek camps on the mainland - including 150 infections at a migrant hotel in the Peloponnese in April.
But this is the first case involving an island camp, where the worst overcrowding occurs.
Camps on the islands are nominally under lockdown until 31 August, with access severely restricted.
Rights groups including the UN refugee agency had repeatedly urged Greece to reduce congestion at the camps, where there is poor hygiene and social distancing is impossible to enforce.
Earlier this week, nearly 20 asylum seekers tested positive shortly after landing at the island of Lesbos, and were quarantined for two weeks.
On Lesbos, medical charity Doctors Without Borders (MSF) last month said it had been forced to shut down a coronavirus isolation centre serving the local camp over a planning dispute.
The group in June had criticised the camp lockdown, which has been repeatedly renewed since March, as "discriminatory" and "counter-productive".
"The extension of movement restrictions imposed on asylum seekers who are living in the Greek reception centres will further reduce their already limited access to basic services and medical care," the group's field coordinator on Lesbos, Marco Sandrone, said in a statement.
The Greek migration ministry has ferried hundreds of asylum-seekers to the mainland in past months, while others have been granted refugee status and allowed to travel off the islands.
But there are still over 25,000 people in island camps built to handle fewer than 6,100.
The news from Vial came a day after Greece registered its highest-ever daily number of new infections at 262.
A total of 216 people have died.
Authorities have blamed the spike in infections to the flouting of social distancing rules in restaurants, bars and public gatherings.
The civil protection agency has made masks compulsory in all indoor public areas.
The government this week announced a night curfew for restaurants and bars in some of its top tourist destinations, and new restrictions for incoming travellers required to furnish negative tests up to 72 hours before entry.
The government has ruled out a general lockdown after gradually reopening the economy in May and starting to accept foreign arrivals in June to salvage part of the tourism season which is vital to the economy.

Australia records significant fall in new virus cases
Australia's virus-hit Victoria state has reported a major drop in new coronavirus cases, but officials warned against complacency amid a "worrying" spread of the disease in regional areas outside Melbourne.
Just 278 new cases and eight deaths were detected in Victoria, a low not seen in weeks, while a smaller outbreak in neighbouring New South Wales produced 12 additional cases and one death.
The surge in Melbourne, the capital of Victoria and Australia's second-biggest city, had pushed daily infection rates over 700 in recent weeks.
Dozens have died during a second wave that struck after Australia appeared to have the epidemic in check.
There are now signs that strict measures, including an overnight curfew and shutdown of non-essential businesses, are bringing the outbreak under control, but Victoria Premier Daniel Andrews said authorities were "not getting in any way ahead of ourselves".
"We would just caution against any Victorian thinking that we aren't in the midst of a real marathon - this is an endurance race and we need to stay the course on this," he told reporters.
"We need to be vigilant each and every day."
All of regional Victoria is currently under Stage 3 rules, meaning their movement is restricted and wearing a mask is mandatory.
But Deputy Chief Health Officer Allen Cheng said authorities were looking "very closely" at whether to increase restrictions to match Melbourne's tough Stage 4 lockdown.
The state remains effectively sealed off from the rest of the country, with other regions so far largely spared from new infections.
Overall, Australia has recorded more than 22,000 cases of Covid-19 and 361 deaths during the pandemic.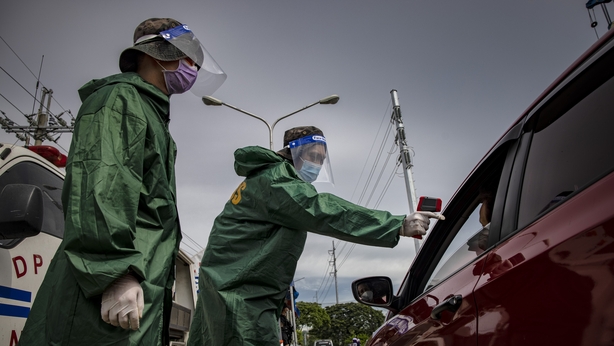 Philippines eyes clinical trials for Russian Covid-19 vaccine in October
The Philippines plans to launch clinical trials for a Russian coronavirus vaccine in October, with President Rodrigo Duterte expected to be inoculated as early as May next year, a presidential spokesman said.
The spokesman made the announcement a day after Philippine scientists met representatives of the vaccine developer, research facility Gamaleya, to discuss trials and information about the inoculation.
Russia on Tuesday became the world's first country to grant regulatory approval for a Covid-19 vaccine, to be named "SputnikV" in homage to the Soviet Union's launch of the world's first satellite.
But its decision to grant approval before completing trials has raised concerns among some experts, who fear it may be putting national prestige before safety.
Health Undersecretary Maria Rosario Vergeire told Reuters that all clinical trials would need to go through the regulatory process.
Phase three clinical trials in the Philippines are due to run from October to March 2021, after a panel of vaccine experts completes its review on Russia's phase one and two trials in September, Ms Roque told a media briefing.
Mr Duterte is keen to access a vaccine and in July made a plea to China to make the Philippines a priority if it develops one.
The president has pledged that the Philippines, which suffered its biggest economic contraction in nearly three decades, would be "back to normal" by December even as it has been reporting record numbers of daily coronavirus infections since July.
The health ministry said there were 4,002 new infections and 23 additional deaths in the past 24 hours.
It said the total number of confirmed cases had risen to 147,526, the highest in Southeast Asia, while confirmed deaths had reached 2,426.
India's coronavirus cases jump by 67,000, setting daily record
India has reported another record daily rise in novel coronavirus infections, while the death toll from Covid-19 surpassed 47,000.
Infections grew by 66,999 from yesterday to reach a total of nearly 2.4 million to date, India's health ministry said.
The country, with the world's biggest case load behind the United States and Brazil, has now reported a jump of 50,000 cases or more each day for 15 straight days.