Farmers around Ireland are being asked to wear face coverings on an ongoing basis when attending marts and other communal settings.
Organisers say the reintroduction of Covid-19 restriction measures in the midlands has focused minds on the risk of infection and health and safety must be a priority.
The Kilcullen Mart in Kildare was back in business today with less of the usual colour and banter that accompanies the buying and selling of livestock in rural Ireland. This time there were noticeable differences to the way people were conducting business.
The overwhelming majority of cattle dealers were wearing face coverings - disposable masks, cloth covers and face visors.
Although the wearing of masks is not mandatory at marts, which are partly outdoor events, best practice was being encouraged around the offices and auction rings.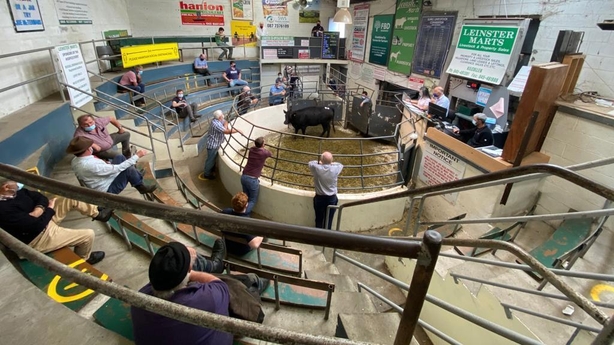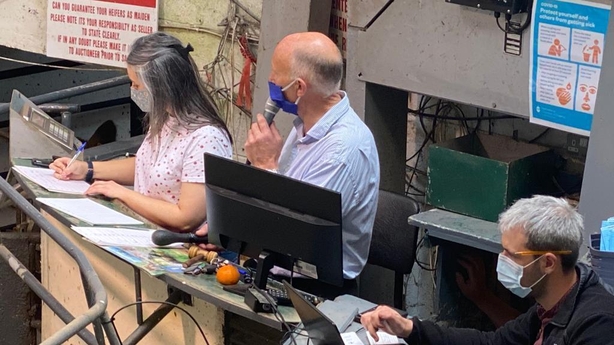 The mart is a short distance from Kildare Chilling Plant, one of the four meat plants closed in the midlands as a result of coronavirus outbreaks. This factory had the biggest cluster with 150 workers testing positive for the virus.
Over 75% of the farmers at the Kilcullen Mart conduct business with the plant.
Jimmy Walsh, Manager of Leinster Marts, said that the meat industry was just one of a wide range of industries affected by Covid-19. Prices are down but he believes it will turn around again.
The Irish Cooperative Organisation Society Co-operative Marts and Associated Livestock Marts have requested the ongoing use of face coverings in line with public guidelines.
They said: "Face coverings help prevent people who don't know they have the virus from spreading it to others. It's essential also to maintain good sneeze and cough etiquette and to follow all public health guidelines including regular and thorough hand washing.
"We must all do whatever we can to minimise the spread of Covid-19, so we're asking people to stay safe, protect each other and mask up in the marts.
"Everyone is delighted that the marts and cattle sales are back in operation because they play such an important part in the free trade of livestock and the economy of rural Ireland."