Northern Ireland's department of health has said almost 170 million items of Personal Protective Equipment (PPE) were purchased between March and July during the Covid-19 pandemic.
The Health and Social Care Northern Ireland Business Services Organisation delivered 167.5 million items of PPE to the HSC between 2 March and 31 July.
The peak delivery weeks were two weeks in April when around 15 million items were delivered, which is about twice the weekly average.
The data released today by BSO shows that gloves, medical face masks and plastic aprons made up the vast majority (94%) of core items delivered.
Other items, such as surgical scrubs, hand sanitisers, surgical / theatre caps and hand wipes, also increased in demand during the pandemic.
However, they are not viewed as items of PPE by the BSO service.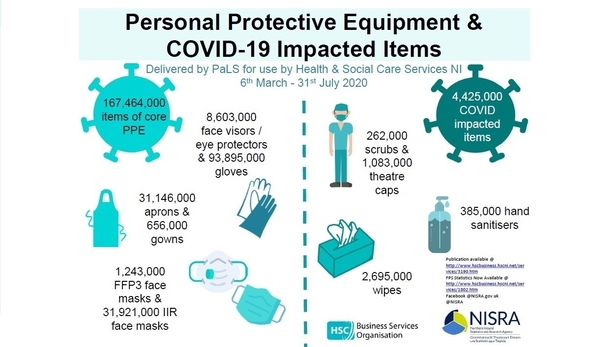 The figures only relate to PPE delivered by a service within BSO to the HSC system in Northern Ireland, and not items purchased or sourced directly from other PPE providers.
In January and February, just over 19 million core items were delivered to Northern Ireland's health and social care sector, compared to the 167.5 million items in the five month period between March and July.
Throughout the Covid-19 emergency, a lack of appropriate PPE has been a major concern for many healthcare workers.