More countries across Europe imposed new travel restrictions and containment measures with fears growing over a second wave of coronavirus infections as global deaths from the pandemic climbed over 700,000.
Europe remains the hardest-hit region worldwide with more than 200,000 fatalities since the virus first emerged in China late last year, but the number of deaths is rising fast elsewhere, especially in Latin America and India.
As governments across the globe struggle to salvage economies ravaged by months of lockdown, many have been forced to look at new measures to curb outbreaks of Covid-19 since they lifted initial containment orders.
The pandemic has killed at least 708,236 people worldwide with the United States recording the most deaths with more than 158,000, followed by Brazil with nearly 100,000.
Germany is the latest to introduce mandatory tests for travellers returning from designated risk zones, starting on Saturday, as fears grow over rising case numbers blamed on summer holidays and local outbreaks.
Germany's list of "risk zones" currently includes most non-EU countries, as well as certain provinces in Belgium and Spain.
Neighbouring Austria announced it would issue a travel warning for mainland Spain, becoming the latest country to do so amid a rise in new coronavirus cases in the fellow EU member.
---
---
Finland also introduced new controls on arrivals from some EU countries, including Belgium, the Netherlands and Andorra, putting a stop to tourists arriving from there and imposing a 14-day quarantine on other returnees.
"The situation is extremely delicate," the health ministry's strategic director Liisa-Maria Voipio-Pulkki said, adding that "some sort of second stage has begun."
"Whether we can expect a smaller wave or a larger wave depends on how we respond."
Britain has reimposed quarantine for travelers from Belgium, Andorra and Bahamas.
Norway announced that France would be considered a red zone due to the resurgence of coronavirus cases there, meaning all travellers arriving from France face a mandatory ten-day quarantine.
Switzerland, Monaco and the Czech Republic were also hit with similar restrictions, as well as two Swedish regions, the Norwegian foreign affairs ministry said.
"The infectious situation can change quickly, as can the restrictions," Foreign Minister Ine Eriksen Soreide said in a communique.
The United States bucked the trend despite its own soaring death toll, lifting a blanket warning against all foreign travel.
"Health and safety conditions (are) improving in some countries and potentially deteriorating in others," the State Department said in a statement.
Many nations are seeing new outbreaks, forcing local or citywide lockdowns and other quarantine measures.
Poland will re-impose compulsory face masks in all public spaces in nine districts, the health minister said, as it saw a record new high in the number of infections.
The restrictions will come into force from Saturday and will also affect sports and cultural events in those areas, mainly in the south and east.
Greece's government on Wednesday announced a "wake-up week" on Covid-19, tightening restrictions after the steady rise in mostly domestic infections.
Officials have blamed the increase on overcrowding in clubs and social events.
The new virus outbreaks are forcing officials into an uncomfortable trade-off between health requirements and the need to bring economies back to life as businesses and companies struggle.
German airline Lufthansa became the latest to reveal the fallout from the pandemic, announcing forced layoffs and a €1.5 billion loss in the second quarter.
Announcing its worst quarter in the company's history, Lufthansa said in the three months to June its passenger numbers had collapsed by 96% compared to last year.
Melbourne enters strict new lockdown
Australia's second-biggest city Melbourne has begun the first day of a six-week total lockdown with the closure of most shops and businesses raising new fears of food shortages, as authorities battle a second wave of coronavirus infections.
Shops were shut and streets were deserted in the city of about 5 million people, the capital of Victoria state, which reported 471 new Covid-19 cases and eight deaths in the past 24 hours.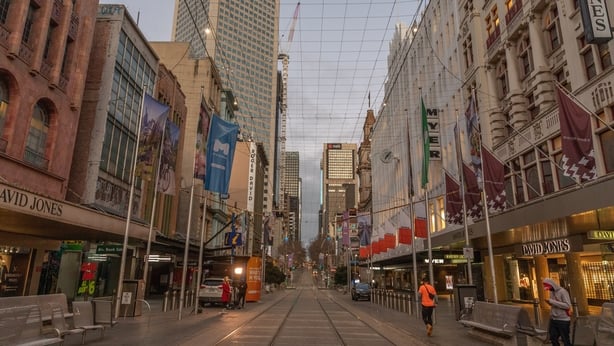 Australia has now recorded about 20,000 Covid-19 cases and 255 fatalities, still far fewer than many other developed nations.
But the Victorian outbreak threatens to spill into other states. New South Wales reported 12 new coronavirus cases yesterday, taking the national tally to 483. There were no cases reported in other states and territories
"We've flattened that curve once, we'll flatten that curve again," Health Minister Greg Hunt told reporters.
Victorian Premier Daniel Andrews urged Melbourne residents,who have already endured weeks of less severe lockdown, to stay calm amid a surge in demand at supermarkets.
After closing its international borders early, locking down cities and launching a campaign of mass virus testing, Australia had reopened in June with daily cases in the single figures.
But hidden transmissions among staff at quarantine centres led to wider community transmissions in Victoria, which has recorded triple-digit new cases for weeks.
500 inmates in Arizona prison test positive for Covid-19
More than 500 inmates - nearly half the population - of a prison in the US state of Arizona have tested positive for the novel coronavirus, officials said, while at a California prison the virus death toll hit 22.
The Arizona Department of Corrections said 517 inmates at the ASPC-Tucson Whetstone prison "have tested positive for Covid-19."
Those inmates "are currently being housed as a cohort together in separate areas and are receiving appropriate medical care. They will not be allowed back into the general population until they have been medically cleared," its statement read.
The coronavirus has severely afflicted US jails and penitentiaries, home to the world's biggest prison population, which comprises 2.3 million inmates.
Officials are unable to force adequate distancing in crowded cells and face shortages of medical personnel and personal protective gear.
Arizona, population 7.3 million, has reported more than 180,000 coronavirus cases, of which 1,429 are in prisons. Seven of its Covid-19 fatalities came in state prisons.
California however has reported 51 deaths among prisoners, including 22 in San Quentin prison just north of San Francisco.
In an attempt to prevent the spread of the virus in the close confines of prisons, since 11 March authorities in the state have released 15,683 inmates who were behind bars for minor crimes or were nearing the end of their sentences
Also in the United States, New York mayor Bill de Blasio, announcing new checkpoints at access roads into the city, said: "We're not going to let our hard work slip away and will continue to do everything we can to keep New Yorkers safe and healthy."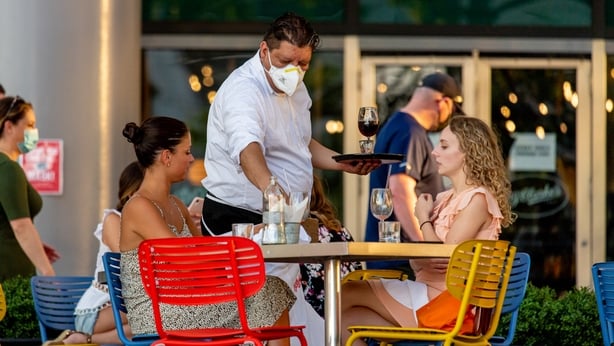 The virus killed more than 32,000 people in the city, which was one of its first epicentres in the United States.
Brazil drives surge Latin America cases
One of Brazil's leading indigenous chiefs, 71-year-old Aritana Yawalapiti, has died of respiratory complications caused by Covid-19.
Brazil, South America's largest country, is driving a surge in Latin America and the Caribbean. It has recorded nearly 2.9 million cases, and more than 97,000 deaths, nearly half the region's 208,329 fatalities.
Meanwhile the death toll continued to rise in Peru, which reported a new daily record of 221 deaths and 7,734 new cases, according to Health Ministry figures, bringing the total Covid-19 deaths to 20,228, and 447,624 confirmed cases - though total deaths could be closer to 50,000 when considering suspected cases, according to press reports.
Peru, population 33 million, has the third highest death toll in Latin America after Brazil and Mexico.
Vaccine trials
In South Africa, the hardest-hit country in Africa, some 24,000 health workers have contracted the coronavirus and 181 have died since March, Health Minister Zweli Mkwize said.
But he added: "We haven't got to the stage where we don't have hospital space for patients."
In Afghanistan, the health ministry said nearly a third of the population - or 10 million people - has been infected with the novel coronavirus.
The world's hope of ending the current cycle of outbreaks and lockdowns rests on finding a treatment, which has proved elusive so far.
The US government yesterday announced a new $1bn investment in a Covid-19 vaccine being developed by Johnson & Johnson, guaranteeing 100 million doses.
J&J, via its subsidiary Janssen, received $456m in March.
Clinical trials on humans began in China for a potential coronavirus vaccine developed by German pharmaceutical group BioNTech with Chinese company Fosun Pharma.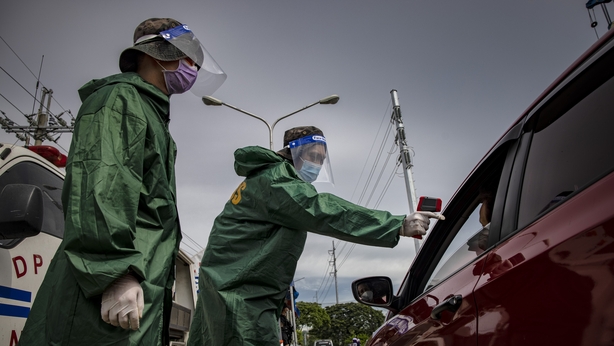 Philippines records most coronavirus cases in East Asia after new surge
The Philippines recorded another jump in coronavirus cases to overtake neighbouring Indonesia as the country with the highest number of confirmed Covid-19 infections in East Asia.
A recent surge in cases of the virus in and around the capital Manila has pushed authorities to re-impose a lockdown affecting around a quarter of the country's 107 million people.
The Philippines recorded 3,561 new infections yesterday, taking its total confirmed cases to 119,460. That is higher than Indonesia's 118,753 infection cases.
The death toll rose by 28 to 2,150, which is less than half of Indonesia's 5,521 fatalities, but is expected to grow after the recent spike in cases.
President Rodrigo Duterte announced late on Sunday a two-week lockdown in and around Manila, which accounts for two-thirds of the country's economic output.
The restrictions, which came into effect on Tuesday, were re-instated after a group of doctors and nurses warned that the healthcare system could collapse as a result of a surging number of virus patients.
Public transport has been shut and working from home instituted where possible, with only one person per household allowed out for essential goods.