Denmark's state epidemiologist has said he could not recommend proceeding to the next phase of reopening society during the coronavirus outbreak, Danish media Ingenioeren reported.
"It is not something that I can recommend from a healthcare perspective that you go ahead with," Kare Molbak, director of Statens Serum Institut (the State's Serum Institute) said according to Ingenioeren.
The government and parliament are due to begin discussing the fourth phase of reopening, including nightclubs, this month.
The weekly number of people infected with Covid-19 in Denmark has risen in the past couple of weeks.
---
---
Meanwhile, new confirmed coronavirus cases have nearly doubled in the Netherlands over the past week to 2,588, health authorities said, continuing a steady surge ongoing since lockdown measures were eased at the start of July.
The new cases registered in the week through 4 August were up 95% from 1,329 in the week through 28 July, the National Institute for health said in its weekly report published today.
Melbourne police say hundreds broke quarantine orders
Hundreds of people confirmed to have Covid-19 in Australia's worst-hit state have been caught flouting stay-at-home orders, authorities said, prompting tougher fines.
The southern state of Victoria is experiencing a rise in infections over recent weeks that the government has partly blamed on people breaking rules that restrict travel.
Residents of Melbourne, Australia's second biggest city and the capital of Victoria, are now under an overnight curfew, non-essential businesses are closed and face coverings are mandatory as hundreds of new cases are recorded daily.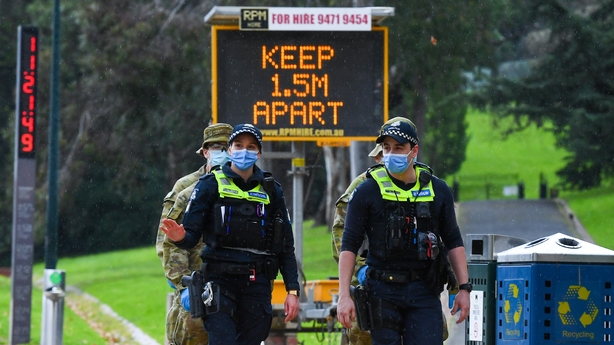 Global coronavirus death toll tops 694,000
At least 694,507 people have died of Covid-19 around the world since the outbreak emerged in China last December.
According to a tally from official sources compiled by AFP at least 18,324,580 cases have been registered in 196 countries and territories. Of these, at least 10,707,500 are now considered recovered.
Yesterday, 4,309 new deaths and 207,124 new cases were recorded worldwide.
Based on latest reports, the countries with the most new deaths were India with 803 new deaths, followed by Brazil with 561 and the United States with 532.
The United States is the worst-hit country with 155,471 deaths from 4,717,716 cases. At least 1,513,446 people have been declared recovered.
Europe overall has 211,145 deaths from 3,233,151 cases.
Philippines orders millions to stay home
Millions of people in the Philippines were ordered to stay home as global coronavirus infections kept soaring, with the World Health Organization warning against relying on a vaccine "silver bullet" to end the pandemic.
More than 18 million people worldwide have been infected with the virus since it first emerged in China late last year and it shows no sign of slowing down.
Brazil is driving a surge in Latin America and the Caribbean where infections have topped five million.
South America's largest country has recorded 2.75 million cases, and close to half the region's more than 202,000 deaths.
Desperate to contain the spread and relieve pressure on overwhelmed hospitals, some countries such as the Philippines have resorted to reimposing economically painful restrictions on travel and businesses.
More than 27 million people on the main island of Luzon, including the capital Manila, went back into a partial lockdown for weeks from today.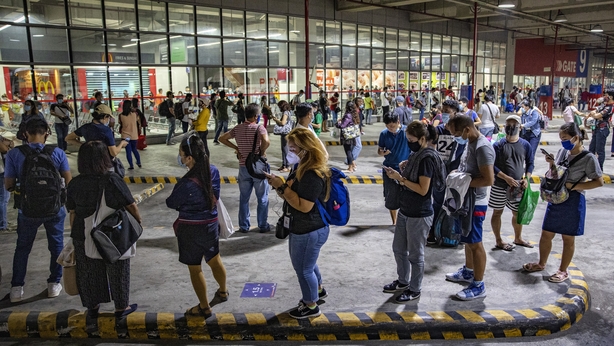 People have been told to stay home unless they need to go out to buy essential goods, for exercise or for work after the number of recorded infections surged past 100,000.
Trump hits back at Covid response co-ordinator
As the number of fatalities in the United States surpassed 155,000, President Donald Trump lashed out at his coronavirus response co-ordinator Deborah Birx after she warned the virus was "extraordinarily widespread" in the country where more than 4.6 million infections have been recorded.
Mr Trump - angered by what he sees as overly pessimistic media coverage of his handling of the epidemic - called her remarks "pathetic" and accused her of giving into pressure to sound negative about the new surge.
"Deborah took the bait & hit us. Pathetic!" Mr Trump said on Twitter.
So Crazy Nancy Pelosi said horrible things about Dr. Deborah Birx, going after her because she was too positive on the very good job we are doing on combatting the China Virus, including Vaccines & Therapeutics. In order to counter Nancy, Deborah took the bait & hit us. Pathetic!

— Donald J. Trump (@realDonaldTrump) August 3, 2020
Despite rising infection numbers in Europe, some countries are pushing ahead with plans to reopen schools and finding ways to keep their battered tourism sectors functioning.
Germany watched anxiously as 150,000 children returned to school yesterday in Mecklenburg-Western Pomerania, the country's first state to restart full-time classes after the summer holidays.
Meanwhile, the head of the German doctors' union said the country is already contending with a second wave of the coronavirus and risks squandering its early success by flouting social distancing rules.
The number of daily confirmed coronavirus cases has ticked up steadily in recent weeks, with health experts warning lax adherence to hygiene and distancing rules among some of the public is spreading the virus across communities.
"We are already in a second, shallow upswing," Susanne Johna, president of Marburger Bund, which represents doctors in Germany, told the Augsburger Allgemeine newspaper.
She said there was a danger that a longing to return to normality and a suppression of containment measures would fritter away the success Germany had achieved so far, urging people to stick to social distancing and hygiene rules and wear masks.
The number of confirmed coronavirus cases in Germany increased by 879 to 211,281, data from the Robert Koch Institute for infectious diseases showed today.
The reported death toll rose by eight to 9,156, the tally showed.

In France, Prime Minister Jean Castex urged the nation "not to let down its guard" as surging cases led the Riviera resort city of Nice to become the latest to mandate outside mask-wearing.
"The virus has not gone on holiday and neither have we," Mr Castex said.
Wuhan's virus alarm does not necessarily point to Covid-19 origin, says WHO
The WHO has said the fact that Wuhan's specific surveillance system was triggered by Covid-19 does not necessarily mean that is where the disease originated.
Dr Michael Ryan, executive director of the WHO Health Emergencies Programme, said at a routine Covid-19 briefing yesterday that a much more "extensive retrospective epidemiological study" should be taken to fully understand the links between the cases.
The remarks were made as the WHO advance team that travelled to China recently concluded its mission on identifying the zoonotic (diseases that can be transmitted from animals to human) source of Covid-19.
"What is required is going to be a much more extensive, retrospective epidemiologic study to look at those first cases and clusters in Wuhan and to fully understand the links between those cases, so that we can then determine at what point, in Wuhan or elsewhere, was the animal-human species barrier breached," he said.
He stressed the need to start studies on the first reported human clusters in order to systematically look for the "first signal at which the animal-human species barrier was crossed", before moving to the studies on the animal side.
"Again, one must remember that there was a specific surveillance system in place in Wuhan for picking up clusters of atypical pneumonia. It was there for a very specific purpose.
"And the fact that that fire alarm was triggered doesn't necessarily mean that that is where the disease crossed from animals into humans," said Dr Ryan.
Future studies will build on the initial investigations done by Chinese experts around the Wuhan seafood market.
Dr Ryan noted that the WHO is moving forward with agreeing on the international team and ensuring that right expertise will be in place to work with the Chinese counterparts to design and implement further studies.