Belgium has announced measures today, including a sharp reduction in permitted social contact, in a bid to prevent a return to a nationwide lockdown after a surge of coronavirus infections in the past three weeks.
Prime Minister Sophie Wilmes told a news conference that, from Wednesday, a Belgian family or those living together would only be able to meet five other people, sharply down from 15 now.
The numbers allowed to attend public events will be halved to 100 for inside and 200 for outside. Consumers will have to shop on their own and Ms Wilmes also said people should work from home as much as possible.
"We are acting again today to keep the situation under control and to prevent a general lockdown," Ms Wilmes said, adding those infected appeared to be more contagious than when the country went into lockdown in mid-March.
The average number of cases in the past week has risen to 279 per day from around 80 in early July. The northern port city of Antwerp has been particularly hard hit.
Last week, Belgium put a stop to a further easing of restrictions. For bars and restaurants, masks became compulsory for those not seated and customers had to leave contact details to allow tracing.
Belgium, where the European Union and NATO have their headquarters, imposed a lockdown on 18 March due to Covid-19, which has claimed 9,821 lives in the country, one of the world's highest fatality figures per capita.
A three-year-old girl with severe pre-existing health problems became Belgium's youngest known coronavirus victim last week.
---
---
Hong Kong orders mandatory mask wearing to combat virus surge
Everyone in Hong Kong will have to wear masks in public from this week, authorities said, as they unveiled the city's toughest social distancing measures yet to combat a new wave of coronavirus infections.
The new rules came as authorities revealed China would help officials build an emergency field hospital to help deal with a surge in patients.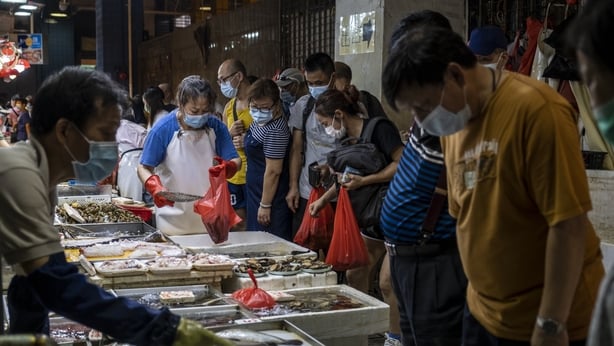 "The epidemic situation in Hong Kong is remarkably severe," Chief Secretary Matthew Cheung told reporters, as he announced new measures including a ban on more than two people gathering in public and restaurants only being allowed to serve takeaway meals.
The city was one of the first places hit by the coronavirus when it emerged from China, but initially had remarkable success in controlling the outbreak - helped in part by a health-conscious public embracing face masks.
Local infections have soared over the last month, however, with piecemeal social distancing measures appearing to do little to stem a rising caseload.
More than 1,000 infections have been confirmed since early July - more than 40% of the total since the virus first hit the city in late January.
New daily infections have been above 100 for the last five days and the city of 7.5 million now has more than 2,700 infections with 20 fatalities.
Local authorities had previously announced plans to convert a large exhibition centre near the city's airport into a temporary field hospital.
Mr Chueng said Beijing had agreed to help build the 2,000-bed facility, similar to those used in the central Chinese city of Wuhan where the deadly virus first emerged.
Health officials have been scrambling to uncover the source of the latest outbreak.
Some have blamed exemptions from the usual 14-day quarantine which the government granted to "essential personnel", including cross-boundary truckers, air and sea crew and some manufacturing executives.
Because of its extensive air links and busy port, Hong Kong is a popular transit point for ships to change crews.
Now only vessels with freight destined for Hong Kong will be able to swap out personnel, but even they will not be allowed to mingle in public and must go straight to or from the airport, or stay in a designated quarantine venue.
Earlier this month the government shuttered a number of businesses - including bars, nightclubs and gyms - and banned restaurants from receiving dine-in customers in the evenings.
They also ordered people to wear masks while taking public transport or at indoor public venues.
The new rules mean that from Wednesday restaurants will only be allowed to serve takeout meals.
No more than two people can gather in any public place, although there are exemptions for those in the same household or those heading to work.
Mr Cheung called on employers to allow staff to work from home, but so far authorities have resisted making such an order compulsory.
China records highest number of virus cases since April
China has recorded 61 new coronavirus cases, the highest daily figure since April, driven by clusters in three separate regions.
The bulk of 57 new domestic cases were found in the far northwestern Xinjiang region, according to the National Health Commission, where a sudden outbreak in the regional capital of Urumqi occurred in mid-July.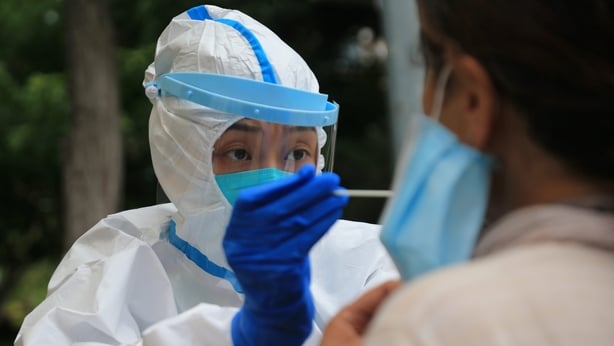 Fourteen domestic cases were also recorded in the northeastern province of Liaoning where a fresh cluster broke out in the city of Dalian last week.
Two more local cases were found in the neighbouring province of Jilin near the North Korean border, the first since late May.
The last four infections confirmed today were imported from overseas.
It is the highest daily tally of new virus cases since 14 April, when 89 cases, mostly imported, were recorded.
Chinese authorities have rolled out mass testing for hundreds of thousands of people in the port city of Dalian.
A second wave of mass testing was also launched in Xinjiang's Urumqi yesterday to detect residents who had previously tested false negative, reported the state-run Global Times, following a mass testing effort earlier this month.
Residential communities in both Dalian and Urumqi have been placed under lockdown, with authorities declaring a "wartime mode" to combat the virus.
Experts still have not confirmed the origin of the recent Xinjiang cluster, which has infected 178 people to date.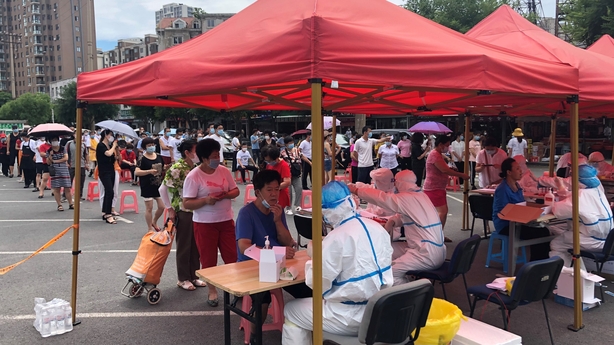 US adds over 55,000 cases in 24 hours - Johns Hopkins
The United States recorded 55,187 new coronavirus cases in 24 hours, Johns Hopkins University reported in its real-time tally.
The world's hardest-hit country now has a total caseload of 4,229,624, the Baltimore-based university showed at 1.30am Irish time.
An additional 518 deaths brought the overall death toll to 146,909.
After a drop in infection rate in the late spring, the US has seen a recent surge in Covid-19 cases, particularly in southern and western states such as California, Texas, Alabama and Florida.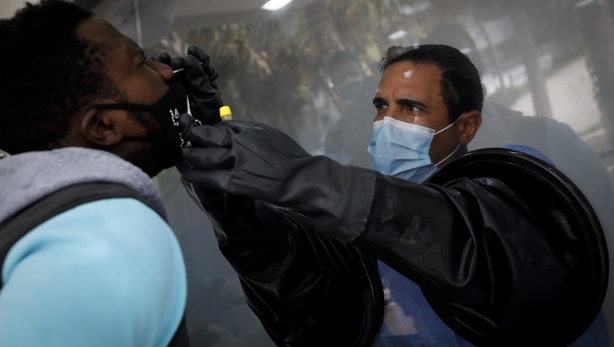 The last time the daily number of new cases clocked in below 60,000 was almost two weeks ago, on 13 July.
Scientists agree that an increase in death rates follows the spike in infections by three to four weeks.
The daily death toll for the past four days exceeded 1,000.
Authorities in Australia scrambling to contain flare-ups
Meanwhile, Australian authorities warned a six-week lockdown in parts of southeastern Victoria state may last longer after the country registered its highest daily increase in infections.
Most of Australia is effectively virus-free but flare-ups in the two most populous southeastern states have authorities scrambling to prevent a wider national outbreak.
Victoria reported a daily record of 532 new cases and six more deaths, taking the state toll to 77, almost half the total national death toll.
Asia battles second wave of coronavirus with fresh lockdowns
The Japanese government has said it would urge businesses to increase telecommuting and enhance other social distancing measures amid a rise in coronavirus cases among workers.
Japan has avoided mass infections but a record surge in cases during the past week in Tokyo and other urban centres has experts worried the country faces a second wave.
Tokyo last week reported a daily record of 366 cases, with 239 yesterday. The southern city of Fukuoka reported a record 90 cases, along with rising numbers in Osaka.
Vietnam is evacuating 80,000 people, mostly local tourists, from the central city of Danang after three residents tested positive for the coronavirus at the weekend, the government said.
It is back on high alert after the government on Saturday confirmed its first community infections since April, and another three cases yesterday, all in Danang.
Philippine President Rodrigo Duterte is expected to focus on Covid-19 and the economy in his annual State of the Nation Address later today, amid a renewed coronavirus outbreak.
Manila is weighing whether to re-impose stricter lockdown after easing them saw a dramatic surge in infections, with 62,326 cases reported since 1 June.
Indonesia is expected to report its 100,000th case, having surpassed China with the highest number of cases and deaths in East Asia.
More than 16.13 million people have been reported to be infected by the novel coronavirus globally and 644,836 have died, according to a Reuters tally.
PNG orders lockdown of capital after first virus death

Papua New Guinea's prime minister ordered a swift lockdown of the capital and warned the number of coronavirus cases will likely explode in coming days, as the country recorded its first confirmed Covid-19 death.
As local testing kits ran out and meagre hospital resources approached capacity, James Marape announced the discovery of 23 new cases in the last 24 hours and said that without drastic action, "numbers will grow out of control."
Papua New Guinea had seen only 11 cases until a week ago. The total now stands at 61, with new cases being found daily.
The capital Port Moresby will close to non-essential business for 14 days from tomorrow, schools will be closed and a nighttime curfew imposed.
Masks will also be mandatory in all public places, and domestic flights from the capital will be banned.
Papua New Guinea is one of the poorest countries in the Pacific, and hospitals were severely under-resourced even before the global pandemic.
With domestic testing capacity exhausted, samples from suspected virus patients already have to be sent overseas to Australia and Singapore for analysis.
The country's main isolation facility has just 72 beds, and fewer than two dozen are still free.
PNG last week asked for help from the World Health Organization, which is said to be mobilising international emergency medical teams to deploy to the country.

Papua New Guinea is also one of only a handful of places in the world where polio is still endemic.