Researchers are making "good progress" in developing vaccines against Covid-19, with a handful in late-stage trials, but their first use cannot be expected until early 2021, according to the World Health Organization (WHO).
The agency is working to ensure fair vaccine distribution, but in the meantime it is key to suppress the virus's spread, said Dr Mike Ryan, head of WHO's emergencies programme, as daily new cases around the globe are at near-record levels.
More than 15 million cases have been detected worldwide since the pandemic emerged late last year.
There have been at least 15,007,291 cases of the virus, including 617,603 deaths, according to the latest tally.
The United States is the hardest hit country with 3,915,780 cases and 142,312 deaths. In the last seven days, more than 1.6 million new cases have been detected globally.
In relation to vaccines, Dr Ryan said that "good progress" is being made, noting that several are in phase three trials and none have failed so far in terms of safety or ability to generate an immune response.
"Realistically it is going to be the first part of next year before we start seeing people getting vaccinated," he told a public event on social media.
The WHO is working to expand access to potential vaccines and to help scale-up production capacity, Dr Ryan said.
"We need to be fair about this, because this is a global good. Vaccines for this pandemic are not for the wealthy, they are not for the poor, they are for everybody," he said.
The US government will pay $1.95 billion to buy 100 million doses of a Covid-19 vaccine being developed by Pfizer and German firm BioNTech if it proves safe and effective, the companies said.
Dr Ryan also cautioned authorities to be careful about reopening schools until community transmission of Covid-19 is under control.
"We have to do everything possible to bring our children back to school, and the most effective thing we can do is to stop the disease in our community.
"Because if you control the disease in the community, you can open the schools."
Belgium experiencing surge in coronavirus cases
Belgium is experiencing a surge in coronavirus cases after relaxing many of its lockdown measures, health officials said, warning of a possible second wave.
The Belgian national security council will meet tomorrow and could decide to postpone the next phase of the country's staggered return to normal economic and social life.
But already at a public briefing today, officials urged residents to take better care to respect social distancing guidelines and to wash their hands more often.
"It is very important that we work together to halt this snowball effect before it provokes a new avalanche," spokesman Boudewijn Catry said.
"The situation is not without an exit, we can still change the course of events, but we must act fast."
Mr Catry was himself replacing Belgium's federal Covid-19 spokesman Yves van Laethem, who he said had gone into voluntary quarantine after being exposed to a coronavirus carrier.
---
---
Belgium suffered one of Europe's worst per capita outbreaks of the virus earlier this year, but along with its neighbours was able to bring it under control.
Now, however, the number of cases is increasing again. There were 184 new infections per day on average last week, up by 89% over the previous seven days.
The majority of new infections are among the active population aged between 20 and 59, Mr Catry said, but nevertheless the hospitalisation of serious cases is also increasing.
"Last week we counted on average 12 new hospitalisations by day on average, up from 9.7 the week before. We expected this increase. This indicator follows that of new infections with a two- to three-week delay."
Some 64,258 cases have been detected in Belgium since the pandemic swept around the world, and 9,805 people have died.
Australia posts record number of new Covid-19 cases
Australia has reported a record 501 new coronavirus infections, nearly four months after the pandemic initially peaked in the country, with authorities warning of a critical new phase in its two biggest cities.
Most of the cases were reported in Victoria state, where authorities have struggled to bring an outbreak in Melbourne under control despite an almost two-week lockdown of Australia's second-biggest city.
Australia's new coronavirus infections previously peaked on 28 March when 459 cases were reported, before the country appeared to bring the virus under control and began easing harsh restrictions.
Australia, like neighbouring New Zealand, has been lauded for its pandemic response.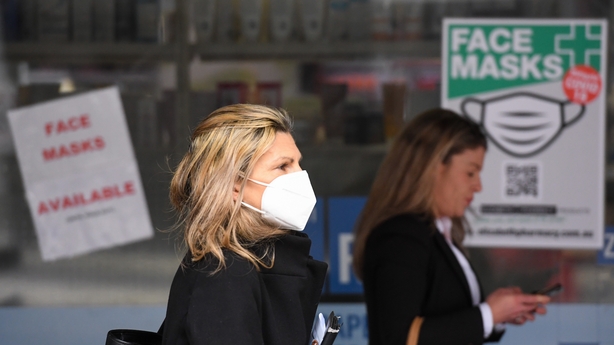 Australia has recorded almost 13,000 cases of Covid-19 and 128 fatalities in a country of about 25 million.
Melbourne residents are required to wear face coverings - making the city the first place in Australia to mandate face coverings in public - in a new effort to slow the virus spread.
But Victoria Premier Daniel Andrews said "further behaviour change" would still be required, after analysis showed almost nine in ten people diagnosed with coronavirus over the two weeks to yesterday did not self-isolate between feeling sick and seeking a Covid-19 test.
Just over half of people also failed to stay at home between being tested and receiving their results, he added, saying authorities believed insecure work conditions were a key driver of the trend.
There are growing fears about the virus spreading through vulnerable populations after outbreaks at several nursing homes while inmates at six prisons have been confined to their cells after a guard tested positive.
Victoria has effectively been sealed off from the rest of the country in an effort to contain the virus, but new cases have been detected in neighbouring New South Wales state.
New South Wales Premier Gladys Berejiklian described the coming weeks as "the most critical" since the height of the last lockdown, when the state held the mantle of Australia's hardest-hit region.
Several clusters have emerged in Sydney, which health officials believe sprung up after an infected man from Melbourne visited a popular pub.
Scientists report that airborne coronavirus is probably infectious
A new study by scientists at the University of Nebraska in the US that was uploaded to a medical preprint site this week has shown for the first time that SARS-CoV-2 taken from microdroplets, defined as under five microns, can replicate in lab conditions.
This boosts the hypothesis that normal speaking and breathing, not just coughing and sneezing, are responsible for spreading Covid-19, and that infectious doses of the virus can travel distances far greater than the two metres urged by social distancing guidelines.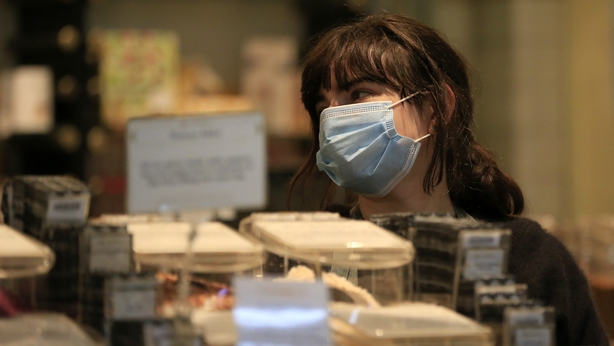 The results are still considered preliminary and have not yet appeared in a peer-reviewed journal, which would lend more credibility to the methods devised by the scientists.
The paper was posted to the medrxiv.org website, where most cutting-edge research during the pandemic has first been made public.
The same team wrote a paper in March showing that the virus remains airborne in the rooms of hospitalised Covid-19 patients, and this study will soon be published in a journal, according to the lead author.