The 439,000 people currently receiving the Covid-19 Pandemic Unemployment Payment (PUP) have been given until Monday 13 July to confirm that they are still fully unemployed and eligible to receive the payment.
When the PUP was launched three months ago, ahead of a wave of lay-offs triggered by the virus, recipients qualified for the payment if they were fully unemployed, and had been employed in the week immediately before Friday 13 March.
The Department of Social Protection said there has been no change to the criteria for receipt of the PUP, and that once claimants are fully unemployed, they will continue to receive it until the scheme is due to expire on 10 August.
They are being notified by text and/or email of the requirement to confirm online by 13 July through mywelfare.ie that they continue to be eligible to receive the payment. They are advised not to call into their local Intreo centre.
"Once the closing date has passed, the department will further examine in detail any case where the recipient has not confirmed their eligibility," it said.
The department also confirmed that from next week, around 110,000 PUP recipients - a quarter of those currently receiving the payment - will see the payment fall from €350 to €203 per week.
The cut will apply to all those including part-time workers who were earning less than €200 before the pandemic, but who have been receiving €350 per week under the PUP scheme.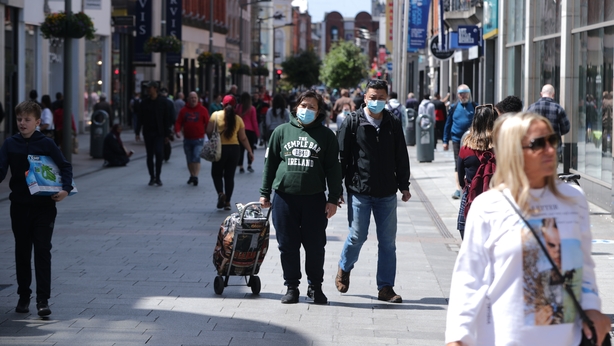 The reduction will take effect from the next PUP payment, scheduled for 7 July.
"One of the issues identified with the Pandemic Unemployment Payment is that a small number of recipients who previously only worked a small number of hours received significantly more in the Pandemic Unemployment Payment than while in employment," the department said.
"In order to address this issue, the Pandemic Unemployment Payment will now be paid at two levels with effect from Monday 29th June for payments made on and after Tuesday 7th July. This change to the payment structure will ensure that the rate is fair and targeted."
The department notes that recipients earning less than €200 per week pre-Covid will now receive the Jobseeker's Benefit rate of €203, which will still be in excess of their pre-pandemic earnings, and "...no person on the lower rate of payment will receive less than what they would have been paid previously by their employer."
Asked how many self-employed people had closed their claims to return to work, the department said: "Eligibility for receipt of PUP was not contingent on being employed or self-employed, therefore figures on the number of self-employed who are claiming the payment are not currently available."
Those receiving the casual jobseeker's payment before transferring to the PUP will continue to be paid the €350 rate, where a reduction to €203 would reduce their income to less than their total pre-Covid income.