Crèche operators have warned that they may have to reduce capacity in some facilities because new staff will not be covered by the State's Temporary Wage Subsidy Scheme.
The Association of Childhood Professionals said the issue may lead to the closure of rooms at facilities due to lack of staff.
The organisation told the Oireachtas Special Committee on Covid-19 Response that this will have a knock-on effect on "working parents and may lead to a capacity issue".
The association's Paula Donohoe, who runs two childcare services in Ballyconnell, Co Cavan, said that staff turnover can be as high as 40%.
In her opening statement circulated to committee members, she said that where staff do not return to work, providers will have the dual challenge of recruiting staff and also ensuring they have sufficient income to pay for the new member of staff because their wage will not be covered by the TWSS.
She told politicians that additional staff will be required because of the additional health and safety requirements caused by Covid-19.
The extra workers will be needed for additional cleaning, managing departures and arrivals of children, and an additional administrative workload caused by the virus.
This will require more personnel "over and above" the regulatory requirements to maintain the adult to child ratios.
Ms Donohoe said: "There is also the reality that many of our staff may struggle to transition from the Covid-19 support payment to their normal pre-Covid 19 wage. We had a staffing crisis prior to this pandemic and it has not gone away."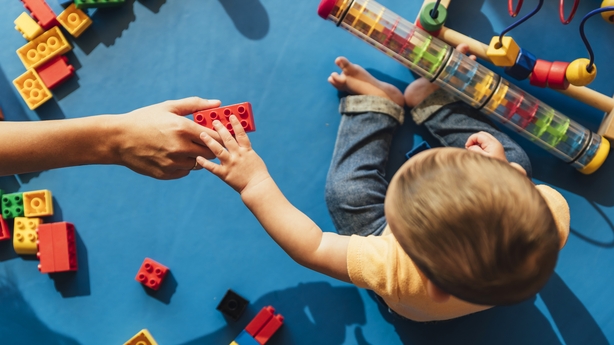 Meanwhile, CEO of Early Childhood Ireland Teresa Heeney has said the past three months have been "extremely challenging" for the early years sector.
She told the committee that the uncertainty is having a profoundly stressful impact on childcare providers.
Ms Heeney said the issues of insurance and staff recruitment and retention have been exacerbated by the Covid-19 crisis.
She said that when settings reopen next week, parents should not be expected to pay higher fees for the same or less service in order to ensure sustainability.
She told politicians that lack of clarity on the post-Covid funding model beyond August is causing anxiety to providers.
Ms Heeney said the organisation is planning for reopening on 29 June with no clarity on the financial model which will be in place after the summer.
She called on the Government to engage with the sector and develop a plan on how funding needs will be met.
Ms Heeney said pre-existing issues with regard to recruiting and retaining staff will have been exacerbated by Covid as some workers elect not to return to work and travel restrictions inhibit the return or recruitment of workers from outside Ireland.
She said the government needs to give "serious consideration" to how staffing levels can be maintained in this context.
Chair of the Association of Childhood Professionals Marian Quinn said there was "huge expectation" for childcare providers to be open next week and to be available for parents.
However, she said, the reality is there will be services who will have sustainability issues and if their staff are not eligible under the Wage Subsidy Scheme, the providers will have to find the full level of funding to pay their wages.
Ms Quinn said it is impossible to tell how much capacity will be available in the childcare sector when it opens on Monday.
She said some providers have said they will not be able to open and many who have said they will open at between 60-70% capacity.
The CEO of the Crann Support Group, which represents community providers, told the committee that Ireland will go back 20 years in childcare if the Department of Children is abolished.
Responding to reports that the move is under consideration, Marie Daly said: "It will be a bigger insult to the childcare sector where they are struggling to do the best they can and now we are going to take away the ministry."
She said that the abolition of the department would show where the childcare sector stands in Government's priority.
Ms Daly was responding to Fine Gael's Fergus O'Dowd who said it was his strong view that the Department of Children should be retained.
He said Covid-19 has shown that greater attention and greater investment must be given to the youngest and oldest in society.
Dept asked if it let nurses down
The Secretary General of the Department of Children, Fergal Lynch, has said it meant no disrespect to nurses but it was operating in a "very constricted environment" when they failed to get a childcare scheme together during the Covid-19 pandemic.
Fianna Fáil TD John McGuinness asked whether the Department accepted that it had let down the nursing profession.
Mr Lynch told the committee that they did what they could but there were very limited options.
He said the only game in town was for the children of childcare workers to go to people's homes, but that did not work.
Mr Lynch also said the closure of childcare facilities due to Covid-19 was necessary but it had adverse effects on children.
Additional reporting Aisling Kenny