Australia has eliminated the coronavirus in many parts of the country, its chief medical officer said today, clearing the way for sports fans to soon return to stadiums and for foreign students to prepare to fly back to classes.
Australia recorded just 38 cases of the coronavirus over the past week, with travellers returning from overseas and already in quarantine accounting for more than half of them, said Chief Medical Officer Brendan Murphy.
"We have effectively achieved elimination at this time in many parts of the country," Mr Murphy told reporters.
Prime Minister Scott Morrison last month announced a three-step plan to remove most lockdown measures by July.
But with case numbers falling significantly, Mr Morrison said restrictions on indoor gatherings would be loosened in July with crowds of up 10,000 people allowed in seated stadiums and a trial scheme to allow foreign students to return.
---
Read:
Latest coronavirus stories
---
Australia has had about 7,300 cases of the coronavirus and 102 deaths.
Meanwhile, India has reported a total of 297,535 coronavirus infections, surpassing the United Kingdom to become the fourth worst affected country in the world.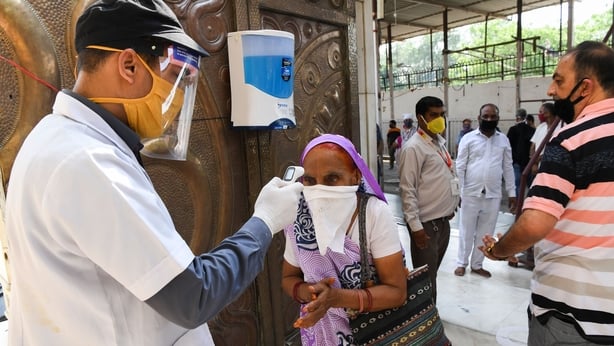 The number of infections increased by 10,956 today from the previous day, and the death toll reached 8,498, India's ministry of health and family welfare said.
More than 7.52 million people have been reported to be infected by the novel coronavirus globally and 420,383 have died, according to a Reuters tally.
Infections have been reported in more than 210 countries and territories since the first cases were identified in China in December 2019.
South Korea will extend its prevention and sanitation guidelines against the coronavirus until daily new infections drop to single digits, the health minister has said, failing which he warned of a return to tough social distancing measures.
The announcement came as such cases persist in the mid-double digits following a series of new clusters in the area around Seoul, the capital, with 56 new cases yesterday taking the national tally to 12,003, and 277 deaths.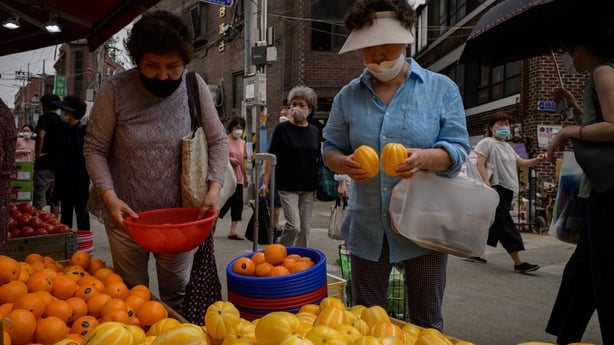 Authorities will review whether to return to intensive social distancing if daily infections hover in that range, Health Minister Park Neung-hoo told a briefing.
"These guidelines are aimed at cutting the series of infections centered in the Seoul area that could result in a return to social distancing," he said.
More than 96% of new infections were in the Seoul metropolitan area in the last two weeks, he added. Of yesterday's new cases, 42 were from the Seoul area.
South Korea has limited gatherings and recorded every visitor to eight high-risk facilities, such as nightclubs and bars, since 29 May, Mr Park said.
Tough social distancing rules will be considered if 50 daily infections persist for more than two weeks, depending on the number of new outbreak clusters, Mr Park added.
In Japan an emergency fund that can be tapped without parliamentary oversight has been branded as Prime Minister Shinzo Abe's "pocket money" by opposition politicians alarmed at its unprecedented size.
Mr Abe has said the 10 trillion yen (€83bn) will allow the government to move swiftly to mitigate the impact of the coronavirus outbreak - a "once in a century crisis" which has devastated the economy.
"We'll report to parliament how we spend the money as needed and at the appropriate time," Mr Abe told parliament today.
But at 20 times the usual sum for a reserve fund - and roughly equal the amount Japan spends on education and defence combined - the fund has even raised questions from the bureaucrats who have discretion on how to spend the money.
The fund, part of Japan's second economic stimulus package, is set to pass through parliament today.
The issue highlights how Mr Abe, pressed with time and under pressure to match massive stimulus deployed by other major economies, has rankled taxpayers with spending that one of the most indebted nations can ill afford.