I was greeted at the door of my local bookshop this week by a smiling bookseller (at least, I think she was smiling behind the mask) offering me either a squirt of hand sanitiser or a pair of blue gloves.
The man taking my order was sporting a face visor. After all, book buying is not a risk-free endeavour these days.
Many of us will have taken our first tentative steps towards repopulating the shopping streets of our towns and cities this week. Most shop workers I spoke to said it all felt like a relief, even with the complications of social distancing. But this isn't just retail therapy in its purest form; it's the unchaining of a key part of the economy.
Finding out what this may all mean is a very important task. It will help inform decisions on how long supports like the Pandemic Unemployment Payment will be needed. It will help quantify the need for further financial support for businesses. And it will inform a future government on how much they will have to deliver projects in areas like healthcare, education and transport.
And this is where Covid-19 has sparked a flurry of statistical innovations.
Gross domestic product, or GDP, is the benchmark statistic most widely used to measure an economy's progress. It's used to compare how we're doing with other economies. We've heard lots of dire warnings wrapped in GDP forecasts, most recently this week from the OECD.
It's also used as a common denominator - in other words what percentage of GDP do we spend on healthcare compared to other countries?
GDP was developed in response to a dearth of information on the US economy during the Great Depression.
Nobel Prize-winning economist, Simon Kuznets, refined and honed his system for measuring the value of what the economy produces over many years. He eventually fell out with the US Department of Commerce for not incorporating into its calculations the value of work of done in the home. But that's an interesting story for another day.
GDP, however, isn't perfect.
There are practical problems. It takes a while to collect the information needed and more time to process it. We won't have the results for GDP in the second three months of this year - the period we're going through now - until September.
Also, because we have a very big multinational sector with complicated ways of accounting for itself, our GDP figures often don't capture what's really going on here. The CSO has developed alternative measures which focus more on the domestic economy. All of this is really good work which does more than a fair job of deciphering the many levers and moving parts of an economy like ours which is very open to the world.
But back at the ranch, apart from economists, it's hard sometimes to get a tangible feel for what's really going on based on a percentage figure of a conceptual sum whether it's "gross domestic product" or "modified domestic demand" or - God help us - "gross national income, star (GNI*)".
Thankfully, we've now a whole lot more to chew on. There's a newish trend in town called "nowcasting". It aims to capture what's going on through a combination of what's termed soft data (opinion or sentiment surveys) and hard data (spending patterns and unemployment numbers).
This week the Department of Finance published a range of fascinating data including information on the habits of the more than 25% of adults using the payment app Revolut in Ireland.
This data shows that total expenditure by Revolut users fell from peak to trough during Covid-19 by 40%. And since early April, there has been a recovery in spending of 30%.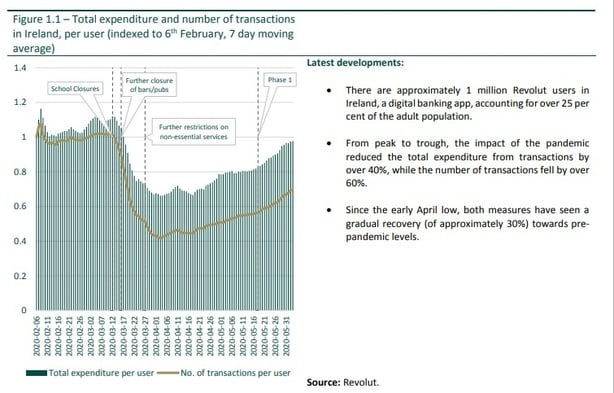 When compared to Revolut users in other countries, the speed of our early turnaround is matched only by Italy. The UK is the slowest which fits in with the OECD's prediction that its economy would sustain the biggest drop in our old friend GDP this year.
Since the partial lifting of restrictions, the volume of paint purchased here has shot up by 355% while durable goods are up 164%. Expenditure by younger and older age cohorts have been slowest to recover.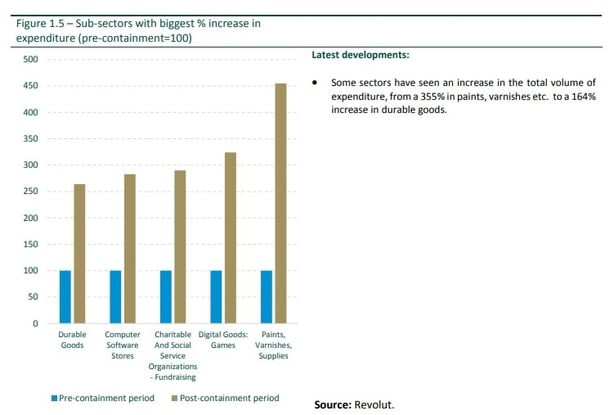 Data from Transport Infrastructure Ireland's 246 counter sites is highlighted too. It shows traffic volumes falling by two thirds through to April when it turned a corner but it's still half of normal levels.
The Central Bank has been doing similar work which it explained in some detail this week.
It dusted off an old statistical tool it occasionally used called the Business Cycle Indicator which combines a lot of hard and soft data. It found that activity in the economy fell in March at a rate comparable to the last recession.
In April, however, the fall was the steepest since records began. Early indications are that a recovery started in May.
Combined with the CSO's ongoing Business Impact of Covid-19 series and regular reports on debit and credit card usage from the Central Bank, we're now getting a much more up to date picture of what's going on during the pandemic.
GDP will always be important but what we collectively spend on our credit cards, how much energy we use and how often we travel can all now provide a much more up-to-date sense of where we're going.
Making decisions based on this information, of course, is a much trickier task.