Gardaí have confirmed that a number of names were taken at a protest by former Debenham workers in Cork today.
In a statement issued this afternoon, gardaí said that a number of people were told they were "in potential breach of regulations designed to protect themselves and others in the community" and asked to disperse, which they did.
A garda investigation is said to be continuing and a file may be prepared for the Director of Public Prosecutions.
Workers protesting outside the Patrick Street store in Cork had earlier said their names were taken by gardaí for breaching the Covid-19 2km rule.
Protests are taking place at ten of the company's stores across the country over the decision to close and the lack of a company redundancy package.
Madeline Whelan, who worked with the company for almost 30 years, says the 26 former workers on Patrick Street were practising social distancing while protesting.  
She said the gardaí were very polite but took their names.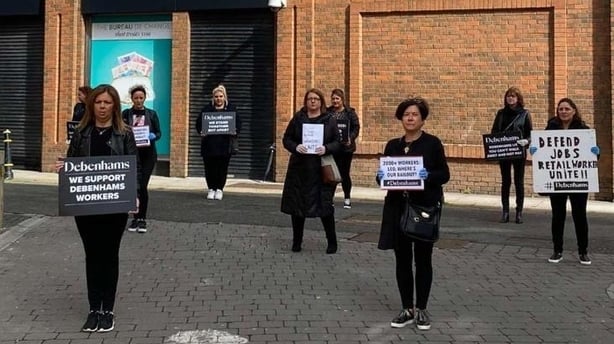 Last week, up to 25 staff from Debenhams protested outside its Patrick Street store as part of a national protest over the loss of up to 2,000 jobs following the appointment of provisional liquidators to the company's Irish operation earlier this month.
Other protests were due to take place in Dublin and Waterford.
The company employs almost 1,500 people at its Irish stores, with a further 500 people employed by in-store concession outlets.
Earlier this month, the High Court appointed provisional liquidators to the Irish operation after it was told by the company that it was insolvent and could not pay its debts.