A total of 17,337 people who tested positive for coronavirus have died in hospitals in Britain, an increase of 828 on the figure published 24 hours earlier, health ministry data showed.
The number of confirmed cases of the new coronavirus has risen to 129,044.
The figure for deaths is as of 5pm yesterday, while the figure for confirmed cases is as of 9am today.
In Northern Ireland, nine more people have died due to Covid-19, bringing the total to 216.
This figure does not include deaths from Covid-19 in nursing homes or other community settings
Scotland's First Minister said the number of people who have died there after testing positive for the disease is now 985.
The latest Scottish government figures show the number of laboratory confirmed coronavirus deaths in Scotland was up 70 on yesterday's figure.
A total of 8,672 people have now tested positive for the disease, a rise of 222 over the last 24 hours, with 1,866 people in hospital with confirmed or suspected Covid-19 - a rise from 1,809 on Monday.
Nicola Sturgeon said while she would "urge caution in interpreting the figures", the number of people being admitted to hospital appears to be "broadly stable" and the numbers being admitted to intensive care "are at this stage reducing".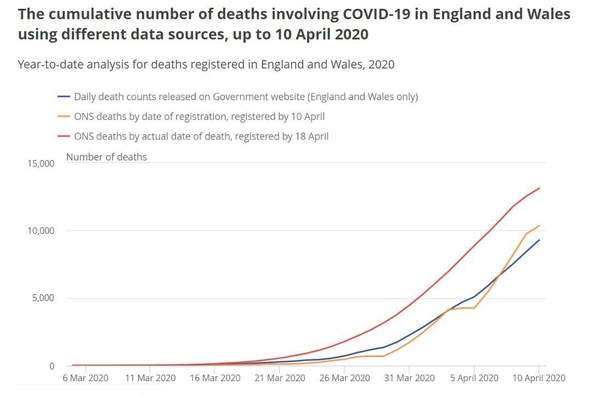 Earlier, official UK figures showed that there were more than 1,000 coronavirus-related UK care home deaths registered up to 10 April, up from 217 the week before.
Latest weekly figures from the Office for National Statistics show there were 1,662 deaths involving Covid-19 in England and Wales registered up to 10 April which occurred outside hospitals.
The equivalent figure for hospitals deaths over the period is 8,673.
Of the deaths outside hospitals 1,043 took place in care homes, 466 in private homes, 87 in hospices, 21 in other communal establishments and 45 elsewhere
The ONS said the numbers are based on where Covid-19 is mentioned anywhere on the death certificate, including in combination with other health conditions.
A total of 406 deaths involving Covid-19 in England and Wales registered up to 3 April occurred outside of hospitals, according to provisional ONS figures - around 10% of the total.
Of these, 217 were registered in care homes, 33 in hospices, 136 in private homes, three in other communal establishments and 17 elsewhere.
The ONS figures also show there were 12,516 deaths involving Covid-19 in England up to 10 April 10 (and which were registered up to 18 April), compared with 10,260 deaths in hospitals in England for the same period, reported by NHS England.
The ONS total is 22% higher than the total published by NHS England.
This is because the ONS figures include all mentions of Covid-19 on a death certificate, including suspected Covid-19, as well as deaths in the community.
The NHS figures only include deaths in hospitals where a patient has been tested for Covid-19.
---
---
The ONS said that of the deaths registered in England and Wales in the week ending 10 April 2020, 6,213 mentioned "novel coronavirus (Covid-19)" on the death certificate, which accounted for 33.6% of all deaths in the week.
This compares with 3,475 (21.2% of all deaths) in the previous week. In London, more than half (53.2%) of deaths registered in the week ending 10 April involved Covid-19.
The west midlands had the next highest proportion (37%), followed by north-west England (35%) and north-east England (33.9%). South-west England had the lowest proportion (19.1%).