There have been 18 further deaths in Northern Ireland's hospitals as a result of coronavirus, the highest single daily increase.
It brings the total number of hospital fatalities to 158.
The figure does not include deaths from Covid-19 in nursing homes or other non-hospital settings.
Details of estimated nursing home deaths are expected to be published tomorrow.
Northern Ireland's Public Health Agency said there were 113 confirmed new cases of Covid-19, bringing the total to 2,201.
Northern Ireland's Chief Medical Officer said he believes it is currently moving through the peak of the current wave of Covid-19 and paid tribute to members of the public for helping to save lives.
Dr Michael McBride told a Stormont press briefing that adherence to social distancing restrictions had been "astounding" and had ensured the health service has been able to cope.
"We have some very difficult weeks ahead, we don't yet know how long the peak of the pandemic will last here in Northern Ireland, so we need to continue to do what we are doing to protect each other and to protect our health service," he said.
---
---
Professor Ian Young, who advises the Stormont Heath Department, warned that the situation remains "on a knife edge."
He also said the rate of deaths could continue to rise "for another week or so."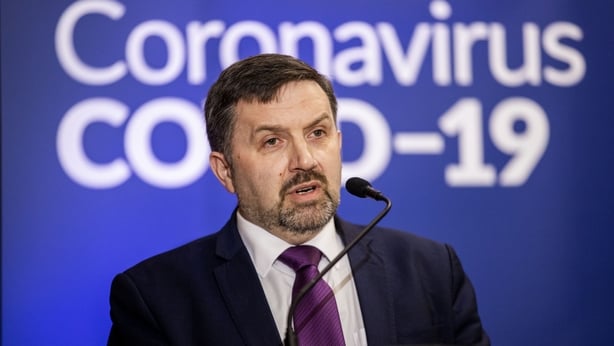 At one point Health Minister Robin Swann had warned that in a worst case scenario, up to 15,000 could potentially die.
"The fact that we have reached the peak now and that it is perhaps not as bad as previously anticipated is a tribute to the relatively high degree of adherence on the part of all of the public to the social distancing measures which are in place," said Professor Young.
"Nonetheless, I need to stress that this is very much on a knife edge at present. It's absolutely vital that people continue to adhere strictly to the measures which are currently in place.
"Even a relatively small departure from that would e enough for us to see an increase in Covid again."
The Health Minister said the fact that a record number of people in Northern Ireland had died from Covid-19 during the past 24 hours should be "a grim wake up call" and urged people not to become complacent.
Earlier, Northern Ireland's First Minister Arlene Foster said emerging from the coronavirus restrictions would be a step-by-step process.
She announced yesterday that the measures to prevent the spread of Covid-19 would remain in place for at least another three weeks, and added that social distancing could be with us for months or years.
Mrs Foster said the curve of the infection rate had flattened thanks to compliance with social distancing rules, adding that plans for recovery were being made but warned it would not start with a "total re-opening".
"We have been advised by our chief medical officer that there is the very strong probability of a second surge and therefore we want to make sure we contain that in the way we have been able to contain what is with us at present."
Just finished COBR call with colleagues from across the UK. Simple message - what we are doing is having a clear impact - flattening curve, saving lives and protecting our NHS.

— Arlene Foster #We'llMeetAgain (@DUPleader) April 16, 2020
Asked how long a step-by-step recovery process could take, Mrs Foster said the executive would be "led by the science".
"It is a process. I know it's very frustrating for people, but I think what the Northern Ireland public need to hear this morning is we are planning for recovery because we know this lockdown has an impact," she said.
"It has a very positive impact in terms of the coronavirus, but it also has a negative impact in terms of mental health of our population, the fact that people are feeling isolated, but also the economic impact.
"I think that is a very key element because we have been told by the Office of Budget Responsibility that every month that we are in lockdown 3% of GDP is being wiped off the balance sheet, and we do of course worry for our companies coming out of this lockdown."
She added that "social distancing will be with us for a long time" and said we will be dealing with the ramifications of Covid-19 from a health and economic point of view for many months and possibly years to come.
Testing starts at site used to tests cars
Coronavirus testing has started at a car test centre (MoT) in Newtownards, Co Down.
It is the latest testing centre to open in Northern Ireland following the creation of similar facilities at the SSE Arena's car park in Belfast and an MoT test centre in the south of the city.
Seamus McGoran, interim chief executive of the South Eastern Trust, said staff from his trust will receive testing at the latest site.
"The centre allows our wonderful staff to deliver testing in a more efficient manner and also allows us to expand our testing capacity to support our health and social care partners within the independent sector at this crucial time," he said.
Infrastructure minister Nichola Mallon said her department is working towards repurposing other MoT centres to assist the health service.
Elsewhere, a senior medic has urged frail patients in Northern Ireland to discuss end-of-life arrangements with their families while they are still well.
Dr Hamish Courtney, from the Royal College of Physicians, said it is important that those dying from coronavirus do so peacefully.
Stormont's Health Committee was taking evidence on decisions whether to ventilate and the use of "do not resuscitate" notices for the weakest.
Dr Courtney said: "This is not just about Covid-19, although it has brought it into sharp focus. It is not just about rationing.
"It is about us as a society, doctors with their patients and families and individuals, discussing end of life.
"It is about providing compassion, care, allowing people to die peaceful and dignified deaths if that is possible."