The Department of Health has announced a further 14 deaths linked to Covid-19, as well as 212 new cases.
It brings the total number of deaths in the Republic of Ireland to 85. There are now 3,447 confirmed cases in total.
Of the 14 deaths, ten were located in the east, with four in the south.
Half of them were men, with the other half women, and eight were reported as having underlying health conditions.
The median age of those who have died in Ireland so far is 82.
Of the 2,990 cases identified up to midnight on Monday 20 March, 48% of cases are male, with 50% female.
The Department has said the other 2% is classed as "not recorded".
There has also been 134 clusters involving 563 cases, the median age of which is 48.
More than 834 cases (28%) have been hospitalised, with 126 of those admitted to ICU.
Deputy Chief Medical Officer Dr Ronan Glynn also clarified that 126 was the number to date, and said it was likely the vast majority of those cases are still in ICU.
More than 752 cases (25%) are associated with healthcare workers.
Dublin has the highest number of cases at 1,645 (55% of all cases), followed by Cork with 255 cases (8%)
Dr Glynn, who was filling in for Chief Medical Officer Tony Holohan this evening, said that of those for whom transmission status is known, community transmission accounts for 60%, close contact accounts for 21%, and travel abroad accounts for 18%.
He added that testing would be "ramped up" in the coming 10-14 days.
Dr Glynn also said Dr Holohan hopes to be back in work tomorrow and said he that he would be making no further comment about his condition.
---
Read more:
HSE apologises to those waiting for tests
Tony Holohan in hospital, undergoes non-virus related tests
At a glance: Latest global Covid-19 developments
Latest coronavirus stories
---
WATCH: Latest Department of Health update on the Covid-19 outbreak here as 14 more people who were diagnosed with Covid-19 have died | Read more coverage: https://t.co/sHaqbnreem https://t.co/GLgrsV5FZd

— RTÉ News (@rtenews) April 1, 2020
Dr Glynn said the 212 figure is "better than 200 or 400" and "better than where we could be".
He said officials were "hopeful the numbers were going in the right direction" but "it's too early to draw conclusions and too early to become complacent about this".
Dr Glynn said that efforts must continue to slow the transmission of the virus, and said the population must approach this in the most serious way that it can.
The actual number of cases is likely to be slightly higher than the official figures, as new rules introduced last week mean that testing is focused on priority groups.
Asked about delays in testing, the Head of the National Virus Reference Laboratory Dr Cillian DeGascun said they are working on alternative options to source materials needed in the testing process.
He said some new equipment is due to be coming on stream in the next 7-10 days.
He said they're currently testing about 1,500 samples a day, but at this point they had hoped to be up to 5,000.
He said while they are behind, it doesn't change their strategy of aiming to carry out between 10,000 and 15,000 tests in a number of weeks' time.
Dr Glynn said an expanded contact tracing process was to get under way in response to the fact that less testing than planned is being carried out.
In relation to the availability of Personal Protective Equipment, Dr Henry said they're replenishing depleted supplies and that there's a system in place to deliver PPE to those most in need regardless of whether they are in a community or hospital setting.
He said the advice to professionals is not fixed and being reviewed daily based on evolving evidence.
HSE Chief Clinical Officer Dr Colm Henry said the current advice is when you're not in contact with a Covid-19 patient, wearing a mask may have hazards because of the need to adjust it more frequently and the potential to distract from handwashing and other core methods of protection.
Separately, research conducted on behalf of the department shows that 65% of people in Ireland are now engaging in digital interactions with family and friends.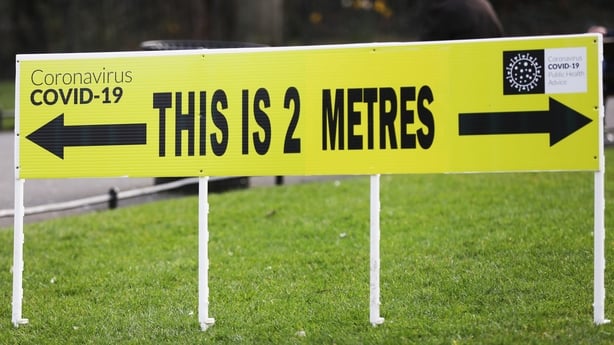 The nationally representative online survey of 1,270 adults carried out today, shows 89% believe current social distancing measures are appropriate, 94% are confident in their ability to adhere to new restrictions, and 85% feel they have adapted to changes since Covid-19 and know the steps to take if they develop symptoms.
Dr Glynn added: "Our research suggests that 1 in 3 people are worried about their health, with 3 out of 4 worried about the health of their families and friends.
"People are taking action to look after their well-being. Two thirds of people are conversing with family and friend's by using phone and internet.
"Restrictions do not mean you stop maintaining your relationships or your health. Adapt your hobbies; go for walks, exercise and do the things that maintain well-being within the limits of physical distancing and public health advice.
We need your consent to load this rte-player contentWe use rte-player to manage extra content that can set cookies on your device and collect data about your activity. Please review their details and accept them to load the content.Manage Preferences

"I can confirm that expanded contact tracing for all confirmed cases for the 48 hours prior to the onset of symptoms, as decided by National Public Health Emergency Team will commence this week. This will reduce transmission of the virus."
Dr Henry said that the public health messaging remains the same for all patients awaiting testing.
"Assume you have Covid-19 and isolate. Each and everyone of you can break the chain of transmission of the virus, save lives and reduce illness among vulnerable groups," he said.
Meanwhile, two more people have died as a result of Covid-19 in Northern Ireland, where 103 new cases have been confirmed.
The number of deaths to date in the North is now 30 and 689 confirmed cases.
Earlier, Taoiseach Leo Varadkar said there was an international shortage of reagents needed for testing the coronavirus and that more were expected to be made available next week.
It followed an apology from the HSE to anyone waiting for test results. It said it wanted to assure the public that it was making every effort to improve turnaround times.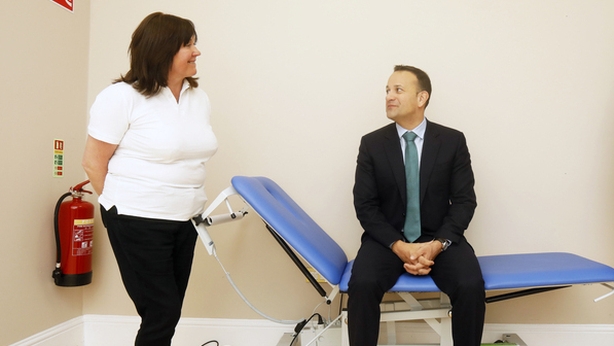 Minister for Health Simon Harris said that contact tracing was to be scaled-up and started for suspected cases of Covid-19 before there is a positive test result.
A team of up to 1,400 people is to begin working on the process as part of the efforts to contain the spread of the virus.
The focus now will be on a 48-hour period a person had contact with others before symptoms emerged.
Meanwhile, Special Needs Assistants in schools are to be reassigned temporarily to other duties in essential public services as part of the State's response to the outbreak.
A process has been set up by the Public Appointments Service to put the country's 16,000 Special Needs Assistants on standby to free up frontline workers for essential services.
The Department of Foreign Affairs and Trade has said it was keeping in regular contact with up to ten Irish citizens on board a cruise ship where four passengers have died from suspected Covid-19.
In sport, the remainder of the 2019-20 Irish National Hunt racing season has been cancelled, including the Fairyhouse and Punchestown Festivals.
The Republic of Ireland and Northern Ireland's play-off matches for the European football Championships have been postponed due to the ongoing impact of the coronavirus.
The decision was made following a video conference meeting of all 55 member associations of the governing body, UEFA.
This summer's Wimbledon tennis championship has been cancelled, with the prestigious event not returning until 2021.
Chief Medical Officer Dr Tony Holohan was not at this evening's briefing in the Department of Health.
Dr Holohan has undergone tests in hospital that are unrelated to Covid-19.
Dr Glynn said Dr Holohan expects to be discharged tomorrow morning and to be back at work shortly afterwards.