The death toll from the coronavirus outbreak in Italy has climbed by 837 to 12,428, the Civil Protection Agency said today, with the daily tally rising, albeit slightly, for a second day running.
The number of new cases was broadly steady, growing by 4,053 against 4,050 yesterday, and bringing total infections since the outbreak came to light on 21 February to 105,792.
Some 5,217 new cases were registered on Sunday and 5,974 on Saturday, suggesting the growth curve of new infections is flattening.
The daily tally of deaths in Lombardy, the worst-affected region, declined sharply, and new infections were also down for at least the third day running, suggesting the situation is improving there faster than elsewhere in the country.
In neighbouring Piedmont, on the other hand, the daily death toll of 105 was up sharply from the day before.
Of those originally infected nationwide, 15,729 had fully recovered today, compared to 14,620 the day before. There were 4,023 people in intensive care, up from a previous 3,981.
Italy has registered more deaths than anywhere else in the world and accounts for around 30% of all global fatalities from the virus.
Italy's largest daily toll from the five-week-old epidemic was registered on Friday, when 919 people died. There were 889 deaths on Saturday, 756 on Sunday and 812 yesterday.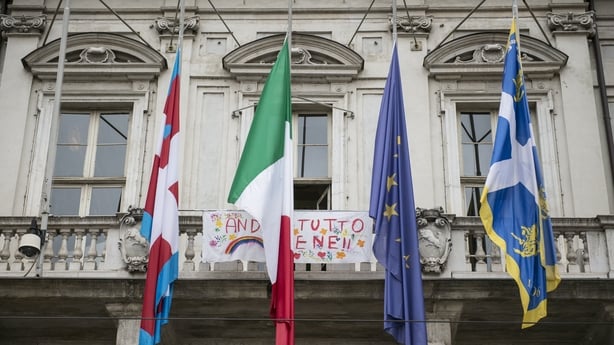 Earlier today, Italy marked a minute of silence and flew flags at half mast to mourn the people who have died from the coronavirus pandemic that has drastically altered life in the Mediterranean country.
The nation of 60 million people has recorded nearly a third of all fatalities caused by the disease around the world.
The day of mourning marks a month in which Italy saw more deaths from a single disaster than at any time since World War II.
It was first detected in Italy near the northern city of Milan in late February.
The virus "is an injury that hurt the whole country," Rome mayor Virginia Raggi said after observing a minute's silence at noon.
"Together, we will get through this," she said at a ceremony held outside Rome's city hall.
Vatican City also flew its yellow-and-white flags at half mast in solidarity with the rest of Italy.
The Italian government imposed an unprecedented lockdown three weeks ago to help stem the spread of a virus that has now officially infected more than 100,000 people in the country.
The financial cost of the forced shutdown of almost all businesses threatens to send Italy's economy - the European Union's third largest last year - into its deepest recession in decades.
The government decided to extend the shutdown Monday until at least mid-April.
Stores and restaurants are not expected to start opening until at least May and no official is willing to predict when life might return to the way it was just a month ago.
"The sacrifice we make when we are asked to stay at home is necessary to save all of us," the Rome mayor said.
"We must do it for all those who lost their lives and all those who put their lives at risk by working for us all - the doctors the nurses, the people who work in supermarkets."
But the head of the infectious diseases department at Milan's Luigi Sacco Hospital that managed to isolate the Italian strain said he was looking at the future with some hope.
"We have the impression that (the pandemic) is weakening," Massimo Galli told Italian radio.
Italy reported 812 deaths yesterday.
Its single day record was more than 900 people on Friday - the highest daily toll recorded anywhere in the world.
Today's Frankfurter Allgemeine Zeitung : Italian MEP, regional leaders and mayors advocate for #eurobonds. In 1953 Germany's debt was cut in half by 21 countries. pic.twitter.com/LkZ28WkJL8

— Janne Leino 🇪🇺🇩🇪🇫🇮 (@JaLeino) March 31, 2020
Italian mayors and regional governors bought a page in Frankfurter Allgemeine Zeitung newspaper to ask Germany for solidarity amid the coronavirus outbreak, saying that other states agreed to cut its debt after World War II.
Italy has seen more fatalities from the coronavirus than any other country and more than 100,000 cases.
"Dear German friends, memory helps make the right decisions," the letter says, after referring to a 1953 agreement to reduce Germany's debt to help its post-war recovery.
It was signed by mayors from left and right-wing parties representing the northern Italian cities worst-hit by its coronavirus outbreak, including Bergamo and Milan, as well as the regional president of Emilia-Romagna.