New York's Central Park has been converted into a 68-bed field hospital while the city's harbour will provide a further 1,000 beds in an effort to bolster the medical response to the Covid-19 pandemic.
The Central Park facility is designed to be a respiratory unit and is designed to assist a medical system that is threatening to become overwhelmed.
As of Monday, 1,218 people have died from coronavirus in New York state, an increase from the 965 deaths on Sunday.
In all, more than 66,500 people and more than 2,300 people are being treated in the intensive care unit, New York Governor Andrew Cuomo said, adding the worst is yet to come.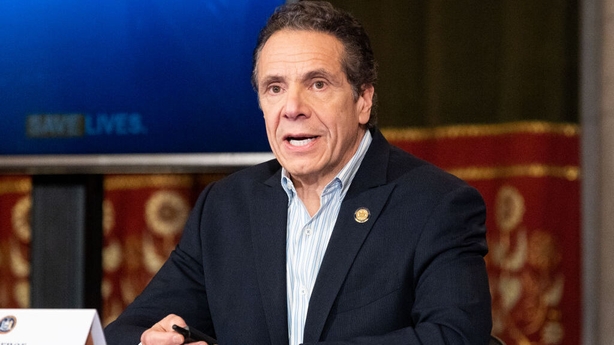 "If you wait to prepare for a storm to hit, it is too late," he said. "You have to prepare before the storm hits. And in this case the storm is when you hit that high point, when you hit that apex. How do you know when you're going to get there? You don't."
Speaking at a makeshift hospital in Manhattan preparing to receive its first patients on Monday, Cuomo sought to divert attention from any tension with US president Donald Trump, with whom he has tussled in recent days over the distribution of ventilators in storage.
"I am not engaging the president in politics," said Cuomo,who has emerged as a leading national voice on the corona virus pandemic. "My only goal is to engage the president in partnership."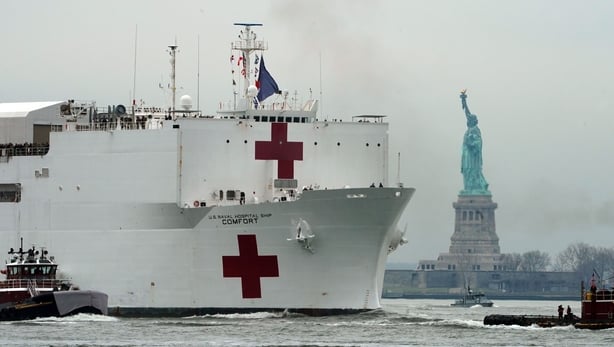 The arrival of USNS Comfort into New York Harbor, where it will provide another 1,000 hospital beds, has been welcomed, with the floating hospital docked on Manhattan's West Side set to begin treating patients Tuesday.
Cuomo called on healthcare professionals from across the United States to come and help New York's hospitals cope with the crisis. He promised New York healthcare workers would return the favor to other parts of the country that might need help later.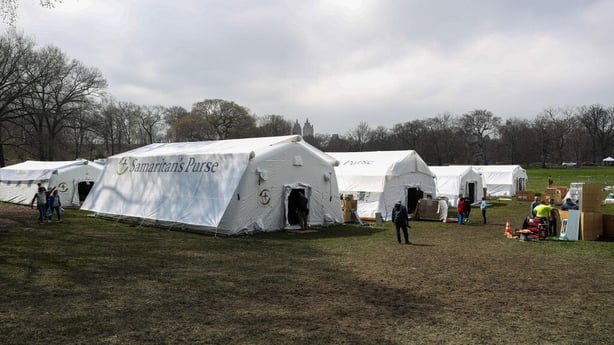 "Please come help us in New York now," Cuomo told a briefing at a temporary hospital erected at the Jacob K. Javits Convention Center in Manhattan. "We need relief."
Leading American scientist Anthony Fauci meanwhile has warned that the coronavirus outbreak could result in as many as 200,000 deaths in the United States.
US President Donald Trump has extended emergency restrictions to curb the pandemic, but Mr Fauci, who leads research into infectious diseases at the National Institutes of Health, said he believed 100,000 to 200,000 Americans could die from the disease, and millions could be infected.
Mr Trump's reassessment, after previously stating he wanted the country back to work in mid-April, came as Britain and hard-hit Italy warned measures to prevent the spread of the disease would be in place for months to come.
Covid-19 has already killed almost 34,000 people worldwide, according to a tally kept by Johns Hopkins University, with the number of confirmed cases nearing three-quarters of a million.
As of yesterday, more than 3.38 billion people were asked or ordered to follow confinement measures, according to an AFP database, as the virus infects every sphere of life, wiping out millions of jobs, postponing elections and clearing the sporting calendar.
Read more of the FT's coverage of the coronavirus outbreak, including the must-see daily graphs, here: https://t.co/bw2Mr8v6HW #FTfreetoread pic.twitter.com/uvL8SEwrEf

— Financial Times (@FinancialTimes) March 30, 2020
The US President warned that the US crisis, which has seen a doubling of infections in only two days, would continue to get worse for some time.
"The modelling estimates that the peak in death rate is likely to hit in two weeks," he said, announcing an extension of social distancing guidelines until 30 April.
"Nothing would be worse than declaring victory before the victory is won."
---
Read more:
---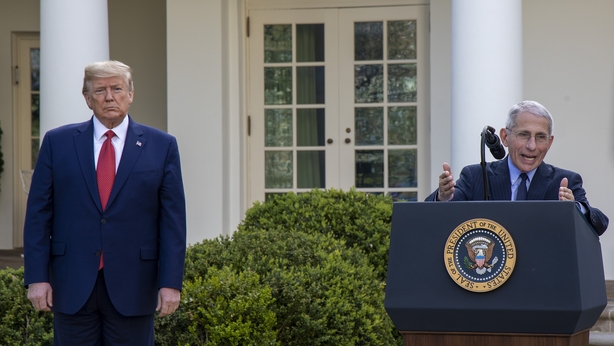 Officials continued to sound the alarm over medical shortages, with some bemoaning a system that has states competing for desperately needed supplies.
"We're bidding against one another," said Michigan's Governor Gretchen Whitmer.
The human consequences of a shutdown that has seen huge chunks of the US economy grind to a halt were playing out at food banks in New York, where organisers say demand has exploded.
"Before, there were 1.2 million people in New York who needed help for food. Now, there are three times as many," said Eric Ripert of City Harvest, a food rescue organisation.
Six months
Mr Trump's re-evaluation of a back-to-normal timeline came as British officials said life may not return to usual for six months.
We need your consent to load this rte-player contentWe use rte-player to manage extra content that can set cookies on your device and collect data about your activity. Please review their details and accept them to load the content.Manage Preferences

The country's Deputy Chief Medical Officer Jenny Harries said it would be several weeks before doctors could tell if the current lockdown had slowed the spread of the disease.
"But we must not then suddenly revert to our normal way of living - that would be quite dangerous. If we stop then, all of our efforts would be wasted and we could potentially see a second peak."
She said measures to contain the virus would be reviewed every three weeks, "probably over the next six months" or even longer.
In Italy, which has logged a third of global deaths, the government warned citizens should be ready for a "very long" lockdown that would only be lifted gradually, despite the economic hardship it was causing.
"We are in a very long battle," said government medical adviser Luca Richeldi. "Through our behaviour, we save lives."
Yet the strains on Italian society imposed by measures that might have seemed unimaginable just weeks ago are gradually starting to show.
The starkest example came when armed police began guarding entrances to supermarkets in Sicily after reports of looting by people who could no longer afford food.