Water sports representative bodies, community groups and tourism organisations, including Fáilte Ireland, have made a presentation to Galway County Council this week setting out their case against proposed controversial beach bye-laws.
The draft bye-laws were seen by interest groups as an "effective ban" on water activities across 24 beaches in Galway.
They stated: "No person shall windsurf on sail boards or kitesurf on kite boards or surf on a surf board or use a canoe, kayak, dinghy, stand-up paddle board or water bike in close proximity to bathers."
The high-profile campaign attracted over 1,000 written submissions to County Hall, as well as 6,000 in an online petition.
The draft bye-laws were sent back to the Strategic Policy Committee (SPC) on Community and Culture by councillors last December.
The campaign has been led by community pharmacist and water sports enthusiast, Dr Barra Nevin.
He said Ireland has a wealth of lakes, rivers and seas and it was his passion for his sport that got him involved in lobbying extensively against the bye-laws.
"Here we have kayakers, canoers, swimmers, sailors, wind surfers, and kite surfers. And we have formed a powerful umbrella group.
"We have a common goal that we share the water and will continue to share the water going forward whilst respecting that safety is paramount."
Fáilte Ireland also expressed concern about the impact of the bye-laws on water pursuits along the Wild Atlantic Way. The tourism body has called for the zoning of different beach activities as a way to ensure safe areas for bathers with "due regard" to water sports users.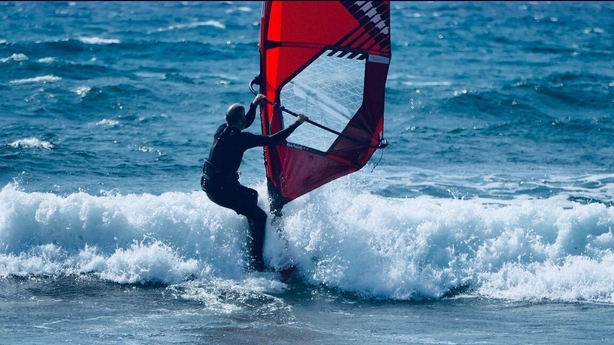 Dr Nevin said there are three Cs in the campaign going forward - consultation, collaboration and communication.
"By the time I believe that these beach bye-laws are in place we will have the best beach bye-laws in the country. And officials and councillors can be very proud of acting as a national template on how to manage, zone and promote our beaches.
"This presentation is that first step and we all look forward to working with you in partnership and how we go forward."
Councillor Noel Thomas in Conamara South said zoning must comply with Criterion 30 of the Blue Flag status.
He said the six existing Blue Flag beaches should be prioritised and then have consultation take place later for each of the other beaches affected.
"Our proposal is that we postpone the bye-laws on the other beaches and deal with them at a later date through proper consultation with the stakeholders in all of those areas. Some beaches may not need zoning at all. Others are more complex with their own special characteristics.
"The reality is that if the wording on the bye-laws was to go ahead as proposed then legally you would not be allowed to participate in water sports on these beaches. So it's no good the council saying that it wasn't the intention to ban water sports because once the wording is in place, that is the law and people have to abide by that.
"So let's go ahead with the six Blue Flag beaches and take our time with the other beaches to do things right and ensure everybody is happy."
The SPC on Community and Culture will now make recommendations to the next plenary meeting of Galway County Council in March.