The Health Service Executive is urging parents to avail of walk-in flu vaccination clinics for their children as cases continue to rise.
So far, more than 700 children have been hospitalised with complications from the flu this winter.
Walk-in clinics are being set up across the country this weekend and next weekend.
At Ballybrit Racecourse in Co Galway, Aisling O'Mahony-Hickey explained why she had her daughters Neasa (6) and Éabha (8) vaccinated.
"Children are double as likely to catch the flu as adults are," she told RTÉ News.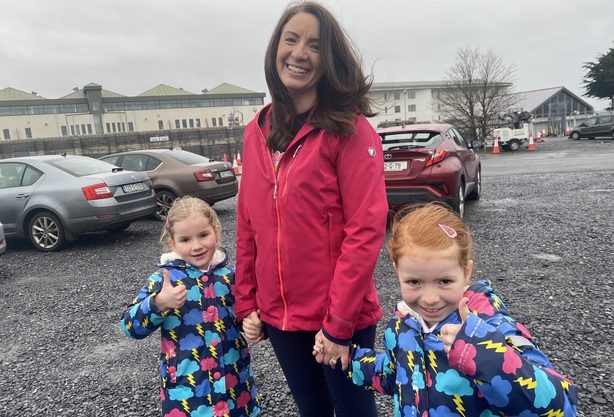 "So I thought it was really important with all that is going on in the schools and the hospitals.
"I'm aware that this terrible flu could last for another ten weeks so we thought we should come and avail of the free vaccine during January."
Her young daughter Éabha was not fazed by the procedure.
"It was very simple and straightforward. They just put some water inside in my nose and then it was over.
"I didn't sneeze but my eyes started to water and they dabbed my nose to get rid of the water. And that was it," she said.
We need your consent to load this rte-player contentWe use rte-player to manage extra content that can set cookies on your device and collect data about your activity. Please review their details and accept them to load the content.Manage Preferences

The HSE has said that most children who catch flu have mild symptoms, but it can sometimes lead to serious complications, such as pneumonia or bronchitis.
Children, especially young children, are also more likely than adults to get severe complications of flu.
"Influenza is on the go and a lot of people have it at the moment," said Jean Kelly, HSE operational manager at the Ballybrit site.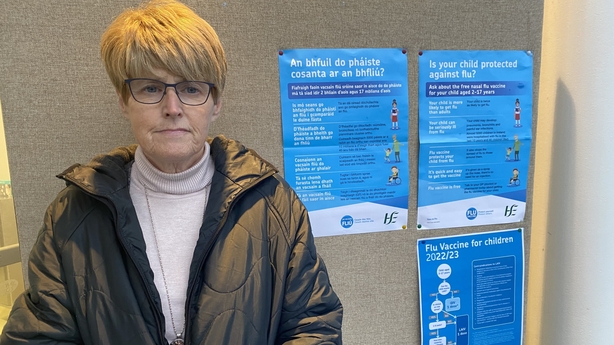 "Children are more likely to catch influenza than adults are.
"And at the moment 700 children have been hospitalised in Ireland this winter alone with complications from the flu.
"So it's really, really important that you get your child vaccinated. We vaccinate children here from age two to 17. It's free, and it's painless, which is fantastic.
"It's just a little spray of each nostril and it tickles and can make children sneeze but it doesn't hurt at all
"Our public health message is to keep children well firstly and keep flu out of the house so that an older adult doesn't get it, particularly a grandparent and then of course to protect them and stop them ending up in the hospital with complications.
"In the UK they've been vaccinating children since 2003 with this nasal vaccination, so here in Ireland, we were a little bit behind that."
Fiona Torrades had her three-year-old year daughter Caoilinn and two sons vaccinated for "peace of mind" and to ensure they would not pass on the virus to their immunocompromised cousins.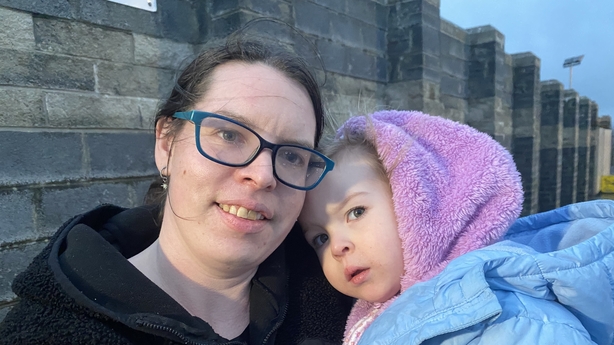 She said: "It was very efficient and the kids were delighted to receive their certs after getting vaccinated. I'm very happy that the vaccine keeps them and their cousins safe.
"It also keeps them away from hospital overcrowding and they can move freely in the community as well."
Speaking in Cork, Consultant Paediatrician, Dr Niamh Lynch said the uptake of the flu vaccine would help reduce the viral burden on hospitals.
"At the moment, there are a lot of viruses circulating. We're seeing children coming into hospital with two three viruses on the go, and if you could take the flu out of that, which is one of the more severe ones, that would be of direct benefit to children," Dr Lynch said.
"The other thing is that once flu starts circulating amongst children in creches and school, then they're going to potentially bring it home to vulnerable family members.
"So, the vaccine has a double benefit that will protect the child directly and potentially protect vulnerable family members such as elderly relatives."
Dr Lynch said increased vaccination would not have an immediate impact on overcrowding in hospitals.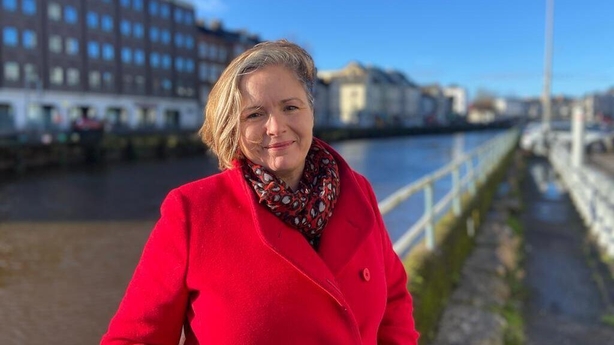 "It takes time for the vaccine to work. But once we get to a critical level of children who've had it, then we might start seeing a knock-on benefits for emergency departments across all ages," she said.
"There has been quite a strong message coming out that people shouldn't go to the emergency department unless it's really an emergency. The thing about children is that they can seem quite well and then suddenly become very unwell.
"So what I would always advise parents to do is start to look out for any little red flags that might be developing. The child might be dehydrated, passing less urine than usual or taking in less water or milk."
She added that they might have a rash or bad cough or difficulty breathing. In these instances, she said, parents should always seek medical attention and they should always bring their child "without any hesitation" to get some medical attention.
"Nobody in any emergency department across the country would ever criticise a parent for following their own instinct and bringing their child to get medical attention," Dr Lynch added.
She said there is a genuine attempt to alleviate overcrowding in emergency departments, but parents who present emergency with their children genuinely feel that they need to be there and nobody will criticise them for that.