The annual Galway Pride Festival got under way today with a flag raising ceremony at Eyre Square.
This year's theme is 'Hope' and there will be a range of in-person and virtual events taking place throughout the coming week.
They include information awareness workshops, a Queer Women's Night, bi-lingual panels with a focus on mental health, disability and the creation of safe spaces for LGBTQI+ communities. There will also be drag queen master classes and plenty of street entertainment.
The highlight of the festival is the parade through the city next Saturday afternoon.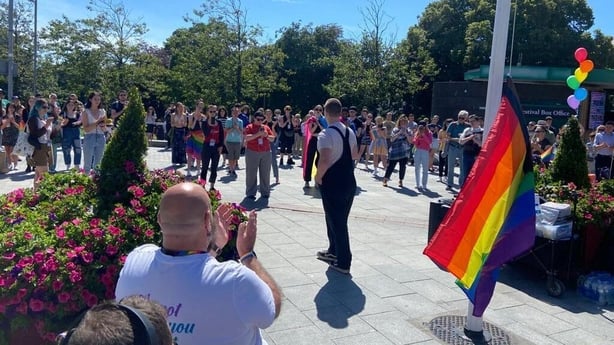 For the first time it will be led by Youth Grand Marshal, 18-year-old Oran (he/him) from Galway City.
"For me, Pride is important because it gives visibility to our community. Growing up, I hardly ever saw LGBT+ representation. It was always just a caricature of gay people, which often made me feel there was something wrong with me. Pride reassures thousands of young Irish LGBTQ+ people that they are not alone and not 'the only one'.
"Being nominated as the Youth Grand Marshal is a huge honour and I hope I can play a part in forwarding positive representation for the queer community."
Oran will be accompanied by 15-year-old Anna (she/her) from Galway county. Both represent the LGBT project, 'Shout', as part of Youth Work Ireland, Galway.
"It feels incredible to be nominated for the youth spokesperson for Galway Pride and I am glad to be a voice for LGBT youth in Galway. It's a role I hope to continue to develop in to the future."
Both Oran and Anna came out in supportive family environments.
Caoimhe May O'Rourke, Galway Pride Social Media Manager, said: "The aim is to create a week where people can openly and safely share their identities, share their stories and celebrate who we are.
"Galway City is a vibrant, cultural magnet and we want to highlight the great variety of people that make this a wonderful place to live and visit."