As the cost of energy soars, consumers around the country are seeking ways to reduce their bills, which is difficult to do quickly unless you simply switch off.
On na hOileain Árainn (Aran Islands), off Co Galway, many energy consumers have been taking action over recent years to insulate homes, getting rid of oil fired central heating, putting solar panels on their roofs and using electric vehicles.
Much of these steps have been carried out with the help of the Aran Islands Energy Co-op.
On a breezy damp day ar na hOileain Árainn, Dara Ó Maoildhia drives along in his electric car.
Living in the townland of Mainistir, the chairperson of Comharchumann Fuinnimh Oileáin Árann (the Aran Islands Energy Co-op) arrives home, and plugs in the car, which is partially charged by the array of solar panels in the garden.
Mr Ó Maoildhia says the co-op work is helping islanders make their homes more energy efficient.
"The co-op's job is to try to facilitate it and get the job done more quickly than otherwise," he says.
"So instead of everybody having to apply for their own grant we might gather people together into a meitheal and apply on behalf of everybody, a group of 20, 30 or 40 houses which has worked really well up until now."
Mr Ó Maoildhia says 300 properties out of 500 on the Inis Mór, Inis Meáin and Inis Oirr have now had some sort of energy upgrade since the co-op was set up ten years ago; ranging from internal and external insulation, air to water and geothermal heat pumps, as well as the most visible sign of energy upgrades as you drive around Inis Mór - roof top solar panels.
They either supply power directly into homes or simply provide hot water.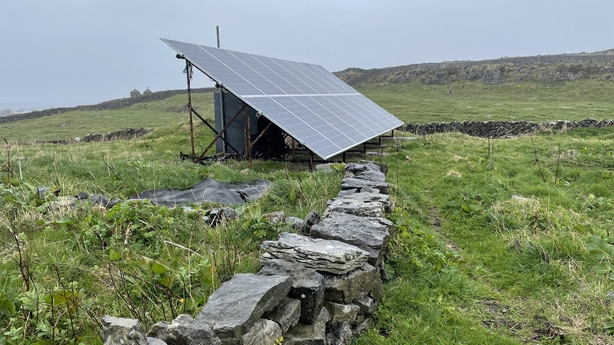 Samantha Rogers manages a glamping business close to the quay in Cill Ronáin, where plenty of solar panels are deployed.
"It started off with the panels on the house and the heat pump and that worked very well for us. So when it came to developing the glamping site we have here, it was only natural that we went for the solar panels on the glamping pods as well and they have been working really well for us so far.
"They cut down massively on our costs and they are also sustainable."
Panels and insulation aside, the heat pumps, geo-thermal systems and the growing number of electric cars on Inis Mór still need power from the grid to operate and charge.
Just as bills have soared for consumers around the country, islanders are feeling the pinch as well. The obvious solution to that problem is power generation on the islands, but on a much bigger scale as the co-op cathaoirleach explained.
"If we as a community could own our own energy supply, by generating it ourselves through a wind turbine for example, then we could sell at whatever price we set.
"We have a plan to erect a turbine on Inis Meáin but it depends on the full support of the island community.
"We've been offered a grid connection by the ESB and we've two years now to go ahead and get planning permission for that, but we won't go ahead with that until we get the go-ahead from the local community."
As na hOileain Árainn's journey toward sustainable energy independence continues, the co-op and its work is garnering much interest beyond the island shores according to Mr Ó Maoildhia.
"We want to be a lighthouse island, we want to be an inspiration to other islands and rural communities and we have a number of projects that are European funded," he said.
"We are in partnership with many other groups, including colleges and private companies to do research here on the islands and we're very keen to support any other communities trying to do so something similar to us and we'll talk to them, we'll have webinars with them, we'll invite them to come visit us, whatever they want."