When Cllr Clodagh Higgins changed her mind and decided not to support plans for a 3km cycleway along the promenade in Salthill in Co Galway last week, the abuse escalated.
"I got a number of toxic emails and phone calls," the Fine Gael councillor said.
"I got called a pig, I was a snake and I was called a female dog."
Her colleague, Independent councillor Mike Cubbard, was also abused and is concerned that intimidation and cyber-bullying of those in public life is becoming "the norm".
Speaking on RTÉ's This Week programme he said: "The level of intimidation of bullying, and targeted online in particular, is nearly becoming a way to dictate policy. That is a scary road to go down."
He recalled: "I received two voice messages from the same person on my phone to tell me that I have failed as a parent, I have three young sons, I'm failing them as a parent. I'm a failure as a father."
The councillor pointed out that the abuse did not come from the official campaign group promoting the cycleway, but from other individuals or "fringe elements".
The personalised nature of the attacks is also not new and is part of a pattern of escalating threats and abuse.
Cllr Cubbard recalled how he had been threatened when he spoke out about anti-social behaviour near his parent's home to the west of Galway city in the past.
"Within days of that, in large graffiti writing across my local community centre, in very clear writing was 'Cubbard we will burn you out of your house'.
"Fast forward a few months later, it occurred again, and then the last time it happened only a few months back while I was mayor of the city, and this time it said 'Cubbard we will get you this time, but this time we will rape your mother'."
On each occasion, he said, he reported the threats to gardaí.
Abuse online has also increased.
Cllr Higgins was targeted when she tweeted about asking Galway City Council to consider purchasing wheelchair accessible benches.
At first, the tweet received a positive response, but then, she said, the abuse started.
"That time was exceptionally difficult," she added.
"I was encouraged to kill myself. I was asked why did my name sound like a Scottish dude choking to death, I was told to tread lightly, and then I was told that I sign up for everything I get as a politician.
"That was a very very stressful time for myself, and I have no problem showing my vulnerabilities and saying that I was very upset and very overwhelmed."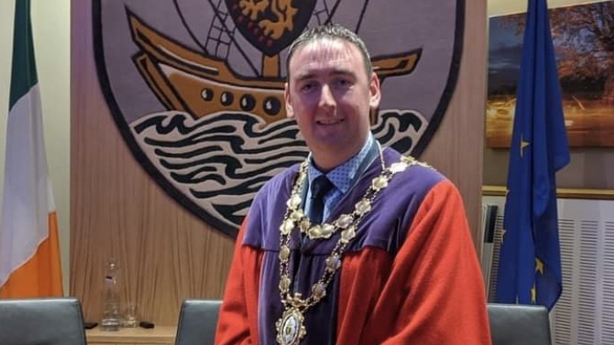 Cllr Cubbard said social media companies were failing to grasp the problem.
He recalled one tweet he received after he spoke out to encourage people not to attend anti-lockdown rallies in Galway city.
He said the tweeter wrote: "Here's Cubbard again talking about gatherings, let's tie a rock around his neck and put him in the river Corrib."
Cllr Cubbard said that tweet will stick with him.
"That was the first time that my wife Karen got quite upset when that tweet went out, because within a few hours 400 people had liked it," he said.
"The large companies that have these social media platforms, they're absolutely failing in this.
"I've contacted them before, and it's taken these large companies six to nine months to respond to gardaí where there's been reports made.
"But it is an upsetting thing when your family is there to support you in political life. When this goes out there, and there is no control of where it's going.
"So we're going down a very scary path that we're almost allowing intimidation and bullying to become the norm."
Cllr Higgins agreed that social media companies must take responsibility for the content posted on their platforms.
"When I reported the horrendous attacks that I was subjected to, only three of the accounts were actually suspended," she said.
"There has to be safety protocols in place, that if a tweet, like my tweet, which received an overall impression of 25 million people, and a total engagement of over 1.1 million that there would be some red flags raised, and it would be investigated as to what was going on.
"I was strong enough to deal with the level of abuse that was directed at me, I'm very fortunate to be a member of a party and the physical team were incredibly supportive to me during that time.
"But there's some politicians who don't have that support."
Both councillors believe the escalating levels of abuse will have an effect on the attraction of politics to women and younger people in the future.
They also fear that the constant abuse will damage the mental health of sitting politicians.
Both accept that politicians have to take criticism and be subjected to scrutiny for their decisions, but Cllr Cubbard fears the escalating levels of abuse could soon have serious consequences.
"I wonder how far away we are in this country from somebody being killed stone dead, that's what I fear," he said.
"It's across the spectrum of political life, from the Taoiseach down to your local councillors, whatever level on the ladder, we are elected by the people to do a job.
"I do fear that there is a stage where we're going to get to, where there's going to be a serious attack on somebody in politics."
Labour Party leader Alan Kelly said many people will not get into politics because it is "getting worse" as a profession.
"The levels of abuse, the way in which families are brought into it, the way you are targeted online."
He told RTÉ's This Week: "I want to say this quite publicly, I believe there is a percentage of the targeting online, coordinated and politically coordinated. We need to deal with this. Everybody in politics has been subjected to this, some more than most."
Mr Kelly said it was "not acceptable where people publicly abuse politicians and they think by doing so they will get their way. We need to see change coming about, from the public as well."