The ruins of Staad Abbey, where pilgrims would gather to take a boat to the monastic island of Inishmurray and where survivors of the Spanish Armada sought refuge in 1588, stands dangerously close to the sea.

Since the 1830s, the remains of the medieval church, near Streedagh in north Sligo, have been edging closer and closer to the sea as coastal erosion and climate change eat away at the coastline.

Sligo IT archaeologist Dr Fiona Beglane has estimated that 16 metres of land has been lost between the church and the sea since the 1830s, with almost a metre of that disappearing between 2012 and 2014 alone, "a period of especially wild and windy weather with severe winter storms".

The church, she said, is now less than 3.5m from the cliff edge and will soon be in danger of collapsing into the Atlantic.
A study by Dr Beglane and archaeologist Jerry O'Sullivan has highlighted the potential loss of not just the ruin of the abbey, but also the archaeological remains that lie in the area around it.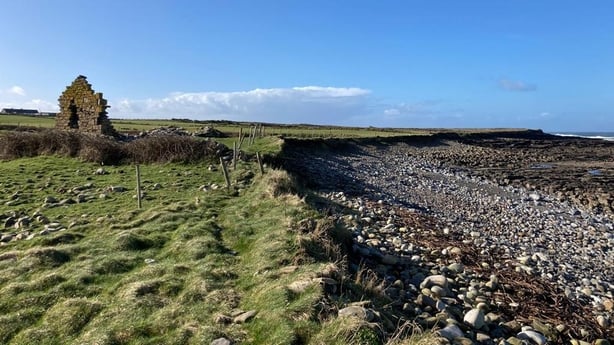 Excavations at Staad have revealed evidence of a bronze age trackway or platform over 4,000 years old as well as 3,500 year old lines of preserved wooden posts that may have been used to hold nets to trap migrating birds for food.

Local residents have been keeping a watching brief at Staad, monitoring changes in the cliff edge and rescuing artefacts washed out of exposed coastline, including two quern stones and a gunflint found on the beach.

Dr Beglane believes the ongoing work at Staad highlights the "urgent need for a large-scale and long-term public response to the impacts of climate and sea-level change on Ireland's archaeological and architectural heritage".

Ireland's Atlantic coastline is over 2,000km long, she said, and "there are whole classes of sites and monuments at particular risk from the sea, including promontory forts, shell middens, fish-traps, maritime tower-houses, churches and hermitages, shore cemeteries, tidal mills and a wide variety of masonry and timber structures associated with marine traffic".

Ireland's coastal archaeological heritage is under threat, she added, and what is needed is a National plan with a systematic survey and a dedicated archeological rescue unit for coastal sites.

Dr Beglane said that as it stands now, a site like Staad Abbey is "threatened with their total loss within a generation".