The stress and strain of life under lockdown is taking its toll on many of us.
Realising the pressure people were under, one GAA club in Co Sligo decided it was time to do something positive for its members and the reaction has been overwhelming.
Eastern Harps in Keash set up a "Healthy Club" programme called "Get up, Get Moving", with a whole range of activities and challenges to keep people active and healthy during Level 5 restrictions.
Organiser Eimear Henry said more than 160 people signed up.
They have been divided up into 13 teams competing for points for the different activities they do, be it running, cycling, walking or taking part in the likes of push-up or sit-up challenges.
There is no actual prize, instead this initiative is all about each person winning a better life under lockdown - a bit of fun and a boost for their physical and mental health.
The members can also log into yoga, Pilates and cookery classes online.
The Saturday morning cookery classes with Eileen Kirrane are particularly popular with families with young children, such as the Gallaghers, who say it is a welcome break from working from home and home-schooling.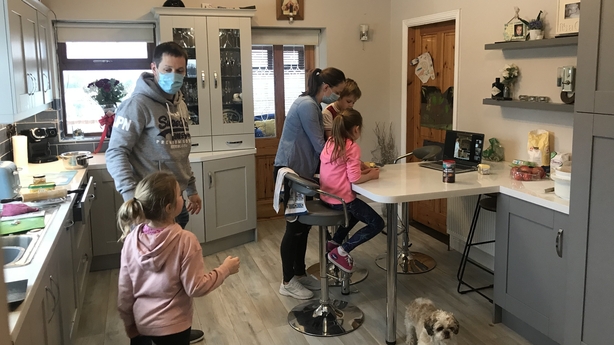 It's also good craic, says Shane Gallagher, with a lot of slagging going on about their culinary expertise between the different families as they interact online during the two-hour class.
Eimear says people want the programme to continue and they have a number of other ideas in the pipeline including nutrition talks, stress talks for exam students and for parents.
The initiative at Eastern Harps is one of over 20 "Keeping Well" projects supported by Sligo County Council under the Healthy Ireland programme.
Sligo Healthy Living Coordinator Marcella McGarry said they are delighted to be involved with Eastern Harps.
She encouraged people throughout the county to check out all the various healthy living activities available and to also get out on one of the many designated walks within their 5km.
Ms McGarry said that staying active, keeping connected with your community, eating well, minding your mood and being creative are all very important for people's mental and physical health under lockdown.
She said that while it may be challenging, doing these things will help lift your mood.