A community group in Co Mayo has held a lantern relay to Galway to remember the 796 babies interred in an unmarked grave in Tuam.
It comes as Minister for Children Minister Roderic O'Gorman has said he will bring forward legislation to address the reburial of the infants.
Local Islandeady resident Valerie Jennings organised the event, which is adhering to public health guidelines during Level 5 restrictions.
"This is has nothing to do with politics, religion or money. I wanted to do something to honour those babies and keep their memories alive. So I enlisted people in the local community to help me achieve my goal.
"We organised this lantern relay where each person taking part stays within their own 5k limit and passes it on to the next person along the route. The lantern is sanitised between handovers," Ms Jennings said.
There are 36 people participating along sections of the 64km journey - each representing a year between 1925 and 1961 when the Bons Secours order ran the Mother and Baby Home in Tuam.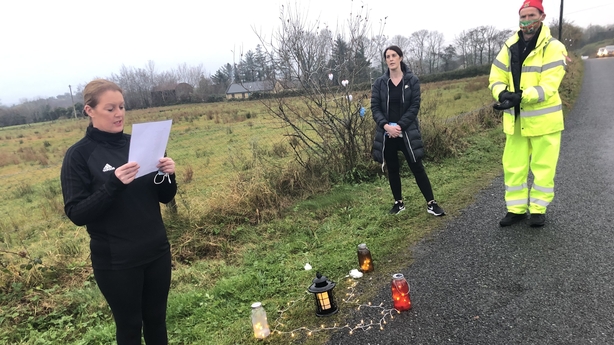 The final link in the relay was four-year-old Rosa Dempsey, who placed the lantern at the shrine in the Tuam memorial site.
Tuam historian and campaigner Catherine Corless welcomed the commitment given earlier this week by Mr O'Gorman to bring forward legislation for the reburial of the Tuam babies.
She said this was a long time coming and was a welcome development.
Under the proposed new legislation, a dedicated agency would be set up for a limited period of time to oversee the excavations, exhumations, identification and reburials.
The report into the mother-and-baby homes is not expected to be published before early next year.
Campaigners say they hope it will expose the truth and shine a light on what the Taoiseach described as "a very shameful and dark period in our country's history".