Parents and pupils at St Joseph's Secondary School in Galway city - known locally as 'The Bish' - have said they fully support schools staying open.
Parent Gillian Coughlan said she was satisfied that enhanced measures were in place to ensure the safety of students and teachers.
"From the boys' point of view I think the structure is good for them being back in school and around their peers. The social aspect is hugely important.
"They've lost out on so much over the past number of months. It's great they are back."
However she urged everybody to take personal responsibility as well and to keep wearing masks and sanitising hands.
"And if your child is not well keep them at home."
Kieran Kavanagh is another parent at The Bish who said he is delighted schools are back, notwithstanding some concerns.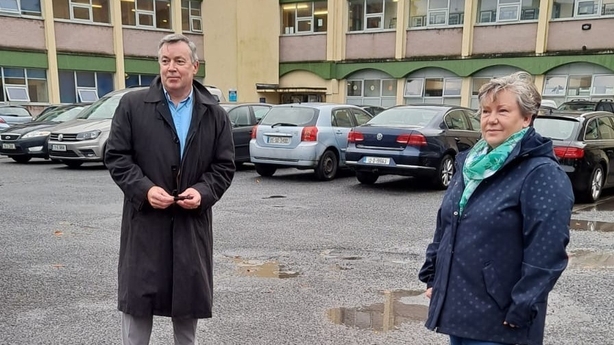 "We trust our public health officials, we trust our school management and especially the teachers and the students themselves. However it's right to bring up concerns and get advice to allay fears."
He said he welcomed the HSE taking the lead on best practice going forward in dealing with positive cases of Covid-19 in schools.
Evan Forde and Conor Salmon are fifth-year students at The Bish. They both welcome the return to school saying the implementation of one-way systems, social distancing and hand sanitisers keeps the safety of everybody to the fore.
Evan said he does not have any concerns but accepts the 'new normal' took a bit of time to get used to but, by and large, everybody has adapted now.
Conor said it was strange having such a "long summer holiday" but he was more than ready to return to school.
"At the beginning it was difficult getting used to the mask and I had trouble sometimes hearing teachers but it's all fine now."
He said he would have some concerns if a fellow student tested positive but would deal with it in the appropriate way if that situation arose.
"For now I'm fully reassured that everything is being done to keep the virus under control and as long as we all play our part it will be ok.
"The big difference in our workflow is that we're not using lockers anymore. All the books we have to bring from home, same with the copies. We've got one copy for all the subjects now which makes it easier with the bags, which can be a little heavy sometimes! These things are all manageable."
Conor said that even if schools closed again, classes can continue online so schoolwork would continue to flow. That said, he prefers to come into class and to be in a school building.