Many business owners will recognise the emotions experienced by the Phillips family in Ballyhaunis, Co Mayo, ahead of the first lockdown, earlier this year.
"We were just numb really" says Tracey Phillips. "We thought 'this is it', this is the end of our story after 96 years in business and three generations of the same family. We thought lockdown had us knocked down".
But what happened next surprised the shoe sellers and has given their trade a much-needed shot in the arm, as they face into a second enforced closure.
"After about three days, the phones started ringing, customers started calling, emailing and sending us DMs [on social media] … the orders started coming in."
Having worked to develop a comprehensive online offering in recent years, the family decided to take things a step further and bring the fitting room to the front door.
They started bringing shoes to the homes of people around Mayo, so they could try them on and pick a pair in the comfort of their own house.
Soon, "word spread and next thing we were leaving parcels on wheelie bins, on top of oil tanks, and even in hay sheds, so people could try the footwear, even when they couldn't come into the shop".
Customers around Mayo call the store and tell staff what they are looking for, the style they like and what their size is. Boxes are then dispatched to homes, with shoppers having a day to try before they decide if they want to buy.
As they prepare for the Level 5 restrictions, the owners say the experience from earlier this year will cushion the blow over the next six weeks.
They are planning to keep working through November, retaining all staff and maintaining a level of service that has been unbroken for almost a century.
"We're not going to let this stop us" says Ms Phillips, "our doors will be physically closed but we will be working here behind the scenes fulfilling online orders and sending shoes around the county and further afield".
Her brother, Cathal, says the groundwork for the home deliveries stemmed from the online presence the business had built up. As well as selling to people across the country, they have had international orders from several countries in recent months.
"At the moment, this is the only way to go" says Mr Treacy. "We feel we're onto something. We have the same technology working in or store in Ballyhaunis as the big multinational retailers have. All our stock is integrated, it's live and reflects what we have available."
Without the prospect of online sales and local deliveries, he feels the next six weeks would be tough.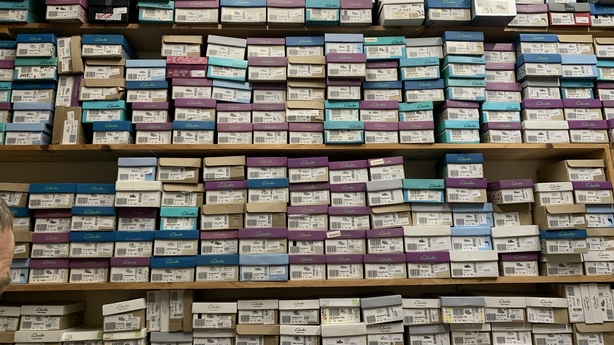 "It would be desperate to have 5,000 pairs of shoes sitting on the shelves here facing into Christmas. For us, it's a necessity for us to be online and to be able to add to that, with the door to door aspect, is great."
The initiative has gone down well with people who have used the service. Ahead of the formal closure of the physical business this evening, shoes have been delivered to a number of homes again today.
Seamus Mulrennan, from Gurteen, took delivery of six different pairs of footwear. He is looking for a pair of comfortable brogues with good support. "It's very efficient and it's ideal in the present circumstances", he says.
Mr Mulrennan says he is hopeful there will be a pair among the batch that suit his needs. But he also feels strongly about the importance of supporting small, independent retailers.
"You'll want these shops opening up again, when this is all over … we're better off to support the locals than the multinationals and at least it's keeping business local and keeping jobs local as well."