As Ireland moves to Phase 3 of the roadmap to reopen the country, the tourism and hospitality sector has been busy adapting to the new normal.
Business owners and employees around the country are making last-minute preparations for reopening given the lifting of further coronavirus restrictions tomorrow.
The King's Head is one of the oldest medieval pubs in the city of Galway, but for now it will trade exclusively as a restaurant. That means no propping-up the bar and all stools stacked away until further notice.
Mary and Paul Grealish own and manage the premises, which hosts live music and comedy acts, with a maximum capacity of 750 people at the height of the summer season. They will now be restricted to 150 customers spread across three floors.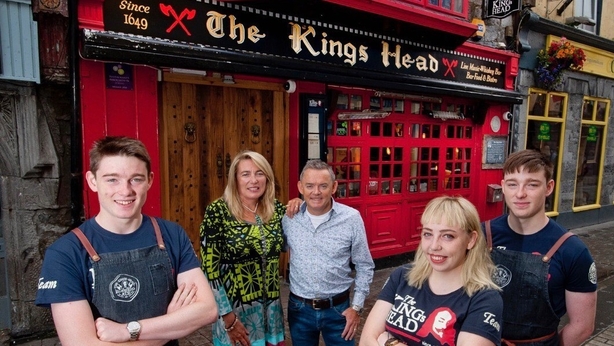 The couple say they are lucky to have that sort of space but admit the two-metre social distancing guideline is challenging. They have achieved it in some areas of the pub, but the one-metre-plus rule is more manageable.
New measures to adapt to Phase 3 of reopening include the installation of salvaged doors to create snugs, and screens erected at counters in the style of decorative mirrors.
The Grealish family said they wanted to create an ambience in keeping with the 'old world' style of the pub.
Their college student twin sons, Aran and Ruairi, have been helping out during lockdown.
Ruairi studies hotel management at Shannon, and has been brushing up on his cocktail-making skills ahead of the reopening of the family business.
Paul Grealish says it will be great to have their 70 staff back working but says he will have a big wage bill on his hands. He says the viability of pubs, restaurants and hotels is under threat going forward.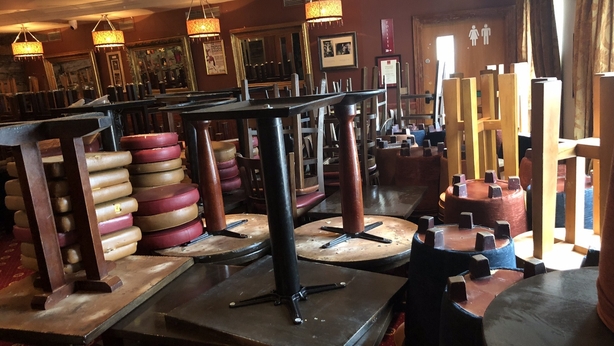 "Unless the Government continues the wage subsidy scheme we'll be in serious trouble from September. We can't even break even with such a reduced capacity," he said.
Another family feeling the strain of lockdown are the Maloneys in Ballina, Co Mayo. They own and manage the Mount Falcon Estate and holiday lodges.
Alan Maloney has now invested in a €100,000 initiative with business partners to entice families on 'staycations' in rural Ireland.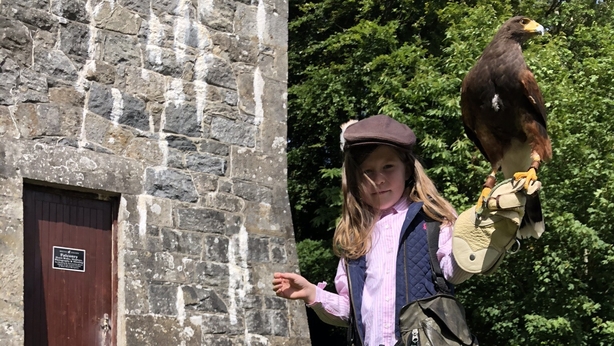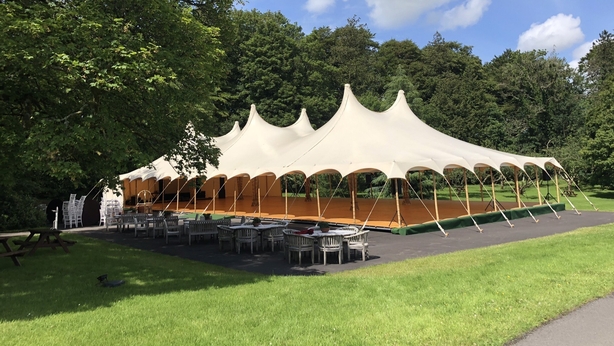 A bamboo tent has been erected on the grounds with barbecue facilities, music and entertainment. Families can partake in activities whilst continuing to self isolate in the lodges.
Mr Maloney says it is a huge gamble but they have no choice.
"Our business has been decimated like many more in the hospitality sector. Because of our location in rural Ireland, we have an eight-week window to garner some cash flow to get us through winter and survive until next year," he said.
The Maloneys say they have planned meticulously to ensure social distancing guidelines are adhered to for the safety and well-being of both holidaymakers and staff.