A ten-year-old County Galway boy has become the toast of international kart racing this weekend.
Alex O'Grady from Loughrea became the new World Champion of the IAME Minime cadet class finals which took place at the Le Mans circuit in France.
It was thrilling stuff in France as the young Motorsport Ireland driver started in third place on the grid before moving to the front where he stayed to the chequered flag despite intense pressure from rivals.
"I started third and at the start it didn't go to plan," he told RTÉ News. "But then I got to second and then the lead. I got overtaken but then I got the cup back and pulled away."
From the world stage of kart racing in France, it was back to Carrowbane National School in east Galway for the fifth class pupil today.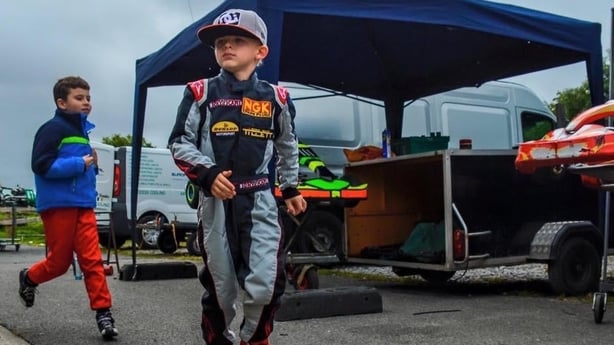 Students lined out to give their local hero a rapturous welcome, with fellow classmate Jack Reidy describing him as a "savage driver".
"I was watching his race earlier on, he's really good. He's just amazing... I wish I was like him."
Principal Gerry Murray said the school was overjoyed to see one of its students achieve a world class title.
"We're proud of all our pupils but to have one pupil in particular to reach their highest level in their chosen activity on the world stage is fantastic, something really special," he said.
Alex said he was over the moon to be world champion and said his sights are set firmly on Formula One.
His parents Colm and Siobhán said they are tremendously proud of their son who has been racing since he was five-years-old.