Prizes for guessing the link between Joan Baez, Sting, Douglas Hyde and Micheál Ó Concheanainn from East Galway! Why the traditional Christmas carol, the Easter Sunday Hymn, of course!
Versions of the carol have been recorded by both Joan Baez and Sting, Douglas Hyde published a version of it, and traditional storyteller Micheál Ó Concheanainn recorded it for the National Folklore Collection.
Easter Sunday Hymn, or more correctly Hymn Dhomhnach Cásca, is an Irish version of the medieval English religious ballad known as The Cherry Tree Carol.
Hymn Dhomhnach Cásca is associated with the Connacht and Munster traditions and we present here for the first time together the text, the spoken version and the song from East Galway.
Although it is a Christmas carol, the last verses concern the death and resurrection of Christ. So it appears that Easter rather than Christmas is given pride of place in the title of the Irish version as it is the more significant of the two feasts in Christian theology.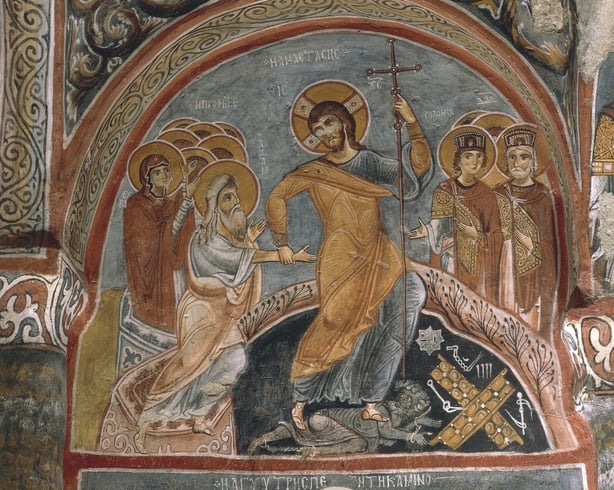 The Resurrection of Christ, Byzantine fresco, Cappadocia. (Pic: Getty Images)
The inclusion of the English word 'hymn' rather than Irish 'iomann' in the title is also unusual. This may be because the carol came to Ireland from the English tradition in the first place.
The carol tells the story of Mary, Joseph and the unborn Jesus' journey to Bethlehem for the Roman census. Mixing religious devotion and folklore, both Mary and Jesus are blemish-free while Joseph displays very human emotions.
On the journey, the family stops in a cherry orchard and Mary asks Joseph to pick some cherries for her. A resentful Joseph, however, tells Mary to ask the child's father to pick them.
Jesus intervenes from the womb and instructs the tree to lower its branches to Mary and present the fruit to her. Joseph immediately regrets his harsh words and seeks forgiveness.
The dialogue between the three goes on to discuss Jesus' birth, death and resurrection, but most modern recorded versions of The Cherry Tree Carol such as Sting's make no reference to Easter.
Apart from the disorienting title, it is remarkable that Hymn Dhomhnach Cásca made its way into Irish at all, as there was very little tendency to Gaelicise ballads originating outside Ireland.
Ballads are songs that tell a story in short verses. However, Dr Lillis Ó Laoire of NUI Galway says the term 'ballad' was unknown here until the English and Scottish plantations of the 17th century. He says that that most old ballads found in this country are of English (or British) origin. The Cherry Tree Carol is believed to have originated in England in the 15th century, or perhaps earlier.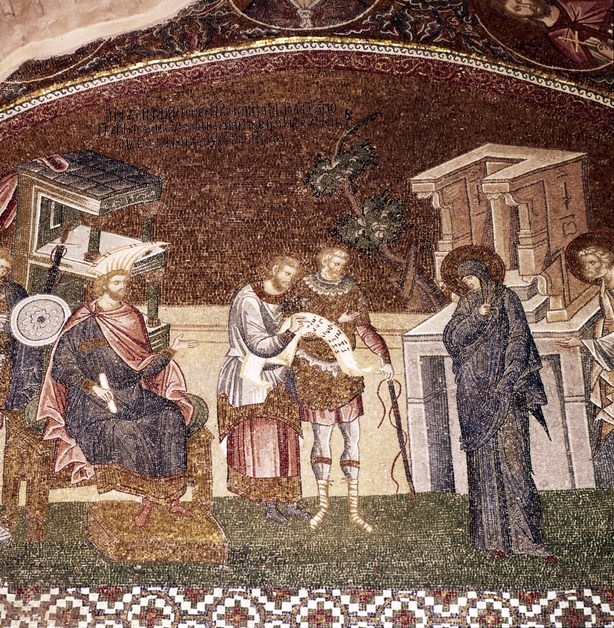 14th century Byzantine mosaic of Mary and Joseph registering for the census in Bethlehem (Pic: Getty Images)
The version of Hymn Dhomhnach Cásca we present here – text, speech and song – is from a single source. The reciter and singer is Micheál Ó Concheanainn (Maidhc Cheanainn) from Montiagh, Claregalway, Co Galway, who was born in 1889 or 1890.
Folklorist Ríonach Uí Ógáin recorded the spoken version from Micheál in 1968 and RTÉ's Ciarán Mac Mathúna recorded a version in song from him in 1963. Linguist Prof Brian Ó Curnáin of the Dublin Institute for Advanced Studies has transcribed it for us.
Hymn Dhomhnach Cásca recited by Micheál Ó Concheanainn of Claregalway, 1968 (National Folklore Collection). (Pics: Getty Images)
I
Trí fichid bliain a bhí Naomh Jósap,
An uair a fuaigh sé ag treorú Mhuire Mháthair,
Is é a fuair an dántas
ab fhearr ná na dáintí.
II
Dhiúltaigh sé dhon choróin
agus dhon ór a bhí ag Rí Dáithí
Agus b'fhearr leis go mór mór sin
Agus a dhul ag treorú Mhuire Mháthair.
III
A Mhuire Mháthair agus a Mhuire Mháthair
Agus a Mhuire Mháthair faoi dhó,
Agus a Mhuire Mháthair a fuair na grásta
go saora tú an domhan mór.
IV
Lá dhe na laethe dhá raibh an cúpla
ag siúl thríd an ngairdín
Bhí seilíní úra ann,
crainn úllaí agus bláistí.
V
Chuir Muire ansin dúil
agus tnúth mór sa láthair,
I mbaladh na n‑úllaí
a bhí ansin go cumhraí ón Ard-Rí.
VI
Ansin a labhair Muire Mháthair
dhe chomhrá lag fann,
'Tabhair dhom,' a deir sí 'cuide dhe na torthaí
atá ag fás ar an gcrann!
VII
Tabhair dom mo sháith acubh,
mar tá mé lag fann,
Agus tá tobar na ngrásta
ag fás faoi mo bhroinn.'
VIII
Ansin a labhair Naomh Jósap
dhe chomhrá lag mall.
'Ní domhsa,' a deir sé, 'is córta sin,
agus ní heol dom do chlann.
IX
Tóraigh é sin ar athair do linbh,
ós air atá tú teann,
Agus tugadh sé mian do chroí dhuit,
glan díreach ón gcrann!'
X
Ansin a labhair an leanbh Íosa
bhí go naofa faoina broinn,
'Ísligh,' a deir sé,
'ina fianais, a chrainn!'
XI
D'umhlaígh an crann síos duiche,
ina fianais gan mhoill,
Nó go bhfuair sí mian a croí istigh
glan díreach ón gcrann.
XII
Nuair a chualaigh agus a chainic Naomh Jósap sin,
Chaith sé é héin faoin talamh.
Agus thóraigh sé maiteanas ar Rí na nGrásta,
faoi go ndearna sé an peaca.
XIII
'Téirigh abhaile,' a deir sé, 'a Naomh Máire,
Agus luigh ar do leaba
Nó go dtéighe mé go Cathair Bheithile,
Go bhfaighe mé maiteanas in mo pheaca.'
XIV
'Ní rachaidh mé abhaile,' a deir Naomh Máire,
'Agus ní luighfidh mé ar mo leaba.
Tá cuntas anois agam ó Rí na nGrásta
go bhfuil tú tarrthaíthe in do pheaca.'
XV
Trí lá ansin ón lá sin
a bhí siad ag goil thrí Chathair Bheithile,
Ag tóraíocht ar lóistín
ach ní bhfuair siad aon fhóirthint.
XVI
Nó gur casadh iad insa stáiblín
nach raibh díon air ná fascadh
Agus gur rugadh an leanbh Íosa
Eidir bullán agus asal.
XVII
Trí lá ansin ón lá sin
d'fhiafraigh Muire dhá leanbh,
'A leanbh, a mhic mo chroí,' a deir sí,
'Anois céard dhéanfas muid feasta?'
XVIII
'Beidh mé Dé Céadaoin,' a deir sé,
'ar mo chaomhaint ar mo námhaid.
Agus díolfaíor Déardaoin mé
ar dheich bpíosa fichead dhen airgead bán seo.
XIX
Buailfíor orm Dé hAoine
deich gcéad míle buille
dhe sciúirsí craoibhe
nó go mbeidh an braon uasal
a bheas in m'uachtar
ag goil síos lé mo shálaí.
XX
Cuirfíor spílí maola
thrí mo chosaí agus thrí mo lámhaí.
Cuirfíor orm an choróin spíontaí
ag tabhairt spídiúlacht bás dom.
Ach déanfaidh mé an aiséirí ghlórmhar
Domhnach geal Cásca.'
Part of Hymn Dhomhnach Cásca sung by Micheál Ó Concheanainn, 1963 (RTÉ Archives) (Pics: Getty Images)
A version of Hymn Dhomhnach Cásca from northwest Mayo was published under the title Muire agus Naomh Ióseph in Abhráin diadha Chúige Chonnacht (Religious Songs of Connacht) by Douglas Hyde in 1906.
And there is another version from Montiagh, Claregalway, in a manuscript in the National Folklore Collection in Dublin. The manuscript was bought from a local woman by Séamus Ó Duilearga in 1932. This version was written in English spelling by Tomáisín Bacach Ó Dúgáin in 1853.
The folklorist William Mahon, who discovered the carol in the manuscript, believes that Ó Dúgáin was born sometime between 1800 and 1815. He says Ó Dúgáin was a hedge school teacher in Montiagh and that he died in 1874. We are publishing here the first two verses of Ó Dúgáin's version as well as an image from the manuscript.
Tree Scoure vee ig Joseph o
Naure fause She muiry waher
mur is igey vee in na toretunus
Bare na na dantey
Yuletey Shea in tor
7 in croan vee ig daihee
7 gue mare les deena aulish
7 troare O gue vareeye
(Trí scóir bhí ag Jósaf ó!
nuair a phós sé Muire Mháthair.
Mar is aige a bhí na tabhartanais
ab fhearr ná na táinte.
Dhiúltaigh sé an t‑ór
agus an choróin a bhí ag Dáithí.
Agus go mb'fhearr leis ag déanamh eolais
agus treoir ó! do Mháría [nó Mháire].)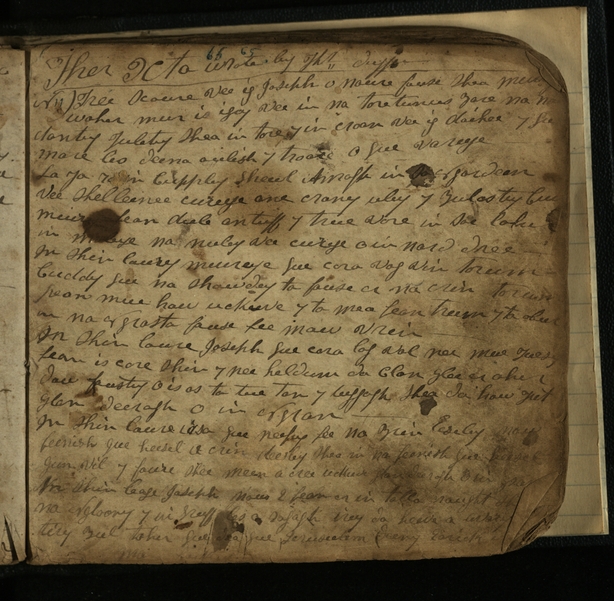 Hymn Dhomhnach Cásca as written by Tomás Bacach Ó Dúgáin in Claregalway, 1853 (Pic: National Folklore Collection)
Prof Ó Curnáin says there are similarities and differences between all three Irish versions mentioned here, and that it is clear they are independent of each other to some degree.
"Micheál Ó Concheanainn and Ó Dúgáin's manuscript were both from Montiagh, Claregalway, and Micheál's version frequently corresponds with Ó Dúgáin's manuscript version. There are, however, parts of Micheál's version of the 'hymn' which correspond closer to other versions – for instance Hyde's published version from Mayo – and Micheál's version is therefore at least partly independent of the one in Ó Dúgáin's manuscript."
According to Prof Ó Curnáin, although Hymn Dhomhnach Cásca is originally an English carol, there is evidence that the stories that were added to the canonical New Testament were known in Ireland from the Middle Ages onwards.
"The medieval Gaelic tradition was mixed in with the original English carol as it was Gaelicised to produce Hymn Dhomhnach Cásca. The Dominicans and Franciscans would weave the additional human-interest stories into their Irish sermons all over Ireland."
For the Gaels then, Hymn Dhomhnach Cásca had an instructive role in bringing good news to the Christian community of human imperfection and sin, followed by repentance and forgiveness.
A version of this story in Irish is available here.