Campaigners are calling for the introduction of a plastics levy after residents in Kinvara, Co Galway, undertook a seven-day plastic free challenge.
The project was organised to promote greater environmental awareness and to see if the residents could manage without the material.
The seven-day challenge was prompted by the amount of plastic that washed ashore after last winter's storms.
The local community was keen to cut out plastic but householders admitted it was not an easy task.
Despite cutting back on disposable waste, many found it impossible to eliminate plastic entirely. Many daily purchases were impossible to find without wrapping.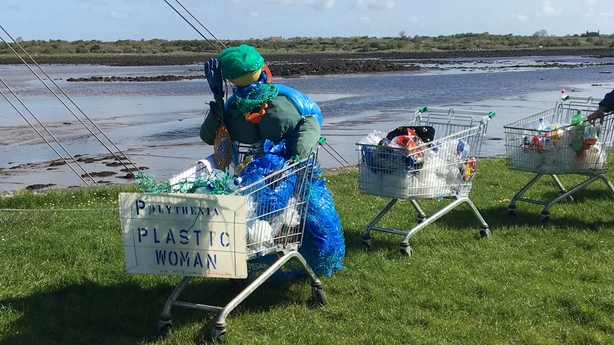 A plastic art installation protest featuring trolleys of waste packaging is on display at Kinvara Pier. It marks a fraction of the waste wrapping to come out of the small seaside town in just one week.
Meanwhile there were efforts at Kinvara Farmers Market to utilise plastic-free alternatives such as bamboo toothbrushes. At the market, transition year students at Seamount College Kinvara made reusable coffee cups which sold out quickly.
Throughout the week local businesses provided in-store waste disposal facilities and shoppers brought their own containers for meat and fish products.
Organisers said the challenge has shown a huge appetite from the ground up for a widespread reduction in the volume of plastic that people encounter on a day-to-day basis. They are hoping other communities around the country will follow suit.
However campaigners said there needs to be more action taken at government level and are calling on the introduction of a plastics levy as a matter of urgency.