Leo Varadkar hopped on one foot as the other appeared to get caught in his chair, before gathering his composure and taking to the lectern to address the mid-morning press conference.
After something of a false start to his election campaign the day before, the Fine Gael leader will be grateful that this was the only misstep of a day, allowing him to bring his campaign back to focus.
Thursday was an election day fought on the battleground of the economy - one his party is more comfortable on, and there was nothing to knock him or his colleagues off message.
Both Fine Gael and Fianna Fáil presented their opening gambits of how the economy would be managed under their stewardship.
Fine Gael was holding out the promise of good times ahead: more jobs, higher wages, tax cuts and record levels of investment.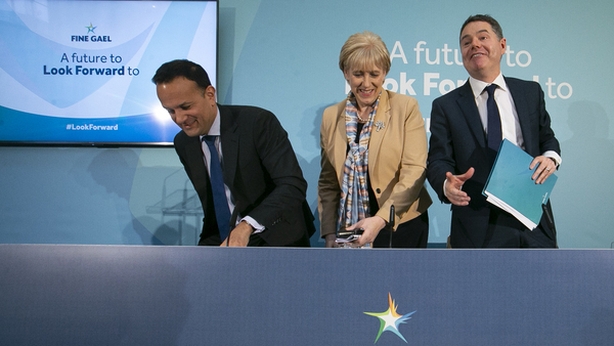 It sought to pitch itself as the safe pair of hands guarding against the return of the "boom–bust" budgetary
Paschal Donohoe hit out at the "the reckless 'if I have it I spend it approach' that characterised Fianna Fáil's handling of the economy" adding that the party did not learn the lessons of its electoral history.
Fianna Fáil's Michael McGrath was giving as good as he got at the Fianna Fáil press conference across town.
"I think he is just making that up as he goes along," he said of Mr Donohoe's charge.
"That is not the Fianna Fáil way. It annoys Fine Gael that Fianna Fáil is taking a very responsible, cautious and prudent approach to the Irish economy.They would rather it was different, but I have bad news for them, it is not different!"
Fianna Fail's @mmcgrathtd says the party's emphasis on budgetary spending on public services, as opposed to tax cuts, would be greater than the 2/1 under the confidence and surpply deal #GE2020

— Mary Regan (@MaryERegan) January 16, 2020
Fine Gael has been very good at spending money, he said, but not good at managing it. He referenced "stinging criticism" of the Government from the Irish Fiscal Advisory Council (IFAC) and over runs in Departments including Health.
Mr McGrath argued that the party has learned from the mistakes it made in the past. "We have demonstrated that in "the way we have conducted our politics and in the way that we have reformed our economic and fiscal strategy."
When Fianna Fáil had to respond to the crisis, it did so, he said, adding that the party laid the foundations for what was a quick recovery.
While Fine Gael says the country is still living with the "scars" of the economic crash, Fianna Fáil argues that people are no longer raising issues related to ten years ago in this campaign, that they had to deal with in 2016.
The political point scoring aside, the main difference between what both parties are offering economically relates to the ratio of how much of available resources they would put towards tax cuts versus how much they would invest in public services.
Fianna Fáil made it a condition of the confidence and supply arrangement that budgets would have a ratio of two thirds spending versus one third tax cuts. The party now says it will increase the share of spending, but by exactly how much is something it will outline later in the day.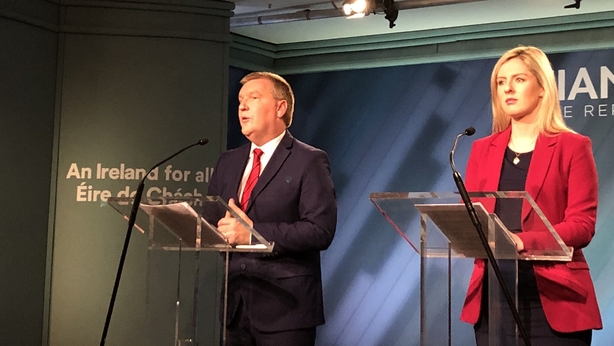 "In any decent society it is not acceptable that a million people are languishing on a hospital waiting list, in any decent society it is absolutely not acceptable that 10,000 people are homeless, including close to 4,000 children," he said.
---
Read More:
Latest Election 2020 headlines
Campaign Daily updates
---
Fine Gael appears to be proposing to maintain the current two to one ratio, and its campaign so far has been more focused on tax cuts. It is expected to announce proposals later in the campaign to raise the higher threshold for paying income tax to €50,000.
As the two biggest parties slug it out, both can claim to have had a good day at the office.
There are times in an election cycle where party strategists and campaign organisers are in control and there are times that events outside of their control dictate the agenda.
Today was one of those days where the Fine Gael and Fianna Fáil election teams will sleep easy knowing that they got their messages across and the day went to plan.
Both sides appear confident, organised and nowhere near panicking just yet.
But it's early days. Weekends often give politicians a chance for more interaction with the public and they'll learn a bit more over the coming days about where they stand in voters' estimations.
No Big Deal Brexit
Fianna Fáil's Willie O'Dea tweeted a video saying he had canvassed 1,000 houses in Limerick and not a single one mentioned Brexit.
"If the Taoiseach thinks he's going to win this election based on Brexit, I think he's doomed to disappointment," he cautioned.
First day of canvassing over and no mention of #brexit in #Limerick . Thanks to everyone for their warm reception. #GE2020 #GE20 pic.twitter.com/P9DPUzcsZn

— Willie O'Dea (@willieodeaLIVE) January 15, 2020
Fine Gael Senator Neale Richmond responded that about 600 out of the 1,000 houses he visited had mentioned it.
Leo Varadkar for his part said a government led by Fine Gael can secure the best trade deal with the UK after it exits the European Union.
Let's hope he didn't read a news report on Bloomberg which put it more bluntly than Willie O'Dea.
"As yet, there is little sign of that message cutting through," it said. Ouch.
Babies on Board
For decades babies are as integral a part of electioneering as posters and free drinks. And already they are playing something of an enhanced role in this campaign.
On Tuesday, Micheál Martin opened his party's launch with reference to Catherine Ardagh's newborn twins -Darragh Óg and Sean - before saying he wished to congratulate Dara on their birth.
The party's Deputy leader, Dara Calleary, standing next to him looked a little taken aback, before Mr Martin said,"sorry, congratulations Catherine."
Ms Ardagh is the Dublin South Central candidate and is out canvassing to win a seat just two weeks after giving birth to the twins.
Meanwhile, Simon Harris was taking it on the chin when a picture of Leo Varadkar holding a crying infant was tweeted with the caption by Mallow News: "Leo Varadkar carries an exhausted Simon Harris home from a days campaigning."
Mr Harris joked back: "Absolutely exhausted."
Pic: Leo Varadkar carries an exhausted Simon Harris home after a days campaigning. pic.twitter.com/8pFPdWTKvA

— Mallow News (@MallowNews) January 15, 2020