Housing and homelessness have dominated the first full day of campaigning in the General Election, as party leaders launched their campaigns.
Fine Gael's campaign was launched by leader Leo Varadkar in Co Monaghan this morning. He said he wanted to do so outside of Dublin because it is great to get out of the capital.
Mr Varadkar launched the campaign at Combilift alongside Simon Coveney, Paschal Donohoe, Heather Humphreys and Helen McEntee. The company employs 650 people, making it one of the biggest employers in the border region.
Mr Varadkar said he was very concerned about the case of a man who was seriously injured after the tent he was sleeping in was removed from the banks of the Grand Canal by an industrial vehicle. 
On Brexit, he said he is concerned that Fianna Fáil MEP Billy Kelleher is going to vote against the European Union Withdrawal Agreement. He called on Fianna Fáil leader Micheál Martin to explain this.
Mr Varadkar said: "Thankfully Fianna Fáil hasn't much influence in Europe" and the vote on the agreement will go through.
The Fine Gael leader also said he wants a new government in place before an EU summit in March.
He said his party is offering the people of Ireland "the right team" to bring Ireland forward.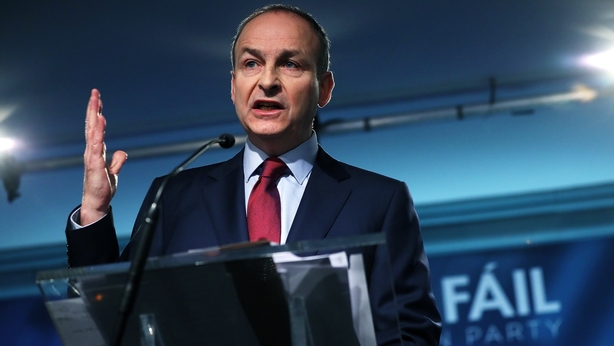 Meanwhile, the leader of Fianna Fáil has said Fine Gael is offering more of the same for the next term of government.
Speaking at his party's campaign launch in Dublin, Mr Martin said his party would campaign for change which will deliver action.
He said scandals like hospital waiting lists, homelessness and childcare costs need to be addressed.
Mr Martin said Fine Gael had claimed it could not do anything about those issues because it was handling issues with the economy.
He said the Fianna Fáil campaign would show how government could start delivering.
Sinn Féin has pledged to build the biggest public housing programme in the history of the State.
The party is also proposing to reduce rents by up to €1,500 a year through the introduction of a tax credit by renters as part of its housing plan.
Speaking on her first day of canvassing in Dublin Mid West, party leader Mary Lou McDonald accused Fine Gael and Fianna Fáil of being "in the pockets of developers and landlords" and said they have not acted in the public interest when it comes to housing.
Sinn Fein has accused Fine Gael and Fianna Fail of being "in the pockets of developers and landlords". Mary Lou McDonald said Sinn Fein in government would build the largest public housing programme in the history of the state, freeze rents and make them more affordable @rtenews pic.twitter.com/sT1chrddAI

— Samantha Libreri (@SamanthaLibreri) January 15, 2020
She also said that she was not surprised that other parties say they did not want to be in government with Sinn Féin, but that her party does want to be in government.
"Of course we want to be in government, we're not a debating society, we're about delivering for people," she said.
Labour party leader Brendan Howlin launched his party's General Election campaign at the Glass Bottle site in Poolbeg West. 
He said the location was picked because one of the most important issues that Ireland faces is the issue of homelessness and the provision of affordable housing.
Labour leader Brendan Howlin canvassing in Sandymount Village @rtenews @rtepolitics #GE20 pic.twitter.com/OE8Hm9FqUh

— Sharon Lynch (@sharonmlynch) January 15, 2020
"If you wanted an emblem for failure we're looking at it directly behind us," Mr Howlin said.
"This site has the potential to make an impact the housing needs of this large community. The site shows us that there is no palpable will to fix the crisis in housing." 
"We've a plan to build 80,000 affordable and social houses on the land the public already own," he said.
The Green Party launched their general election campaign with what they described as a positive message for voters "if you want green, vote green".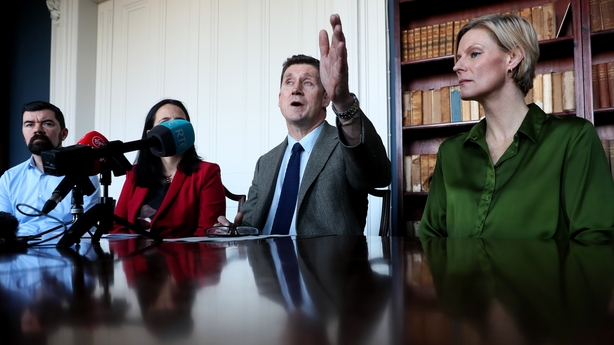 Party leader Eamon Ryan said the main parties are not talking about climate change so far in this election campaign.
"If people do want us to set our country on this course towards a sustainable future where we address the climate and biodiversity crisis then they should vote green," he said.
When asked about going into coalition with the larger parties, Mr Ryan said this is not about the politics of division and that following a green agenda would be a historic leap for Ireland. 
We need your consent to load this rte-player contentWe use rte-player to manage extra content that can set cookies on your device and collect data about your activity. Please review their details and accept them to load the content.Manage Preferences