Accenture has confirmed that it plans to make up to 400 staff in its Irish operations redundant.
A spokesperson said the decision followed a careful review of the company's business operations here.
They added that a collective employee consultation around the proposed redundancy programme is now to get underway.
Accenture has lowered its annual revenue and profit forecasts and said earlier today it would cut about 2.5% of its workforce, the latest sign that the worsening global economic outlook was sapping corporate spending on IT services.
More than half of the 19,000 jobs to be cut will be in its non-billable corporate functions, like HR, finance and administration.
Accenture currently employs around 6,500 people in Ireland.
The company offers management consultancy services here for other organisations, including many in the tech industry.
Since late last year, the tech sector has laid off thousands of employees due to a demand downturn caused by high inflation and rising interest rates.
It is understood that today's decision was shaped by the retrenchment in the tech industry.
A spokesperson for the department of enterprise said the announcement is a worry for all staff and it will work with the company to ensure that the full range of state supports are available to the impacted employees.
"IDA will remain in close engagement with Accenture as they progress their consultation process with staff," he said.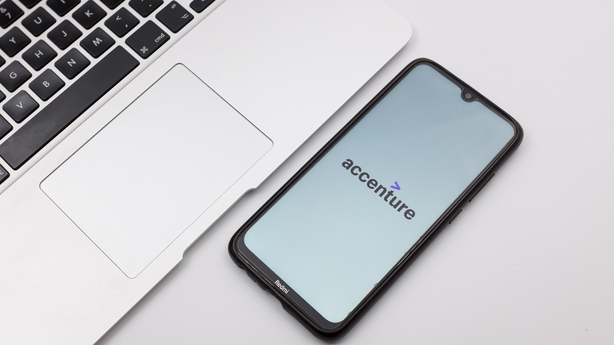 Rival Cognizant Technology Solutions last month pointed to "muted" growth in bookings, or the deals IT services firms have in the pipeline, in 2022 and forecast quarterly revenue below expectations.
IBM and India's top IT services firm Tata Consultancy Services have also flagged weakness in Europe, where the Ukraine war has affected client spending.
Accenture now expects annual revenue growth to be between 8% and 10%, compared with its previous projection of a 8% to 11% increase.
Earnings per share is expected in the range of $10.84 to $11.06 compared with $11.20 to $11.52 previously.
"Companies remain focused on executing compressed transformations," chief executive Julie Sweet said in a post-earnings call referring to how businesses were trying to become leaner in the turbulent economy.
A survey of more than 1,000 IT decision makers by US-based Enterprise Technology Research said they plan to reduce their 2023 budget growth.
The growth expectations are now 3.4%, down from 5.6% increase captured in October 2022.
"Our forward-looking technology spending intentions data for both sectors (IT Consulting and Outsourced IT) are approaching zero!" said Erik Bradley, chief engagement strategist at the technology market research firm.
"In short, the data indicates a very difficult environment ahead for consulting firms," he added.
-additional reporting Reuters