A new US-Ireland business organisation is to bring a delegation of Congressional staff to Ireland in the autumn as part of a sustained effort to improve understanding of the business environment on both sides of the Atlantic.
The US Ireland Partnership for Growth was set up to help contact between businesses with operations in both the US and Ireland, and government leaders dedicated to accelerating economic opportunity.
At a lunch event in Washington DC, it said the delegation of senior House and Senate staff will spend five days in Ireland.
The Partnership's Advisory Board is chaired by former taoiseach Enda Kenny, and includes former members of Congress Patrick Murphy (D-Pennsylvania) and Tom Rooney (R-Florida).
The Partnership's member base includes Microsoft, Stripe, Workday, Oracle, Lilly, Horizon, Sazerac and ServiceNow - all prominent investors in Ireland.
"We are working with both Irish companies investing into the US and FDIs investing into Ireland, to support them in understanding how engaging with decision makers can unlock growth for them and by extension, unlock economic opportunity for the US and Ireland," executive director Ben English said.
The announcement was made at the Partnership's annual event to welcome the 118th US Congress.
The event was attended by over 20 Members of Congress including Congressman Eric Swalwell, Congressman Ami Bera, Congressman Brian Higgins, Congressman John Larson, Congresswoman Carol Miller, Congresswoman Abigail Spanberger, Congressman Joe Wilson, Congresswoman Nicole Malliotakis, Congresswoman Nanette Barrigan and Congressman Ron Estes in addition to over 50 elected offices.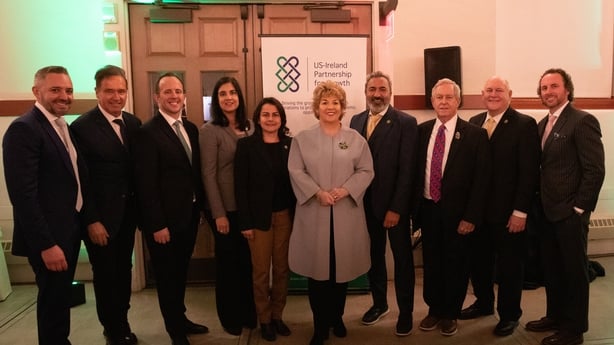 Irish Ambassador to the US Geraldine Byrne Nason and members of the Biden Administration also attended.
The US-Ireland Partnership for Growth says it curates events, policy discussions and programmes that help corporations remove barriers to growth and fuel a symbiotic economic relationship between the United States and Ireland.
The US Partnership is a legal entity registered in the United States. Its principals and Board of Directors are Ben English, Eric Silva and Reilly O'Connor.