The CEO of Ryanair has told an Oireachtas committee that environmental aviation charges are damaging the connectivity of peripheral states, including Ireland.
"Irish passengers are paying the highest environmental taxes of any passenger group in Europe," Michael O'Leary told the Joint Committee on Transport and Communication.
While he supports "fair and balanced" charges, as "aviation does have a damaging impact," he called for an end to "indefensible" exemptions, including for connecting flights.
Around 80% - 90% of Ryanair passengers pay an environmental tax, he said, but only 16% of those on KLM flights through Amsterdam and Rotterdam do.
This is disproportionate and "grossly inequitable", he said.
That exemption is about protecting a national carrier and not the environment, Mr O'Leary said, adding that long-haul passengers should pay more than short-haul passengers, as they are producing higher emissions.
The Government has not updated its aviation policy since taking office, with the current document having been drafted in 2019, Mr O'Leary said, which is both "remarkable" and a source of "concern".
The reforms he is suggesting should be at the heart of a new policy, he said.
He expressed concern at calls from governments for "even more levies" on aviation which were made at COP27 at Sharm el-Sheikh.
"We accept that aviation must pay its fair share," he said, but insisted that "it is not the cause of global warming".
The aviation industry accounts for 2.8% of European CO2 emissions, he said, whereas marine transport contributes over 5%.
The "shambles" of European air traffic control (ATC) accounts for a fifth of Ryanair's fuel consumption and emissions, and 90% of its delays, Mr O'Leary said.
Reforming it could boost Irish air traffic by 50% over the next five years, and create 14,000 jobs, he claimed.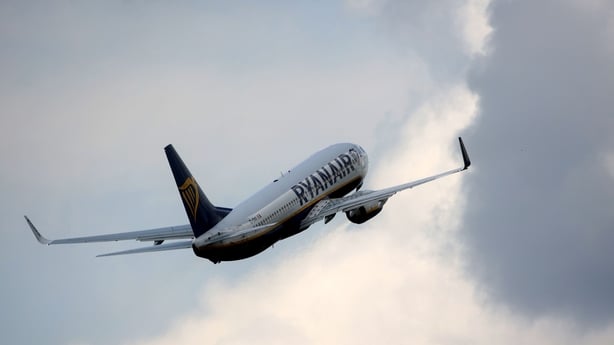 Mr O'Leary said that forcing aircraft to go "zig-zagging" through 47 different air traffic control zones, so that each can get "a little piece of the pie", is "bizarre".
Ryanair aims to grow passenger numbers by 60 million a year, and Mr O'Leary said that he wants 15 million of that to be routed through Ireland.
But he insisted that this will require that the Government puts reform of European ATC at the heart of its aviation policy.
Most of the growth would be in Dublin, he said, provided that its capacity is expanded, as "we need another low cost terminal".
The airline is projected to carry 168 million passengers in the year up to next April, which would constitute a 13% rise on pre-Covid traffic.
He claimed that Ireland is "massively over-airported", and sees "no viable future" for Donegal, Sligo, Galway or Waterford airports, with the "heroic sums" spent on these facilities being "completely wasted".
Ryanair is in a "strong period of recovery", and has emerged from "the existential crisis" of Covid-19 with a strong balance sheet, he said, which is allowing it to recruit and buy assets.
These include aircraft which are more fuel efficient and 40% less noisy.