Stock trading apps have made trading in the global financial markets more accessible to everyone with a smart phone.
The number of people using these apps grew from 35 million in 2017 to over 150 million in 2021, according to the website Business of Apps.
They are popular among business students at the University of Limerick who use the apps to learn about the markets and to build investment portfolios.
Darragh Collins studies Financial Maths at UL and is a member of the university's Economics and Investment Society. He started investing two days after his 18th birthday and uses Degiro and Interactive Brokers.
"I think it's brilliant for young people to be able to access that market and to be able to invest, because before the fees were so high, that you really had to have a lot of money to be able to invest and the only way for people to really gain wealth was to somehow get on the property ladder which these days is very, very difficult."
We need your consent to load this rte-player contentWe use rte-player to manage extra content that can set cookies on your device and collect data about your activity. Please review their details and accept them to load the content.Manage Preferences
Erasmus student, Guilherme Mauro from Azores, started using paper trading versions of the apps when he was 13, but this year he started "putting skin in the game".
Using fake money is a great way to learn, he said. "You can have some exposure to the different sides of the market, and you can learn a lot from your mistakes."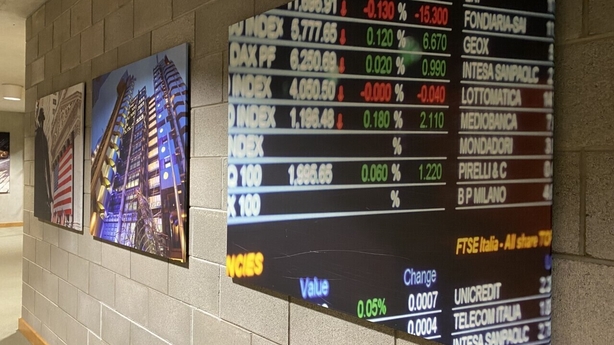 Credit Suisse estimates that retail investors accounted for one-third of all the trading on the US stock market last year, with those using trading apps making up a sizable portion of this number.
The apps have greatly expanded the market of global investors and while there are benefits, there are risks.
"It definitely comes with great benefits," said Diarmuid Kelly, who studies Economics and Finance. "The fact that it's as simple as being on your phone and you don't have to go into a bank or go to a broker, there's no brokerage fees - it's free investing.
"It comes with a lot of risk as well. If you want to invest in certain instruments like derivatives, they make you do a test, to make sure you know what you're investing in but it's extremely easy to pass those tests."
He said it is something that should be looked at because it exposes people who are not necessarily aware of the risks of losing their money.
"Especially young people," Diarmuid said. "If I lost my money, it would be a disaster.
"But the idea of being able to invest in ETFs and stocks without any commission, on your phone, is unbelievable."
US Erasmus student Clayton Polanchek knows the pitfalls after investing in cryptocurrencies on Robinhood. He invested at the peak of its popularity "just to see what it was like".
"Nothing too serious," he said, "but just to play around and learn some more about it. I have not made money, that's for sure."
The student from Montana admits that investing on apps is risky because it's easy to trade without putting a lot of thought into it.
"I've definitely made some trades where it was a little too easy to trade, I didn't do all my research and it didn't work out. I invested just purely based on emotion."
The students put great stock into research, including reading annual reports, assessing valuation ratios, levels of debt and peer analysis.
"I also look at the ability of the company to generate cash flows, and also in terms of risk management, I try to look at the debt ratio and of course, the business model," said Guilherme.
While investing apps have reshaped trading as we know it, Dr Darren Shannon, lecturer in Quantitative Finance at UL, offers advice to anyone considering investing for the first time.
"Whenever I talk to someone who wants to get involved in the stock market for the first time, the first question that I ask is, 'Are you willing to lose all of it?
"At the end of the day you can't operate on the belief that the stock markets will always go up," Dr Shannon said. "There is so much uncertainty in the stock markets, the conditions in the economy change so much, so quickly and often so unexpectedly as we saw with the pandemic."
He also highlights 'prospect theory' which says investors value gains and losses differently, feeling the impact of the loss more than the gain.
It is very hard to beat the markets, but trading apps have democratised investing and there are opportunities even in turbulent markets.
Student Diarmuid Kelly invests in ETFs, exchange traded funds, which track an index of stocks. "I just didn't personally think that I could beat the market, very few people can. As a third-year business student, I have one summer of industry experience so far and I think it would be quite arrogant of me to think that I could beat the market long term.
"Once I do get older and the more, I know, I will look at investing my own stocks and I have invested in certain stocks, but the majority of my money would be put into index funds just due to the risk."