Covid lockdowns were a bad time for most businesses – especially those that might be seen as a bit "old-fashioned".
But, with little else to do while stuck at home, it turned out that bored bakers quickly sought to go beyond banana bread. Meanwhile, home cooks hunted for dishes to fill the gap left by their favourite restaurants and cafés.
All of which was great news for the cookbook business.
"Most years the sales are kind of between €4-6m, that's what it's worth each year," said Susan Walsh, marketing manager at Dubray Books.
"Until you get to 2020, when there was just this phenomenal increase.
"In 2020, it climbed to €7.6m. In 2021 it was €6.9m – so over lockdown there was a big jump."
And that rise also bucked the trend for the broader book industry.
"You'll hear from a lot of publishers that books didn't really succeed during the lockdown because people weren't in bookshops browsing, and they weren't able to do that random pick-up," she said.
But even before the pandemic, cookbooks were solid – albeit niche – category for publishers.
"Cookery makes up about 4% of the overall market," Sarah Liddy, publisher of Gill Life, Gill Books' lifestyle-focused division. "It varies a bit year-on-year; one big title can really skew it, but it hovers around 4% most years."
It's a remarkably solid performance for the product category, and one that may seem counter-intuitive to many.
Cookbooks are often bulky, niche and relatively expensive. In the era of pocket computers and instant internet access, any of those features could make them obsolete.
So why has demand remained so strong?
"Going online is great if you're looking for a specific recipe," said Susan. "But if you're actually looking for inspiration, or just browsing, nothing is going to compare to a cookery book.
"A cookery book is a very unique product."
That's a sentiment that's echoed by Sarah from Gill.
"I think people like to buy the collection – something they can sit at home with and look through and get inspiration," she said. "I think online, you tend to look up a recipe that you know you already want… but cookbooks give you inspiration and they allow you to try out something you might not have thought you would like."
Even from a practical point of view, the real thing has its benefits over the screen.
"It's great to have [the recipe] there physically, rather than on your phone – which times out just when you're in the middle of checking it," said Susan – who also jokes about the frustration of trying to use a touchscreen with dough-caked hands.
"You can't beat a printed copy there in front of you."
Cookbooks are also popular gifts. It's no coincidence that October and November are busy times for publishers as they look to get titles onto shelves in time for Christmas.
Changing course
Of course that's not to say that cookbooks have remained unchanged. On the contrary, the internet has inspired a significant evolution in the genre over the past 15 years.
"Years ago Irish cookery didn't look the part – it didn't look very sophisticated," said Sarah. "All the publishers now are putting a lot of investment into cookbooks, because that's what the market expects."
Gone are the text-heavy, matter-of-fact recipe books of old. In their place are high-colour, glossy productions littered with carefully-crafted photos of the foods the buyer could make for themselves.
"Irish cookbooks look as good as anything from the UK or the US," she said.
What the cookbooks focus on is also undergoing constant change.
Health-focused books are always popular, though the specifics of the recipes inside morph to suit whatever activity or diet is in vogue at the time.
"The trends come and go, like anything else," said Sarah. "In the last few years we've seen a lot of vegan, vegetarian and calorie-counted meals like from The Pinch of Nom or The Daily Dish.
"That's the traditional diet and weight-loss market, which has always been there – but it takes different shapes over the years."
Even the state of the nation can influence cookbook trends, with the health of the economy impacting what is sought out.
"During the last recession baking was really big, people wanted comfort food," said Sarah. "It'll be interesting to see if that comes back again over the next couple of years."
The type of people writing cookbooks has also shifted considerably in recent years.
In the past, a book usually came after someone had developed a name for themselves as a chef or baker elsewhere. Usually on TV.
"When I started in the book trade, it was all about Nigella coming over for the book-signing, that was always huge," said Susan. "Jamie Oliver was one of the biggest celebrities in the world."
Nowadays, however, being a TV-regular is no longer a pre-requisite.
"Now social media is huge," said Susan. "The biggest selling cookbook of the year, so far, is Una Leonard's.
"She just runs a café down in Castlebar but she's got an enormous following on social media."
Being a professional foodie isn't even a requirement anymore. Today it's not unusual to see cookbooks from athletes, social media influencers and celebrities alongside those made by professional chefs.
"Now you see a lot more social media-drive titles," said Sarah. "People who have an audience that they've built-up through social media."
This has opened the door to a much broader range of voices than before, though the bar for cookbooks has still remained relatively high.
"The start-up costs for a cookbook are much, much bigger than a text-only, black-and-white piece of publishing," said Sarah from Gill Books. "It just means you've got to be really sure about what you're doing when you take something on, and have confidence in the author and the market for the author."
That means publishers have to spent a lot of time watching online trends, trying to read the tea leaves on what people will want to cook and bake next.
"We have to stay on top of the trends, be aware of what people want, pick the right authors that have something to offer," said Sarah. "You can't rest on your laurels, you have to be aware of what's changing and what people are looking for.
"We look at other markets, we look at the UK and US to see what's happening there," she said. "We look at social media, who's gaining followers, what recipes are being shared."
They also need to be continually on the lookout for any up-and-coming personality that is carving a reputation for themselves online.
Cheap eats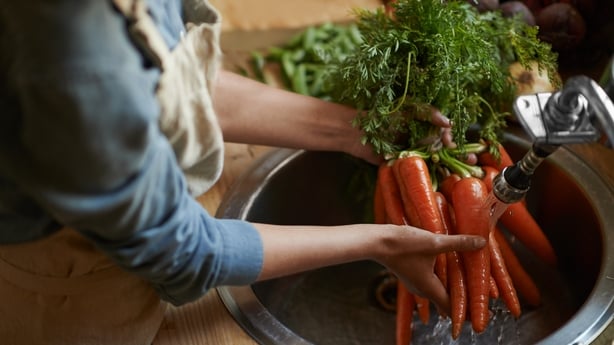 Kristin Jensen's Nine Bean Row Books, new arrival to the Irish publishing scene, is familiar with this approach.
It recently published the first cookbook of Graham Herterich, who has amassed an Instagram following through his 'Cupcake Bloke' account.
Somewhat ironically, however, her Nine Bean Rows publishing house only came about as a result of her attempt to reduce the barriers to entry in the Irish cookbook scene.
"I felt that the diversity that we actually have here in the food space wasn't being reflected in the media – whether that's TV, radio, books, magazine, any of it," she said.
"Ireland as a whole is much more multi-cultural than we realise."
Having worked as a freelance writer and editor for 20 years, Kristin knew that the costs associated with publishing a cookbook was a big part of the reason why Ireland's culinary diversity wasn't always reflected on bookshelves.
The risk of printing a book that had no audience meant that publishers are usually forced to stick with 'bankable' names that gave them the best chance of getting a return.
"Cookbook publishing… is one of the most expensive arms of publishing, because of all the photography, and the styling, and the home economist and the full-colour printing," Kristin said. "The only people who are getting the book deals – and this is in every country – are the people with the huge social media followings, or they've got a TV show already.
"But that leaves out a whole bunch of people who are doing really exciting, valuable things who have lots of expertise."
In an attempt to solve this problem, Kristin started a publishing brand called Blasta Books. It specialises in niche cookbooks that are short, small and full of illustrations rather than photographs.
"We make the books small, they're illustrated so you don't have all of the associated costs of the photography, the stylist, home economist, studio rental, and all of that," she said. "And we make it quarterly, so you have a guaranteed four a year."
The initial run of books were made possible through crowd-funding, with the first series focusing on everything from tacos to deep-fried foods to cookies.
It's proven incredibly popular, too, with the next four editions already in production for 2023.
And while a line of small, cheap books was the original plan – its success has led Kristin to quickly expand her company's aspirations.
"I thought 'this is great, because now a Blasta Book author who's successful, it will provide a springboard – and then they can get the big book deal'," she said. "But then I thought 'why would I hand them off to another publisher?!'
"Why would I test the market for all these authors and then hand them off to someone else? And that's why I started Nine Bean Rows."