Businessman Denis O'Brien warned at Davos nearly five years ago that the Dublin office market was in territory that was akin to 'a bubble'.
"I actually think that we're over-building offices and there won't be enough people to put in them," he told the gathering in January of 2018.
He made his comments in the context of Brexit and the expectation among many that banks would move lock and stock to Dublin from London, a shift he predicted would not happen.
He was pretty much on the money on that front, but there does appear to have been enough of an influx of companies and workers from the UK and other parts of the world into the Irish capital in recent years to keep demand for office space pretty elevated.
So much so, that the businessman's Jepview firm earlier this year secured planning permission for a 15-storey office block in Dublin's docklands.
However, a number of recent high-profile decisions by tech firms to scale back their plans to secure office space in Dublin has reignited the question as to whether office space in Dublin is being over-developed and could the market be headed for an over-supply problem?
Pandemic hiatus
The swift exodus to the world of remote working in the wake of pandemic restrictions in March of 2020 led many to predict the demise of the office as we know it.
The reality though was that firms went into a 'wait and see' mode.
Although the office environment would likely never resemble its pre-pandemic self, there would still be space demands for distancing requirements and companies would likely require some level of in-office working from most, if not all, of its staff.
Although there is evidence of workers in some sectors being in a position to demand fully remote positions, the return to the office for most appears to be gathering pace after several false starts.
Apple joined Google parent Alphabet this week in telling most of its staff that they must be present in the office for at least three days in the working week.
These developments - repeated right across the corporate landscape - appear to have been reflected in the resumed uptake of office space in Dublin in recent months.
Steady rebound
According to global commercial real estate firm, Cushman & Wakefield, the Dublin office market showed signs of resilience in the second three months of the year.
The net vacancy rate in the CBD (Central Business District), having hit a multi-year high of 7.5% in mid-2021, declined to 5.9% by the end of June this year, its figures showed.
In some of its sub-markets in the capital, the vacancy rate fell as low as 3%, it said.
Rents - at €673 per square metre - are back at pre-Covid levels, having risen by over 4% in the three months to the end of June, it concluded.
However, there were signs, it said, of a two-tier market developing with rental growth most pronounced for prime buildings with what it called 'high environmental credentials' as firms increasingly seek out office space that adheres to their environmental, social and governance (ESG) criteria.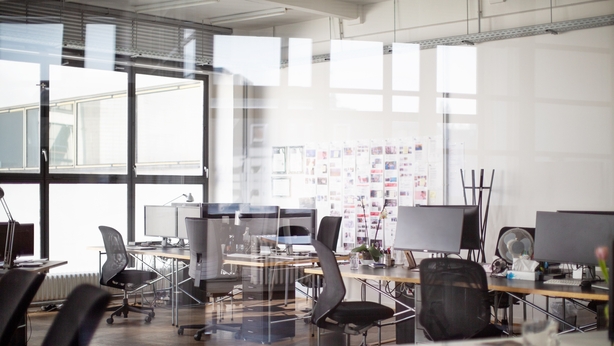 Tech shock
Much of the city centre and dockland office space is occupied by tech firms that have been expanding their presence here rather dramatically in recent years.
According to BNP Paribas Real Estate, tech firms have accounted for just over half of all office take-up since the start of 2017.
However, the sector has come in for a drubbing this year as interest rates shot upwards, a development that tends to punish big tech.
"The big issue for tech companies - particularly younger ones - is that they're not making money now so they're still largely in loss making mode," Aidan Donnelly, Head of Equities with Davy explains.
"As we've seen interest rates move higher, this has had a larger impact on their valuations because you can't value them on traditional things like a price earnings multiple," he added.
All one has to do is look at the performance of the tech heavy Nasdaq index of shares since the start of the year.
The exchange has dipped into 'bear market' territory - defined as a peak to trough drop of more than 20%.
For the Nasdaq, the rout extended to a 33.7% drop from peak (although the market has managed to claw back some ground since).
All of that inevitably has an impact on the decision making of tech firms.
Nonetheless, the sector was still very active in snapping up office space in Dublin in the first half of the year.
According to property group JLL, the tech industry accounted for around a third of all space taken up in the six-month period - the most of any sector.
Signs of a pullback
However, some recent developments in the tech sector with regard to their office requirements will give pause for thought.
Facebook recently opted to delay the fitout of part of its new Dublin headquarters in Ballsbridge.
Twitter confirmed plans to move its operations into three floors of its European headquarters on Cumberland Street while looking to lease out one of the floors to a new tenant.
Last week, the Irish Times reported that social media company TikTok had pulled out of talks to rent over 16,000 square metres of office space in the docklands. (It is proceeding with plans to move to the former An Post Sorting Office in the docklands where most of the 1,000 new hires it's currently recruiting will be based. It also struck a deal to lease the entire Tropical Fruit Warehouse development in Dublin from IPUT).
The Business Post reported that several large tech companies were seeking to sublet office space amid hiring freezes, layoffs and work from home policies across the sector.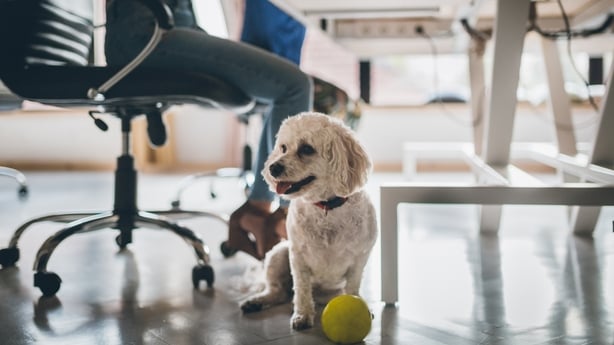 The way ahead
Analysts are divided on the outlook. CBRE points out that of the total office space that's on course to be completed this year, over half had already been pre-let at the midyear point.
As a result, it sees prime city centre rents rising to €726 per square metre by the end of the year as office space continues to be snapped up.
Cushman & Wakefield's outlook was also on the optimistic side. It points out that 'active live requirements' in the market stands at in excess of 390,000 square metres.
"This suggests demand is there to absorb," Kate English, Chief Economist and Head of Ireland Research & Insights at the firm said.
CBRE said tenants were increasingly signing up for tenancies of up to 10 or 12 years with rent free periods shrinking considerably.
BNP Paribas Real Estate points out that such activity is confined to the prime end of the market with increased competition impacting older stock, where more and more 'rent frees' of a longer duration are being observed.
"Rising vacancy rates are keeping rents for less prime buildings in check," John McCartney, Director and Head of Research with BNPPRE said.
He calculated that with supply already outstripping demand, the vacancy rate across the capital had risen from 10% last December to 11.4% by the end of June.
Mr McCartney said he believed the vacancy rate was on course to nudge upwards even further by the end of the year in light of the reduced level of 'absorption' of older stock on the market when some firms move to newer, higher spec offices.
Cyclical market
Like other parts of the property sector, the office market is cyclical.
One property market insider said he believed the office sector was coming into a downturn having played catchup for much of the last decade following a construction hiatus between 2009 and 2014.
He pointed out that this year was on course to be the first since 2008 when more than 200,000 square metres of office space would be constructed - at a time when many businesses are still uncertain about their office requirements and tech firms are actively pulling back.
"Cycles are important because they create the signal to stop building," he explained.
However, he said he was concerned at an apparent belief by some that rental price growth being witnessed at the top end of the market - for buildings that meet company's growing ESG needs - was somehow shielded from the rest of the market.
He said average rents were falling across the sector notwithstanding the strength of prices being captured at that prime end.
That, he warned, would eventually have a knock-on impact up the chain.
"Some could be seduced by the idea that it's going to be different this time, that rents at the top are going to rise and if you continue to build, you'll be ok because vacant stock is not competing with your stock. I don't buy that," he concluded.