One in five consumers expects to be hit by higher borrowing costs while the majority of consumers expect higher ECB interest rates are likely to worsen their financial situation, according to the latest Consumer Sentiment Index by KBC Ireland.
The European Central Bank is expected to follow up on its July interest rate hike by raising rates higher in September.
This month's sentiment survey asked respondents: 'How do you think your personal financial circumstances are likely to be affected by the increase in ECB interest rates that began in July and expected to continue in coming months?'
Economist Austin Hughes said while a substantial 20% of those surveyed said they are unsure as to how ECB rate hikes might affect them, "it may be slightly surprising that as many as 80% of those surveyed opted to indicate a specific way in which higher interest rates would or, in the case of 17% of consumers, wouldn't affect them."
We need your consent to load this rte-player contentWe use rte-player to manage extra content that can set cookies on your device and collect data about your activity. Please review their details and accept them to load the content.Manage Preferences
"Indeed, given altogether less marked borrowing exposure in recent years, it may also be slightly surprising that only one in six consumers (17% of responses) feels that a move to higher interest rates won't affect them personally."
About one in four consumers (24%) expect higher ECB interest rates to affect them indirectly by weakening economic activity and thereby weighing on their income or employment prospects.
"My sense is that this response is made more popular because any additional restraining impact of higher ECB rates on economic activity is seen compounding an environment already made extremely difficult by surging living costs and other fallout from the war in Ukraine, political instability in the UK and, for many consumers, a still incomplete financial recovery from the pandemic," Mr Hughes said.
One in five consumers expect to face increased borrowing costs. According to Census 2016 data, some 33.1% of households had a mortgage. While Central Bank data indicate that roughly half of these loans are at fixed rates, consumers may fear an era of notably higher borrowing costs when their fixed rate terms expire.
In addition, consumers may fear materially higher borrowing costs on their non-mortgage credit.
"This response was more prevalent among those aged between 35 and 54 as well as Dublin-based consumers, presumably reflecting higher borrowing among these groups," he said.
A significant one in six consumers (some 16% of responses) say they feel higher ECB interest rates will reduce their chance of purchasing a home.
This response was most prevalent among those aged 25 to 34 but it was also quite elevated among those aged 35 to 44, likely reflecting the potential for a pronounced decline in affordability among prospective buyers at or approaching the margin where home ownership may no longer be possible.
Only 1% of consumers see higher interest rates affecting the property market in a manner that might improve their prospect of homebuying.
"So, the dominant feeling is that, in an Irish property market currently characterised by pent-up demand and problematic supply, higher ECB interest rates will principally constrain individual access to homeownership by hitting affordability rather than contribute to calmer property market conditions overall."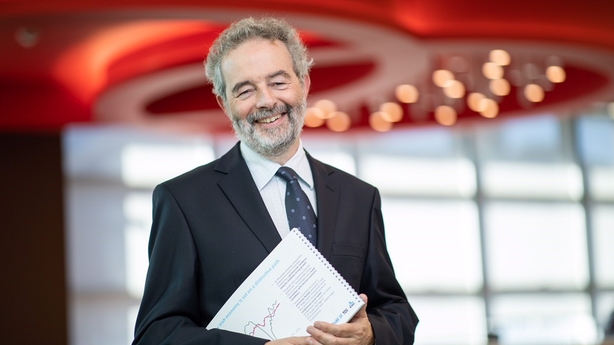 One in ten consumers think higher ECB rates will affect them adversely by hitting the value of their investments.
This response was more prominent among higher income and Dublin-based respondents.
Mr Hughes said this response was also relatively strong among those aged under 35. "This could owe something to a greater propensity to personal investing among younger age groups but likely also reflects the greater prevalence of defined contribution as opposed to defined benefit pension schemes."
Some 69% of responses reflected an expected negative impact on consumers personal financial circumstances from higher ECB rates, only 9% of responses suggested their circumstances might be expected to improve.
Some might suggest the balance of these responses simply reflects the normal relationship between consumers and central banks whose purpose may often require them to take necessary but unpopular decisions that according to a quotation attributed to former US Federal Reserve chairman McChesney Martin require central banks 'to take away the punchbowl when the party is just getting warmed up'.
Mr Hughes said, however, the general tone of the sentiment survey is entirely at odds with any idea of a 'party mood' on the part of Irish consumers at present. Indeed, it is quite striking that only one in 20 consumers (5%) cited a likely easing in inflation as a result of higher ECB interest rates.
"This would suggest that Irish consumers don't believe that higher ECB interest rates will do much to curb inflation that is driven largely by supply shocks centred on energy and, to a somewhat lesser extent, food rather than excessive demand," he said.
"In the same manner, so, the strong message of the sentiment survey is that higher interest rates will add to rather than ease the difficulties that Irish consumers now face."
It is also notable that only 3% of consumers see some upside for themselves financially from a higher return on their savings.
This seems to go against the idea of a broadly based structural build-up in savings in Ireland of late notwithstanding a sharp rise in personal deposits.
This result might also suggest that deposit growth could slow because negative income effects will likely outweigh either substitution effects or an increased precautionary motive for saving.