Elvis Presley had an expression among his friends, 'Taking care of business in a flash'.
If he was asked what he was up to, he would smile and in that deep southern drawl, he would say, "I'm taking care of business, honey".
He had jewellery designed with the letters TCB and a flash of lightning, it was the emblem on the tail of his airplane and following his death in August 1977, the abbreviation was carved into his gravestone.
Tuesday marks the 45th anniversary of Elvis's death at his Graceland mansion.
A candlelit vigil will be held outside his home bringing an end to Elvis Week, the annual celebration of the singer in his hometown of Memphis, Tennessee.
This year also marks the 40th anniversary of a significant enterprising event.
But this time, it was Priscilla Presley who took care of business by opening Graceland to the public.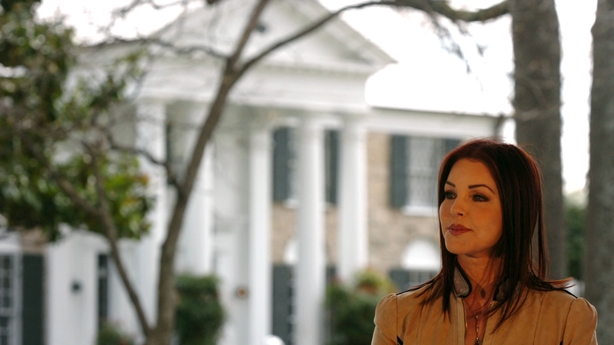 Elvis's former wife was an executor to the estate, and she was advised by attorneys and bankers to sell the house in the years after his death.
She was told at a meeting that the estate was running out of money, but Priscilla was firm: "We're not selling Graceland. That will never happen."
She sought the help of Jack Soden, an investment adviser in Kansas City, Missouri.
In an interview on Visit Graceland on Instagram, they discussed the mammoth task that faced them.
"Their aggregate opinion was to sell everything and invest the money. It was the fiduciary thing to do," Mr Soden said.
"Think what a disaster it would have been. It would have been such a tragedy."
The pair researched the option of opening Graceland to the public. Mr Soden spoke to a museum consultant who walked around the house and said, 'You're going to have to put plexiglass there, they'll take the wallpaper, you'll need to cover that with plexiglass'.
"I thought to myself, this place is going to have the warmth of a hospital."
Priscilla's concern was allowing people to walk through a house that was a beloved home.
"It was hard for me to open those doors, it was so private for so long and people were going to come in and look at our lives," she explained.
"But I knew we had to do it and look at the good it has done. It has saved Graceland and kept it with Elvis and his family."
On June 7, 1982, the famous music gates of Graceland swung open on Elvis Presley Boulevard and welcomed visitors to Elvis's home.
The house, bought by Elvis in 1957, is exactly as he had left it.
As you walk in the door, the living room is on the right where he played his piano and jammed on his guitar with friends; the dining room to the left, both divided and decorated with peacock stained glass.
The den of Graceland, better known as the Jungle Room, is located at the back of the house where Elvis recorded Moody Blue.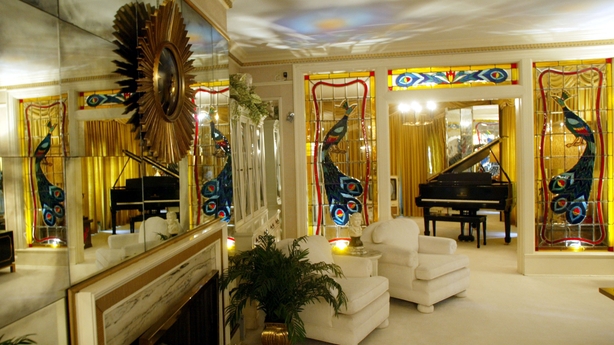 The price of a ticket to visit Graceland in 1982 was $5. "It was like sending an invitation to the world with no RSVP," Mr Soden recalled.
"It was nerve wracking and a bit frightening, but people were coming in droves and loved it," Priscilla said.
There was no need for any concern, and no need for plexiglass, Elvis fans treated his home with reverence.
"I think the spirit of Elvis is there," Priscilla said, "you can feel it and that's why they respect it. There is a reverence that people have, they know that it's a home."
From a business perspective, it was lucrative.
"It was so profitable right from the beginning because the overheads couldn't catch up with the revenue," said Mr Soden, who to this day is CEO of Elvis Presley Enterprises.
In the 40 years since it opened to the public, over 22 million fans have visited Graceland. It is the second most visited house in the United States, after the White House. That's how you take care of business.
It still remains a family home, and Priscilla and her daughter Lisa Marie and family have enjoyed Christmases there, and recently hosted the cast of the movie Elvis.
"Still when I go in that house today, it's home," Priscilla said. "Just the feeling, just the atmosphere and the tone of it, it's sacred, its so beautiful.
"I can see Elvis playing the piano and I'm sitting opposite on the couch, listening to him sing gospel. I can see him listening to see who's in the kitchen as he's walking down the stairs. I can visualise everything just as if it's happening," she said.
A month after it's release in June, Elvis had topped $100 million at the US box office. It has introduced Elvis Presley to a new audience, a new legion of fans who are going to want to visit the home and resting place of the king.