Advertised rents for homes were 12.6% higher between April and June than they were in the same three-month period last year.
That is according to the latest rental report from property listings website, Daft.ie, which found that during the quarter the rate of increase reached its highest level since the index was launched 16 years ago.
The report also found that on 1 August there were just 716 homes available to rent across the country, with fewer than 300 in Dublin.
That compares to 2,500 one year earlier and marks another record low in availability.
"A resurgent economy over the last year has accentuated the chronic shortage of rental housing in Ireland," said Ronan Lyons, Associate Professor of Economics at Trinity College Dublin and author of the Daft Report.
"While the professional rental sector has added over 7,000 new rental homes in the last five years, this is small relative to the fall of 30,000 in rental listings each year in the traditional rental sector in the same period or the fall of 100,000 listings per year since 2012."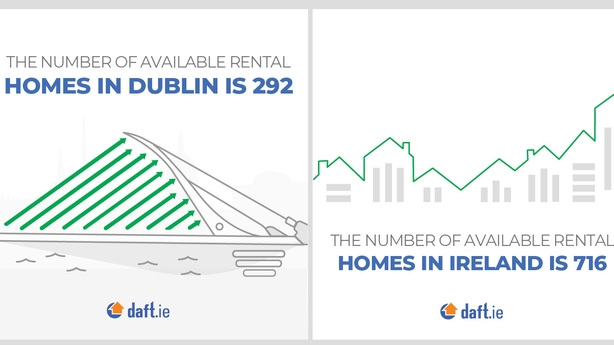 The data shows that between April and June, the average market rent asking price across the country rose 3.3% compared to the previous three months, to €1,618 per month.
That is more than double the low of €765 per month that was recorded nearly 11 years ago.
The annual rate of increase in asking prices for rent in the main cities during the second quarter was highest in Limerick at 17.7% and Waterford at 17.1%, with Galway recording a rise of 16.4%.
In Dublin, the annual increase stood at 12.7% in the quarter, while in Cork city it hit 11.8%. The rest of the country saw an increase of 12%.
On a county basis, Leitrim saw the greatest increase of 21.3%, with asking prices for rents jumping 19.9% in Longford.
"The shortage of rental accommodation translates directly into higher market rents and this can only be addressed by significantly increased supply," Mr Lyons said.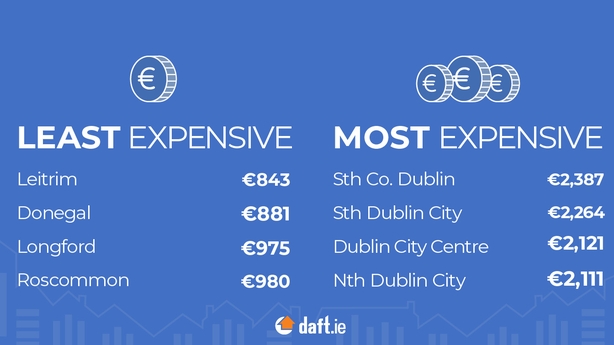 The report also examines the take-up of tenancies in 75 new multi-unit rental developments that collectively have delivered 1,000 new units to the market in the last nine months.
Dr Lyons found that of the 7,500 homes in these developments, around 95% are occupied.
Using data from Cortland Consult, the analysis also shows that the pipeline of new rental homes has increased over the past year by 23,000 to 115,000.
The number under construction has risen by 13,000 and an additional 28,000 have had a planning application submitted.
However, there has also been a decrease of 17,500 unites at the pre-planning stage.
In total, there remains 43,000 homes that have planning permission but construction has not begun on them.
"While there are almost 115,000 proposed rental homes in the pipeline, these are concentrated in the Dublin area," said Dr Lyons.
"Further, while nearly 23,000 are under construction, the remainder are earlier in the process and the growth of legal challenges to new developments presents a threat to addressing the rental scarcity," he added.
Dr Lyons said the "shocking" increases in rents and the availability figures are "simply unprecedented".
Speaking on RTÉ's Morning Ireland, he said the 716 homes available across the entire country at the start of this month is "a very stark figure".
There are new rental homes being built, particularly in the Dublin area, but "the speed at which they're getting built doesn't match the fall off in supply", he explained.
We need your consent to load this rte-player contentWe use rte-player to manage extra content that can set cookies on your device and collect data about your activity. Please review their details and accept them to load the content.Manage Preferences
'Everybody is desperately trying to find emergency accommodation'
Advocacy Director with Focus Ireland Mike Allen has said that the findings of the report tally with what is being seen on the ground.
Speaking to RTÉ's Morning Ireland, Mr Allen said: "They (the findings) absolutely concur with what Focus Ireland services right across the country are reporting to us.
"We are seeing more people coming in, families, single people, who are homeless, and working with our colleagues in local authorities.
"Everybody is desperately trying to find emergency accommodation for people. It's a real, real challenge at the moment."
Liam Farrell, a Sherry Fitzgerald estate agent in Co Leitrim, said that there are just four properties to rent in the county today.
Mr Farrell said that during the pandemic people had time to reflect on their lives, and decided that with hybrid working a lot of people have availed of that and moved out of the city.
He said that anywhere between 50-65% of apartments sold are being purchased by those who are going to be owner-occupiers, so this takes rental stock out of the market.
Emergency meeting sought
Sinn Féin Spokesperson for Housing, Local Government and Heritage, Eoin O'Broin, has called for an emergency meeting between all involved in the housing sector, Government and opposition representatives.
He said that a consequence of the rental situation is that single people and young families are becoming homeless and entering into emergency accommodation.
Deputy O'Broin told RTÉ's News at One that there had been an "absolute failure" by the Government to deliver both social and affordable housing, with a third of private rental, over 100,000 people in the rental market, getting supports such as HAP, and he said those people shouldn't be there.
He said that Government had missed all targets on affordable rental accommodation this year.
He called for an emergency meeting of landlords and tenants organisations to come up with an emergency plan to slow down the exit of landlords.
Deputy O'Broin said the Government needed to look at the reintroduction on the ban on evictions as a temporary measure before longer term solution, otherwise homeless numbers will continue to rise into the winter and 2023.
On a review of taxes paid by landlords, he said: "There's no point providing a core reduction of tax or reliefs to landlords if it doesn't keep people out of homelessness."