The average tax refund has increased by over €800, new figures from Taxback.com's Customer Index for 2021 shows.
The Taxback.com Index reveals that between the end of 2020 and the end of 2021, the average refund claimed by taxpayers amounted €1,880, up from €1,076 in previous years.
Medical expense tax refunds retained their top spot as the most common relief claimed during the year.
This will followed by tuition fees, flat rate expenses and working from home relief.
Today's report also shows that men in Ireland are more active than their female counterparts for claiming what is owed and that they tend to receive higher refunds when they do.
It comes on the back of recent provisional figures from Revenue indicating that as much as €300m was potentially overpaid by taxpayers last year.
Joanna Murphy, CEO of Taxback.com, said that although we are only halfway through the year, 2022 has already seen record levels of inflation jumping to a 40 year high and hitting the pockets of Irish households hard.
---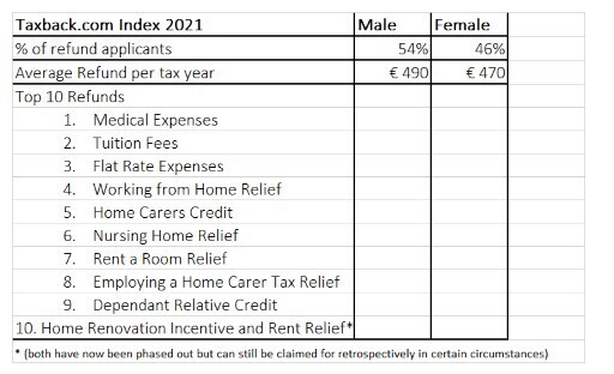 ---
"Most of us are looking to tighten our belts in one way or another. And yet, in the last few weeks, we learn that 450,000 people overpaid a total of €300m in income tax in 2021," she said.
"If we go back even further, to the last year in which people can still claim, Revenue records reveal that since 2019 €620m has been overpaid," she added.