The European Central Bank has increased interest rates by 0.5%, in its first rate hike since 2011.
This will see the main borrowing rate going from 0 to 0.5%.
This is the key rate that determines what banks charge customers on their borrowings.
The interest rate on the marginal lending facility will rise to 0.75%.
It will also see the deposit rate moving back to zero and out of negative territory for the first time since 2014.
Inflation squeeze
The bank was under pressure to increase rates to tackle significant inflation which is running at around 8.6% across the eurozone and 9.1% in Ireland.
The increase will end an extraordinarily long period of stable and historically low and even negative rates, with the main ECB lending rate stuck at 0% since March 2016 and its deposit rate at -0.5% since 2019.
In a statement announcing its decision, the ECB said it believed it was appropriate to take a larger first step than it had signalled at its previous meeting.
At the time, the bank had guided a 0.25% increase in July, followed by possibly a bigger increase in September depending on the inflationary environment at the time.
"This decision is based on the Governing Council's updated assessment of inflation risks," today's statement read.
We raised interest rates by 0.5%.

See our latest monetary policy decisions https://t.co/7arxAFKnmc pic.twitter.com/mCInj0jyaM

— European Central Bank (@ecb) July 21, 2022
The statement signals further rate hikes ahead, but it does not specify the magnitude of those increases.
"At the Governing Council's upcoming meetings, further normalisation of interest rates will be appropriate," it said.
"The frontloading today of the exit from negative interest rates allows the Governing Council to make a transition to a meeting-by-meeting approach to interest rate decisions."
The statement said the future policy rate path would be 'data-dependent' and help to deliver on the bank's 2% inflation target.
We need your consent to load this rte-player contentWe use rte-player to manage extra content that can set cookies on your device and collect data about your activity. Please review their details and accept them to load the content.Manage Preferences
Rate move comes into effect next week
The ECB says the rate increases announced today will come into effect on July 27.
Banks will typically give a customer with a variable or tracker rate loan one month's notice of a rise as per the terms of their contract.
Holders of tracker mortgages will see their interest rate rise after that period.
It is at the discretion of banks to pass it onto their variable rate mortgage customers.
There have been calls on the banks to absorb the first rate hike but they may be reluctant do so now that the ECB has opted for a higher than expected rate hike of 0.5%.
New bond-purchase programme
The ECB also agreed to provide extra help to the 19-country currency bloc's more indebted nations, approving a new bond purchase scheme called Transmission Protection Instrument, intended to cap the rise in their borrowing costs and limit financial fragmentation.
"The scale of TPI purchases depends on the severity of the risks facing policy transmission," the ECB said in a statement.
"The TPI will ensure that the monetary policy stance is transmitted smoothly across all euro area countries."
As ECB rates rise, borrowing costs increase disproportionately for countries like Italy, Spain or Portugal as investors demand a bigger premium to hold their debt.
The ECB's commitment on Thursday comes as a political crisis in Italy is already weighing on markets following the resignation of Prime Minister Mario Draghi.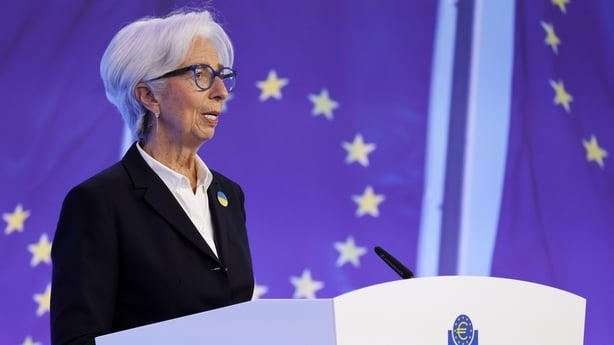 No future guidance, but 'normalisation' on track
ECB President Christine Lagarde wouldn't be drawn on far the ECB might go with further rate hikes at its next meeting in September.
Addressing reporters questions at a press conference this afternoon, Ms Lagarde said the bank would make its monetary policy decisions on a "month by month, step by step" basis and it would be 'data dependent'.
"What will happen in September will depend on what data we have for September, but we are definitely on a normalisation path in order to meet our medium term objection of 2% [inflation]," she said.
The President appeared to dismiss suggestions that the ECB would slow the pace of interest rate increases, as some market analysts have suggested against the backdrop of a slowing economy and possible recession in the euro zone.
"That doesn't mean to say that we are changing the ultimate point of arrival. We are accelerating the exit and we are following the path of normalisation that we have flagged," she said.
The ECB's decision to raise rates by a full half a percent was the first time it has made a move of this magnitude in around 22 years.
However, it's not unprecedented among its predecessors in recent times.
The US Federal Reserve opted to increase interest rates by 25, 50 and then 75 basis points at three successive meetings in recent months.
The Bank of England has also been gradually raising interest rates since December.
Ms Lagarde said the ECB's Governing Council had debated the pros and cons around raising rates by 0.5% at this meeting, but she said all members had rallied to the consensus of such a hike by the end.
"We decided on balance that it was appropriate to take a larger step towards exiting from negative interest rates," Ms Lagarde said.
With today's increase of 0.5%, the ECB's deposit rate will move back to zero and out of negative territory for the first time since 2014.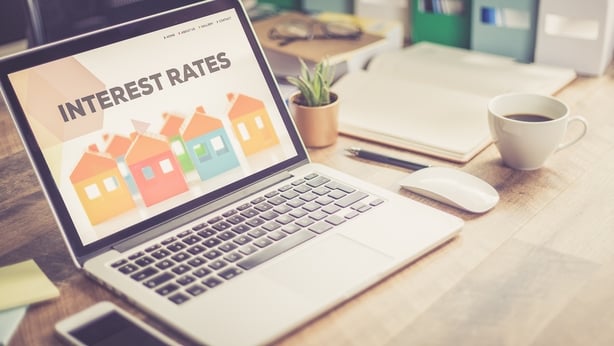 Impact for households
Around 390,000 households have mortgages with standard variable or tracker rates that should increase with the ECB hike.
"All eyes will now be on the lenders to see how they react," said Joey Sheahan, Head of Credit at online broker MyMortgages.ie, and Author of the Mortgage Coach.
"However, one thing is certain, the ECB's rate increase will have a knock-on impact for hundreds of thousands of mortgage holders over the short-to-medium term."
"While switching activity has been busy this year to date, we expect a flurry of activity over the coming months as people move to try to lock in fixed rates and somewhat shield themselves from further increase rate rises."
John Finn, Managing Director of Treasury Solutions, suggests that banks should put a calculator on their websites to show what the hike means to customers' repayments.
"The reason why I say that is, people are going to slow down on their spending on other stuff now. In fact, they may hold back because they know rates are going up for the first time in years. It would be very important to them to know what that might mean to their monthly repayments."
Additional reporting by Will Goodbody/Reuters