The Pollock Holes in Kilkee are natural sea pools that form when the tide is out and are a favourite swimming spot for visitors to the coastal town in Co Clare.
Kilkee has attracted visitors in summertime since the 1800s with the first holiday homes built on the Marine Parade in the 1820s.
Two hundred years later, mobile homes are proving to be a popular option for accommodation.
Sandpark is probably better known as Clancy's to locals and holidaymakers alike. The mobile home park has been run by the Clancy family since the early 80s.
Brian Clancy is ready for another busy season. "Demand is really good. One of the positives from the Covid situation meant demand from the Irish holiday market is really strong. During Covid, here in the caravan park, we had huge occupancy. We had a lot of people on site here, at times a thousand people, which would be a village in its own right."
We need your consent to load this rte-player contentWe use rte-player to manage extra content that can set cookies on your device and collect data about your activity. Please review their details and accept them to load the content.Manage Preferences
As well as running Sandpark, Clancy's also sell mobile homes.
"Typically, we sell mostly new mobile homes," Mr Clancy said. "You'd be starting somewhere in the 50s (€50,000) and all the way up.
"Our annual site fee, we've gone up a little bit this year. We're all feeling the increase in costs. Our annual site fee at the moment €2,900, and as part of that we have put in the broadband with the WiFi receivers on each of the mobile homes."
Mr Clancy said his "job is to get people in so that they're down having a drink, having a meal in one of the excellent pubs or cafes in the town".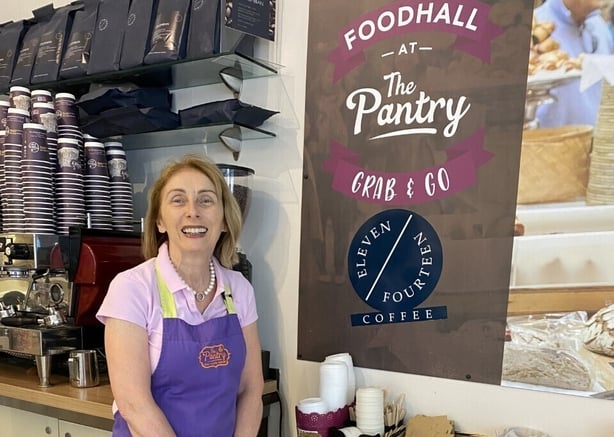 The Pantry on O'Curry Street survived the pandemic by transforming from a restaurant to a foodhall.
The business, which is in operation for 40 years, is now known as The Foodhall at the Pantry.
They make artisan products from local ingredients including scones, tarts, lasagnes, fish pies, gourmet salads and their famous carrot cake - so famous that chef Nevin Maguire asked for the recipe.
"We've never looked back," said owner Imelda Bourke. "It's three years this summer now and we haven't changed back, and we'll never change back, the Foodhall in Kilkee is here to stay."
She said the summer months are very busy. "Every day in July is like a weekend in Kilkee."
It is open seven days a week, which is unusual in Kilkee as most businesses cannot get staff.
Naughton's on O'Curry Street is famous for its steak and seafood, and owned by Elaine Haugh Hayes.
Naughton's sold take-away food and drinks during the pandemic which carried them through, however, she said a lot of problems were left as the hospitality industry emerged from a tough two years. "Now we're in a whole different world."
"Now that it's over, nobody wants to work anymore," said Ms Haugh Hayes. "I don't know why, but the work ethic isn't there."
A core, loyal staff and the help of family has helped keep Naughton's open, but this summer, the restaurant will close on Mondays and Tuesdays because of staff shortages.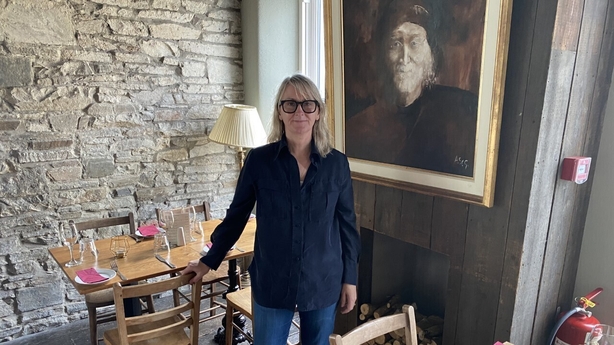 Kilkee is now home to Ukrainian refugees who are accommodated in two hotels locally.
Local businesses like Naughton's had hoped that some Ukrainians would take up work in the town, and while many have, some who had professions in Ukraine, are not keen on working in kitchens.
On March 24, Ukrainian Olga Boiko Dombraie left City West Hotel in Dublin and was told that she was going to Kilkee. She had never heard of Kilkee before.
She is staying in a local hotel with her son, her mother, her sister, and her nephew.
She works in Stella Maris Hotel. "I enjoy it. Irish people are awesome," she said. "They are very friendly, and they are kind."
"I work according to the location and according to the proposition of the job," she said, while acknowledging that some of her compatriots are disappointed not to work in the professions that they had in Ukraine.
"Of course, definitely. Those people that wanted to work, they are a little bit disappointed because they cannot find a job according to their occupation."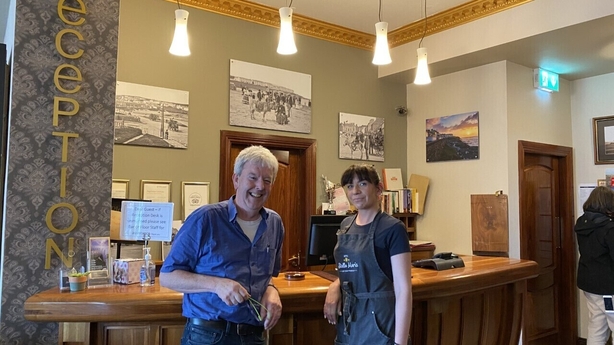 Ms Boiko Dombraie looks forward to returning to Ukraine someday.
"The situation leaves much to be desired, but we will win soon, and we can go back soon and rebuild our country."
Stella Maris is Latin for Star of the Sea. So far bookings at the hotel are good for summer, according to owner, Martin Haugh.
"Oh, they're good but they're fickle," he said. "You have a booking for August/September, and there a while ago I got a cancellation. They are not confirmed bookings. People are booking and hoping they'll get there so until those people come in the door, you don't have those bookings nailed down."
Built in the late 1800s, Stella Maris has 20 rooms. It accommodated essential workers from Moneypoint Power Station during the pandemic, but lockdowns proved challenging for the business, having to close the bar and restaurant to the public.
"Every time you closed, you'd lose money and every time you opened, you'd lose money because you had to destock and restock," Mr Haugh said. "The Government did chip in with the wage subsidies which was welcome, but it was needed because otherwise businesses would have closed."
He also acknowledged the reduction in the VAT rate. "That 3% makes a huge difference. The hospitality industry is so fickle, you could go from making money to losing money in the blink of an eye."
The hotel has had to increase its margins by 5 to 10%, he said. "50 cent on the pint isn't going to break the bank and I don't get much hassle over it. Our food prices haven't jumped."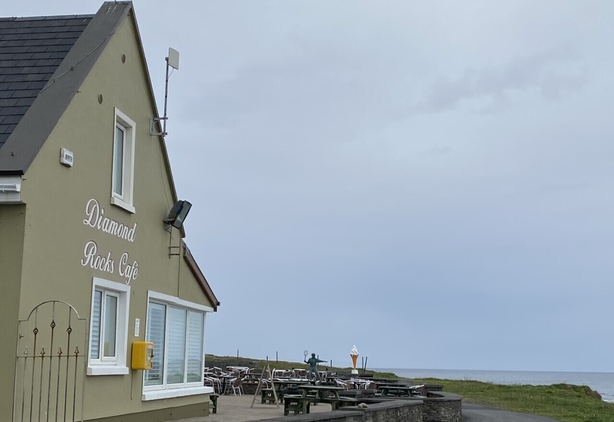 At the other side of the town is Diamond Rocks Cafe, a family-run business located on the Cliff Walk, overlooking the bay.
It stayed open for weekends in winter because Kilkee gets lots of day trippers when the weather is dry, but owner Margaret Haugh doesn't expect to open at weekends beyond September because of a shortage of staff.
"Since the end of the pandemic I find it's absolutely impossible to get staff, especially chefs. We are seasonal so that makes it more difficult but this year I've found it the toughest to get staff, definitely," she said.
The most popular dishes at Diamond Rocks Cafe is the crab meat sandwich, and increased prices has meant the cafe has had to pass on those costs to customers.
"We've had to increase it to meet our margins," she said. "It's gone up an awful lot, it's gone up 30%. Now when the customer comes to the counter, they see it on the board initially, but we always say it to them that it's gone up and by how much and that we have to do it. If it sells, well and good, and if it doesn't, I'll have to take it off the menu."