Earlier this week the value of one euro fell below one US dollar – bringing the single currency below parity with its US counterpart for the first time in 20 years.
It represents a significant fall for the euro in a short space of time – one euro could buy as much as $1.19 a year ago.
And with fears around the prospect of a harsh recession in the eurozone, as well as the US Federal Reserve's more aggressive approach to interest rates, there's no expectation of a reversal in the trend any time soon.
But what does it mean for the Irish economy – and where will the effects of parity be most keenly felt?
Travel expense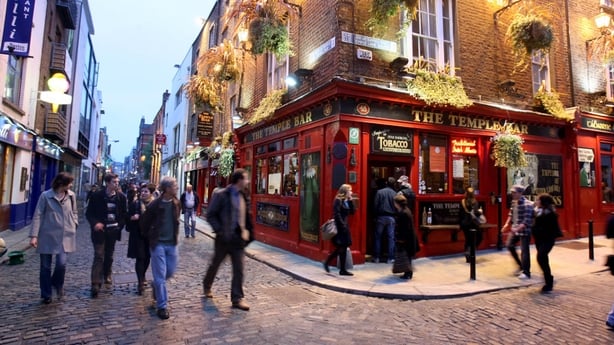 Perhaps the most immediate impact of the currency shift will be in tourism – as both Irish travellers to the US, and US visitors to these shores will see a change in their spending power.
For the tourism and hospitality sector here, the weakness in the euro is mostly good news – as it means that American visitors will feel their dollar go that bit further while in the country.
According Eoghan O'Mara Walsh, CEO of the Irish Tourism Industry Confederation, that will be particularly welcome at the moment – as firms here grapple with inflation.
As surprising as it may be to people living here, US tourists generally feel Ireland offers good value-for-money as a destination. But that perception is threatened by the recent spike in prices, particularly for hotel beds and car hire, so a favourable exchange rate will help to at least soften that blow.
"Because the dollar is so strong I think more American tourists will be travelling to Europe this year," said Ronan Costello, head of FX trading at Bank of Ireland told RTÉ Radio's Morning Ireland. "And I think those American tourists will be spending more, on average, than they have done in the past.
"Hopefully that's good news for Irish hotels, restaurants and pubs."
US tourists are already particularly valuable to the Irish industry, because they tend to stay for longer than their British or EU counterparts.
They are also inclined to travel around the island, stopping off for stays in smaller towns, which means their spending gets more evenly dispersed around the country.
As a result, any additional outlay they make this year will be of even greater benefit to the economy as a whole.
Unfortunately the flip-side of this dynamic is that Irish people planning a trip to the US in the coming weeks will find their spending power curtailed – with each euro buying you far less than it would have done in recent years.
The only relief for those travelers is that they likely booked well in advance - secured their bigger outlays at a better rate.
"The cost of their holiday will have been locked in at the time of booking," says Paul Hackett, CEO of Click&Go and president of the Irish Travel Agents Association. "For the most part people will be flying with Aer Lingus transatlantic, and the US carriers price in euro when the flight originates from here.
"Accommodation would be priced in dollars, but that would be locked in at the time [of booking]."
The exchange rate could have a negative knock-on effect on some of the travel sector here, in the form of fewer trips to the US being booked in the near future.
But for the time being, at least, travel agents are relatively protected. That's because most of this year's activity will have been locked in long in advance.
Bookings for next year could be the ones to take the brunt – and while it is still too early to say, Paul Hackett says the indications are that demand will remain strong into 2023.
"That could be down to people wanting to go away but not wanting to go through the airport at the moment," he said. "Some people just took a break this year and will be back in the market next year."
The US market is also different to others, he says, because travelers are more focused on the destination rather than the price.
"It is such a unique destination; when people decide they're going to the States, they're going," he says. "There isn't really an alternative to the big destinations like New York, Florida or Las Vegas.
"It's not like Europe where you might go to Portugal if Spain is too expensive."
An exchange rate trade-off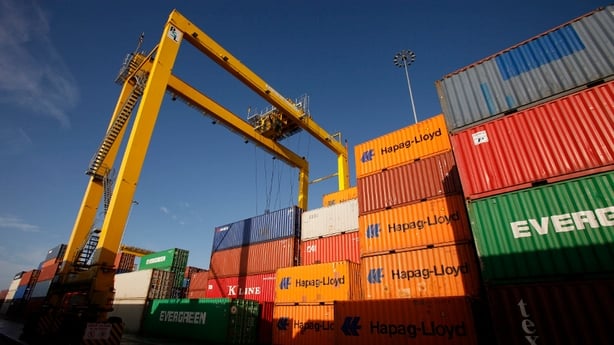 Outside of tourism and travel, any business that trades with the US is going to be impacted by the exchange rate shift.
According to the Central Statistics Office, last year €52.5 billion worth of Irish goods were exported to the US. The firms behind those sales should now find themselves with a fresh competitive advantage, as their prices will appear cheaper to Stateside buyers.
According to Simon McKeever, CEO of the Irish Exporters Association, that pricing advantage should also extend to any investments US firms may be considering here.
That's because a cheaper euro also means that any spend on land, construction or even talent will cost a little bit less on their dollar-denominated accounts.
Of course the same kind of pricing gain will also be enjoyed by other eurozone countries – not just Ireland.
But given the current pricing pressures, and fears of multinationals pulling back on international operations in the face of a downturn, any advantage available to the Irish economy is a welcome one.
But, just like with tourism, the currency moves also has a downside to some traders – namely those that are buying in from the US.
CSO data shows that €17.8 billion worth of goods were imported from the US last year – representing 17.4% of the total bought into Ireland.
For the companies placing those orders, the cost of what they're buying is now higher – or they'll simply find that their euro spend gets them much less than it did before.
"I think there's benefits from selling into a dollar market where there's a strong dollar, but there's obviously the flip-side of the cost of product coming out of the US, and dollar-denominated purchases," Leo Clancy, CEO of Enterprise Ireland, told RTÉ's Morning Ireland.
"I think it's too early to tell what impact that's having across the base but there's certainly swings and roundabouts within that."
The world's currency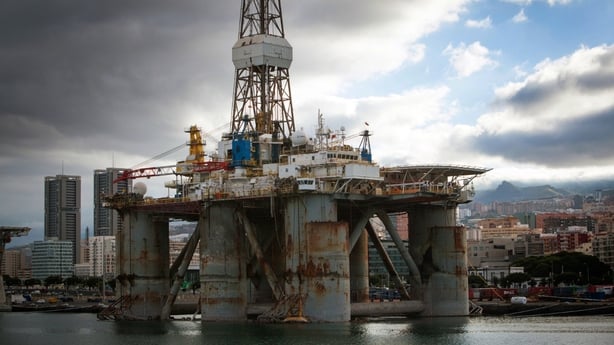 But you don't have to be buying directly from the US to feel the pinch of a stronger dollar – and this is how parity may really put extra pressure on households and businesses here.
That's because most of the world's major commodities are priced in dollar – so even if they are coming from somewhere else in the world, the position of the US currency takes its toll.
This is particularly relevant to our energy prices – which have risen significantly in the past year, and in particular since Russia began its invasion of Ukraine in February.
In recent weeks the price of wholesale oil has actually been falling from its recent peaks – which normally would offer some degree of relief to households and motorists.
However the likes of Brent Crude and West Texas Intermediate are priced in dollar – which means that a lot of the gain from that falling price is wiped out by the rising dollar.
"Euro weakness really isn't good news for Irish consumers," said Ronan Costello. "Because the euro is weak and the dollar is strong, and many of the commodities we import are priced in dollars, it's really started to bite on Irish households, particularly at the petrol pump and the cost of gas and electricity."
A similar dynamic is at play in other major commodities like wheat, corn, sugar and coffee – all of which are priced in dollar.
That will only add to the inflationary pressure that households are already feeling.
"Inflation in Ireland has moved dramatically higher in the last year, the annual rate of inflation is now 9.6%, that's the highest it's been at in the last 40 years," Ronan Costello said.
The only relief comes from any goods that are coming from within the euro zone itself – because foreign exchange movements don't matter when both sides are using the same currency.
For those that do much of their trade outside of the euro zone, though, the recent foreign exchange movement represents a timely reminder of the value of currency hedging.
That's true even if they're currently benefitting from the market trend.
"For any Irish businesses generating dollar income, the dollar's strength has been welcome and now is probably a good time to convert those profits back to euros," said Costello.
"For any businesses worried about a reversal in the trend – a move higher in the euro against the dollar – now, or probably some time in the next month or two, would be a good time to hedge that exposure."