Residential property prices rose at an annual rate of 14.4% in May, down slightly from the 14.5% annual rate recorded in April.
It's the second month in a row during which the pace of house price inflation has moderated.
Figures from the Central Statistics Office (CSO) show prices in Dublin rose by 11.7% on an annual basis, which was unchanged on the annual rate recorded in the previous month while prices outside Dublin rose by 16.6%, which was marginally lower than the rate recorded in April.
In Dublin, the fastest growth was in Dublin City at 14.1% while the slowest was in Dún Laoghaire Rathdown at 9.2%.
Outside Dublin, the fastest rate was in the South-East at 21.5% while the slowest was in the Mid-West at 11.4%.
Prices nationally are just 1.1% lower than their 2007 peak.
In Dublin, prices are 9.3% lower than their February 2007 peak while prices outside Dublin are 2.3% lower than their May 2007 peak.
Prices for new dwellings in the first quarter of this year rose by 6.2% compared to the first quarter in 2021.
Prices for existing homes rose 17.8% in the first quarter compared to the first quarter of 2021.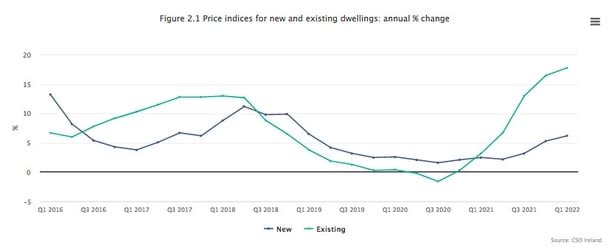 €1.3 billion of property transactions were filed with Revenue in May.
This represented 3,731 transactions which was an increase of 16.3% on the 3,207 transactions in May 2021.
It was also an increase of 8.3% on the number of transactions in April.
Existing dwellings made up 82.5% of transactions while new dwellings made up 17.5%.
In the year to May, 47,630 properties have been purchased.
Of these, 15,524 or 32.6% of properties were purchased by first-time buyers.
25,437 or 53.4% were bought by people moving house. 6,669 or 14% of properties were purchased by investors or public housing bodies.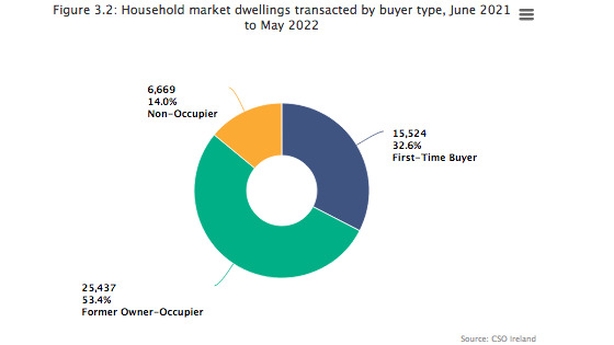 The median, or mid-point, price of a property nationally was €290,000 in May.
In Dublin, the median priced property was €413,000.
Within Dublin, the area with the highest median priced property remained Dún Laoghaire Rathdown at €601,000 while the lowest was in South Dublin at €375,000.
Outside Dublin the most expensive median priced property was in County Wicklow at €397,000 while County Longford had the lowest median priced property at €138,000.
Commenting on the figures, Brokers Ireland said the continuing level of price increases nationally in the year to May, underpins why the share of 25-34 year olds living independently and owning their own homes has fallen dramatically from 60% in 2004 to just 27% in 2019.
"The ESRI was but the latest organisation to point to this epochal change in home ownership rates," said Rachel McGovern, Director of Financial Services at the organisation which represents 1,225 Broker firms.
"Policy makers have known this and have been listening to organisations like our own warning of the societal and economic consequences of allowing such a trend to continue.
"Yet with any objective analysis of the situation one could not point with any degree of confidence to this trend being reversed in the foreseeable future," she said.