Britain's new finance minister Nadhim Zahawi said today that the government needed to rebuild and grow the country's struggling economy, and he would look at all options to do that including the possibility of tax cuts.
"I will look at everything, there is nothing off the table," he told Sky News, when asked whether he wants to cut taxes.
Britain's economy is showing signs of a slowdown as inflation heads for double-digits and it is forecast to be weaker than other big industrialised economies next year.
Zahawi, who moved from the education ministry to the Treasury yesterday after the resignation of Rishi Sunak, said 2023 was shaping up to be tough and he would focus on the cost-of-living squeeze facing households.
He also hinted at a rethink of Sunak's plan to increase taxes on businesses next year.
"Of course I will be looking at where else I can make sure the economy remains competitive and dynamic with our European neighbours and the rest of the world as well. Nothing is off the table," he told the BBC.
But Zahawi also stressed the need for "fiscal discipline" and said the government would have to be careful about increases in public sector pay which could drive inflation higher.
"The important thing is to get inflation under control, be fiscally responsible," he told Sky News.
He also said it was important to remember the increase in debt servicing costs.
Mr Zahawi, 55, was appointed after Sunak quit the job in protest at Johnson's "standards" and citing differences over economic policy with the prime minister.
He inherits an economy that is likely heading for a sharp slowdown or even a recession, and will face immediate pressure to do more to help struggling households and to lower taxes which are on course to hit their highest level in decades.
He first rose to prominence as the man who helped lead the vaccine roll-out during the coronavirus pandemic.
Most recently the Education Secretary, he had early success as the vaccines minister, helping to lead the UK government's vaccine programme following his appointment in November 2020.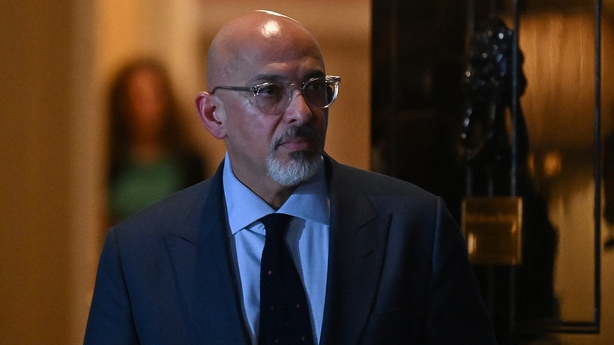 Mr Zahawi will now take on one of the biggest jobs in the UK government serving the embattled prime minister amid the worst cost-of-living crisis in a generation.
He will also be charged with putting together a crucial autumn Budget as inflation bites.
Born in Iraq to a Kurdish family, Mr Zahawi came to the UK as a nine-year-old when his parents fled the regime of Saddam Hussein.
Believed to be one of the richest politicians in the House of Commons, he helped found polling company YouGov after studying chemical engineering at University College London.
He has often said that his own personal backstory has deeply influenced his view of Britain and he recently spoke of the debt he owed poet Philip Larkin as he improved his English as a teenager.
Seen as a "safe pair of hands", he came to the Education Secretary role following the sacking of Gavin Williamson, who had become deeply unpopular with the public over the exams fiasco during the Covid-19 pandemic.
His tenure in the role has not been without difficulty and in recent weeks he had been attempting to see off potential strike action by teachers, which he has labelled "unforgivable" months after children returned to school following the disruption of the pandemic.
Mr Zahawi became a junior education minister under Theresa May, but his loyalty to Boris Johnson has never seriously wavered.