Consumer confidence improved slightly in June following four months of weakening sentiment, according to the latest KBC Bank Ireland consumer sentiment index.
The shift in sentiment is somewhat surprising, given the growing pressures consumers are facing with rising prices.
Author of the report and chief economist at the bank, Austin Hughes, said it is not clear why the sentiment index improved this month.
"There has been no clear easing in the forces that forcefully darkened the mood of Irish consumers through recent months," he pointed out.
However, Mr Hughes said consumers may be responding to indications from the Government that supportive measures may be introduced in – or ahead of the budget to help those struggling with the higher living costs.
The index increased to 57.7 in June from 55.5 in May, bringing the survey back in line with its April reading.
Sentiment is well below the series average of 86.4, which suggests Irish consumers are very nervous about their economic and financial circumstances.
"At current levels, sentiment is awful rather than apocalyptic, suggesting the Irish consumer is down but not entirely out," Mr Hughes said.
---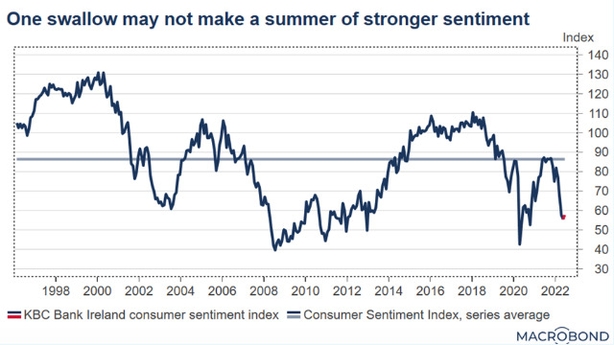 ---
We need your consent to load this rte-player contentWe use rte-player to manage extra content that can set cookies on your device and collect data about your activity. Please review their details and accept them to load the content.Manage Preferences
Mr Hughes said a second possible reason for the small improvement in the June survey is that consumers have been preparing themselves for the cost of living challenges that lie ahead and a more uncertain global economic outlook.
"The collapse in consumer confidence in early 2022, at least at the aggregate level, was prompted more by fear than by current financial strains," he explained.
"While we would not be entirely comfortable with this interpretation, it would accord with some recent official data that appear to suggest Irish household finances have been strengthening rather than weakening of late," he added.
Mr Hughes also said it is not unusual for occasional and often random monthly corrections to temporarily disrupt trend movements in consumer confidence.
"As we noted last month, the fall in sentiment in May was only the fifth time in the survey's 26 year history that confidence dropped for four months in a row.
"The modest uptick in sentiment in June could simply be a technical and likely temporary bounce rather than any indication of materially changed thinking on the part of Irish consumers," he added.
Despite the continued talk of worsening cost of living pressures, all three elements of the survey focused on finances improved compared to May.
Mr Hughes said the stronger performance might suggest consumers recognise these difficulties are likely to increase in coming months and have already significantly adjusted to this reality.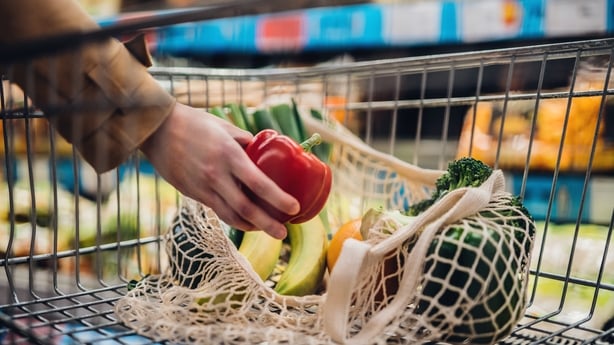 The June consumer sentiment survey also included a special question examining a range of actions being taken by Irish consumers in response to increases in household living costs.
Just 5% of consumers surveyed said they don't need to make adjustments, while 9% said they can't do any more.
59% said they are cutting back on non-essentials, while 37% are cutting back on essentials.
The survey also reveals that 13% of consumers are looking for higher pay, while 11% want to change jobs.
14% of those surveyed said they are relying on government measures to deal with the rising cost of living.
The findings suggest that spending adjustments are greater among older groups up to pension age, while pay claims and job switching is more prevalent among younger ages.
"Of course, one possible reason for this could be that many in younger age groups may have relatively limited incomes and spending power and, consequently, little scope to adjust further," Mr Hughes said.
"In this context, those in the 25-34 age group reported the greatest incidence of being unable to make further adjustments.
"For these reasons those in younger age groups are more likely to respond to current difficulties by seeking higher pay or looking to change jobs," he said.
The survey also hints that the greatest shock and related adjustment to cost of living pressures may be falling on what Mr Hughes refers to as the 'squeezed middle aged' group.
"This grouping would tend to have a relatively large number of 'fixed outlays' often related to spending associated with child dependents and housing and other mid-life costs," Mr Hughes said.