At 10am on Tuesday, some staff at PayPal's offices in Blanchardstown and Dundalk were called at short notice to a meeting.
There they were given the grim news that over 300 of them would be losing their jobs come July 12th.
Naturally, it came as a shock, as there had been no specific forewarning or local signals that anything was amiss.
Some PayPal staffers only learned about the cuts through the media. One staff member described being "confused and a bit scared".
Understandable, because while many sectors have suffered immeasurable damage in the past two years due to the Covid-19 pandemic, tech had been incredibly resilient and in fact had powered ahead.
But all that changed in recent months, as the grip of Covid-19 eased and consumers returned to real-world experiences, like shopping.
PayPal is just one of an array of tech firms feeling the effects of that reassessment and realignment.
Formally, the company said the decision to downsize its operations here was the result of a "review of operational needs" and was being done as part of changes that would help it scale its business "to meet the evolving needs of customers, ready for our next chapter of growth".
In other words, it is restructuring to cut costs and create efficiencies.
The online payments provider had, like most tech businesses, experienced a boom during the height of the Covid restrictions globally, as many people shopped from home, spending the increased disposable income that they were accumulating because they weren't travelling or socialising.
In 2020 alone, its share price surged 111% and by 25% more in the first half of last year.
But that spike then peaked and with inflation weighing on consumer spending, supply chains disrupted due to the Ukraine war and business being lost at a faster than expected pace from its former owner and large customer eBay, PayPal's fortunes have reversed.
Since their peak in July of last year its shares have lost 73% of their value and are back at December 2018 levels.
In a conference call with analysts in April, chief executive officer, Dan Schulman, said the company was withdrawing its medium-term outlook.
Mr Schulman said 2022 remains another challenging year to forecast and added "forecasting normalised consumer ecommerce spending as we come out of the pandemic is exceedingly complex."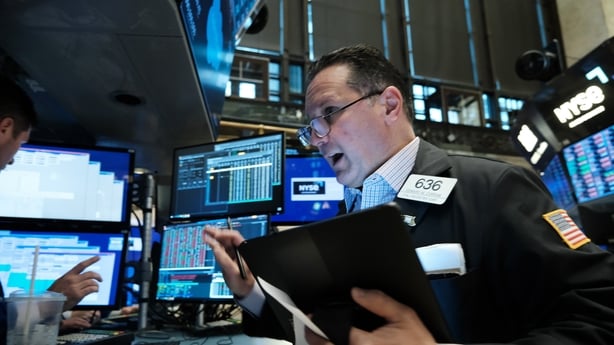 PayPal is not alone
While PayPal's difficulties have been severe, its travails are not unique across the tech sector with its story echoed by many others to varying degrees.
The tech laden Nasdaq 100 index is down around a quarter year to date, reflecting a souring sentiment around tech stocks that are now widely seen to have been overvalued when they hit their market peak late last year.
The rout of the past few months has even prompted some analysts to suggest we could be facing a tech driven stock market crash, similar to the bursting of the dotcom bubble in the late 1990s and early noughties.
"US tech stocks are massively overvalued," said Peter Brown from Baggot Investment Partners.
"What you are looking at here is a 12-year rally in buying anything that doesn't need to make money. It is just momentum and growth strategies and people pouring into those stocks and it has been a very successful strategy for years, and despite Tesla not making money, despite Amazon not making money all that didn't matter."
"You just buy them because they keep going up. That ended in December. And what we have now is a massive rotation away from that strategy into value. So people are saying this tech thing is over."
"And it is not just over for a bit. It is over over. And nobody wants this stuff anymore."
Tech stocks are also being viewed as being particularly vulnerable to interest rate increases being deployed by central banks to grapple with soaring inflation.
"The PayPal announcement is not being seen yet as the canary in the coalmine."
But they are also grappling with other more common issues, like labour market tightness, supply chain shocks, increased costs, the loss in some cases of the Russian market, intense competition and fears of recession.
The effects have been evident in recent months across the so-called FAANG companies – Facebook (now Meta), Amazon, Apple, Netflix and Google.
Netflix has lost two thirds of its value so far this year because it is now losing subscribers, after a golden few years as people stuck at home because of Covid restrictions signed up in their droves.
Amazon too is feeling the pain, although to a lesser extent. It's share prices is down a third this year after it reported a net loss of $3.8 billion in the first quarter and its growth rates slowed to levels last seen in 2001.
Apple has weathered the storm better than most, beating Wall Street's estimates for its latest quarterly results.
But even its share price has been dragged down 20% this year on the negative sentiment, along with its manufacturing supply chain challenges in China which are weighing on growth.
Google's parent Alphabet has lost a quarter of its value this year, after it reported weaker than expected revenue for the first quarter, with YouTube's performance particularly disappointing.
Facebook's parent also came in below analysts' expectations in the first quarter, despite adding new users, and it has recently been reported that it has instituted a hiring freeze in certain parts of its business, though CEO Mark Zuckerberg has said that job cuts are not being planned.
That will come as a relief to the 3,000 Meta staff in Ireland and the 6,000 others here who support the company's operations.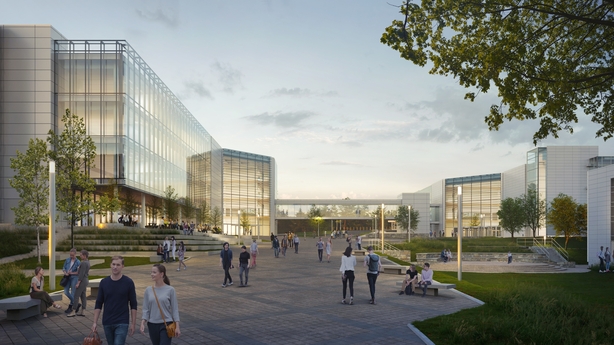 Could other tech firms cut jobs here?
But the PayPal situation does raise questions about whether we could still see wider lay-offs across the tech sector here, particularly among the large multinationals that the economy has become so dependent upon.
Elsewhere in the US and Europe, some tech companies have also begun to shave their global workforces, with recent redundancies at firms such as Robinhood, Hopin, Klarna, Peloton, Netflix and Fast Checkout, which closed down.
Here 162,000 people were employed in the Information and Communication Technology sector in the first three months of the year, according to the Labour Force Survey released by the CSO last week, but that was down 4,000 on the previous quarter.
So there is a lot to lose from any downturn in tech.
But those involved in the world of foreign direct investment (FDI) aren't particularly concerned.
The IDA, which is due to report its mid-year results in July, appears to have had a strong first half performance, with a string of big and small job announcements, many in the tech sector.
Apple's commitment last week to build a new office block at its campus in Cork capable of seating up to 1,300 people, is the latest example of that.
The PayPal announcement is therefore not being seen yet as the canary in the coalmine, though that hasn't been completely ruled out, despite Ireland's now established position as a European tech hub.
Financial analysts agree that despite the downward pressure on their share prices, the fundamentals of many tech firms remain strong and if impacted at all, employment in the sector here is more likely to be hit by the global economic slowdown than the end of the tech stock rally.
"A lot of those big names certainly did…spend a huge amount and took on an awful lot of staff during Covid, during the pandemic in response to the demand that they saw," said Suzie Berkery, senior stockbroker at Cantor Fitzgerald.
"We've always said that what is going on in tech in the last few years is like the industrial revolution and we all know everything is moving that way, we're all buying all these things, we're all using them all."
"And that isn't changing. We got hit with a pandemic. We now are in the middle of the pay back of that really and also the supply chain issue is a big problem. But is that a reason to be worried or seeing them letting go of staff? No."
Only time will tell.
But those in government, FDI and wider corporate circles will be very much hoping that analysis is right.